Netflix's "American Cultural Imperialism" Is Causing Quite the Scandal at the 2017 Cannes Film Festival
Netflix has pitted Pedro Almodóvar against Will Smith.
---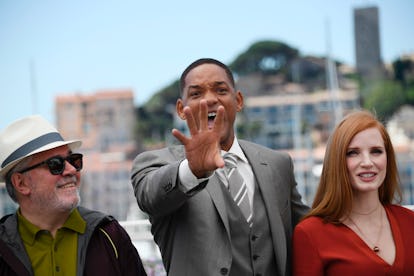 ANNE-CHRISTINE POUJOULAT
The powerhouses of international cinema have all assembled at the Cannes Film Festival, as they do year after year, but it seems that all anyone can talk about is Netflix. Yes, the streaming service's Cannes debut, which includes two films this year, has become quite a scandal, that's captivated everyone from Will Smith to Pedro Almodóvar. Even a high placed French Government appointee has entered the fray by dissing Netflix, calling the company little more than "the perfect representation of American cultural imperialism."
So what exactly is it that has everyone in France scrunching their face in disgust like they've just tasted bad Italian wine? Well, that's where it gets complicated.
Having already conquered the world of prestige TV, Netflix is now intent on doing the same with film (see their recent domination of acquisitions at Sundance). As part of that effort, they're bringing two films from well respected directors they financed to Cannes. Their offerings: Korean auteur Bong Joon-ho's Tilda Swinton-starring film Okja and American indie dramedy darling Noah Baumbach's The Meyerowitz Stories. Aside from the fact that the latter happens to feature Adam Sandler in a co-starring role, these are exactly the types of films you'd expect to see at Cannes.
The main issue isn't the quality of the films, but rather a clash between how Netflix does business and how the French government funds the arts. According to The New York Times, France has what's known as the "French cultural exception" that requires a small percentage of revenue from theatrical, video on demand, television and streaming releases to be pooled to help finance home-grown cinema. The rule also mandates a window of 36 months between a film's premiere in a movie theater and when it can roll out to a streaming service. France may have better public funding for culture than the United States, but it often comes with tougher regulations (this is the government that dictates what can and can not be called "haute couture," after all).
Netflix could evade all of that by just forgoing a French theatrical release all together, but Cannes officially ruled last week that while it would allow Netflix to show its two films this year as planned, starting next year it will require all mainstream movies in the festival to commit to a traditional theatrical release in the country.
Netflix, of course, is not in the business of traditional theatrical releases. To be in contention for most American film awards all that is often required is that a film receives some sort of theatrical release in New York and Los Angeles before being released for home consumption. So when Netflix has Oscar ambitions, like it did with 2012's Beasts of the Southern Wild, it has a tendency to drop a film into a very limited theatrical release and encourage most people to watch it on its own platform. (Compare this to archival Amazon, which is more likely to commit to a full traditional theatrical release before putting the film online, like it did with Manchester By the Sea. Amazon also has a film in this year's festival, but has avoided the controversy all together).
Basically, Netflix wants all the cultural buzz and glory associated with traditional film festivals and the awards circuit, but still wants to drive users to its subscription service without a care in the world for traditional box office receipts. That's been much easier to do with television, but film has been harder to crack. The Cannes uproar is only forcing an issue that's existed elsewhere for a while, and in recent weeks Netflix has shown some openness to rethinking its theatrical release strategy.
The Best Looks of the Cannes Film Festival Red Carpet: A Visual History
Madonna, in Jean-Paul Gaultier, with the director of the film In Bed With Madonna Alex Keshinian at Cannes in 1991.

Getty Images
Taking a cue from Madonna, Sharon Stone donned a beaded Valentino romper with a skirt overlay for the 1995 festival.

Getty Images
Only Kate Moss could wear a grey Narciso Rodriguez sheath to a black tie event. Then-boyfriend Johnny Depp adhered to dress code, though, for the 1997 festival.

Getty Images
Naomi Campbell, a fixture of the festival, appears at the annual amfAr gala in a sheer, paneled gown in 2001.

Getty Images
Tilda Swinton walked Viktor & Rolf's Fall 2003 runway show, acting as the design duo's muse. In 2002, she wore one of their Fall 2002 collection designs to that year's Cannes festival.

Getty Images
Less important: Natalie Portman's black gown. More important: The debut of her V For Vendetta buzz cut, here, at the premiere of Kiss Kiss Bang Bang at the 2005 Cannes Film Festival.

Getty Images
Models descend on Cannes every year, but few can pull off supermodel Linda Evangelista's statement Lanvin — here, at the 2008 Cannes Film Festival.

George Pimentel/WireImage/Getty Images
Cate Blanchett wore an Alexander McQueen gown for the premiere of Robin Hood at the 2010 festival.

Getty Images
Marion Cotillard, in Lefranc Ferrand, departed from her usual simple and chic red carpet gowns in favor of a metallic jumpsuit for the 2010 Cannes Film Festival.

Getty Images
Cara Delevingne had just one film credit to her name when she graced the red carpet of the 2013 Cannes Film Festival — she was still better known as model than actress — yet she exuded pure movie starlet in Burberry at the premiere of The Great Gatsby.

Getty Images
For the 2013 premiere of her Coen Brothers film Inside Llewyn Davis, Carey Mulligan selected a black-and-white Vionnet look, and accessorized with a little Justin Timberlake.

Getty Images
Jessica Chastain, too, eschewed color in favor of an ivory caped Versace gown. And the Bulgari diamond-and-sapphire pendant? A gift from Richard Burton to Elizabeth Taylor. It made the perfect statement for an anniversary screening of Cleopatra at the 2013 festival.

Getty Images
Tilda Swinton, in her go-to Haider Ackermann, at the premiere of Only Lovers Left Alive at the 2013 Cannes Film Festival.

Getty Images
Zhang Ziyi, in Stéphane Rolland, wouldn't have looked out of place at this year's Met Gala — instead, the futuristic look appeared on the red carpet of the Grace of Monaco screening at the 2014 Cannes Film Festival.

Getty Images
In the same gown that Marion Cotillard would later wear to the 2015 Oscars, French model Laetitia Casta takes Christian Dior Couture to the red carpet for Grace of Monaco in 2014.

Getty Images
Lara Stone's neon-pink Calvin Klein isn't a color we'd necessarily think would work, yet somehow it does. She appeared at the premiere of The Search at the Cannes Film Festival in 2014.

Getty Images
It wasn't her film, but Liya Kebede, in Proenza Schouler, still stole the show at the premiere of Mad Max: Fury Road at the 2015 Cannes Film Festival.

Getty Images
Or, rather, stole the show until Charlize Theron, the film's star, showed up in a canary yellow Dior Couture gown.

Getty Images
The Mad Max red carpet drew all the best looks, including Julianne Moore's Givenchy couture in velvet.

George Pimentel/WireImage/Getty Images
At the 2015 Cannes Film Festival opening ceremony, Lupita Nyong'o made it her show in an emerald green Gucci dress.

Getty Images
This Ralph & Russo gown was just one of a number of stellar red carpet looks from Fan Bingbing at the 2015 festival.

Samir Hussein/WireImage/Getty Images
Chanel Iman stunned in Zuhair Murad at the amfAR gala at the Cannes Film Festival in 2015.

Timur Emek/WireImage/Getty Images
Jessica Chastain radiated old Hollywood glamour in an Alexander McQueen gown at the premiere of Money Monster during the 2016 Cannes Film Festival.

Pacific Press/Getty Images
Liya Kebede opted for something a little weird: a green velvet Haider Ackermann dress with one leg hole, here seen at the premiere of The Unknown Girl at the 2016 Cannes Film Festival.

Anthony Harvey/Getty Images
Kirsten Dunst went a marigold statement in custom Maison Margiela at the premiere of The Neon Demon, upstaging even perennially chic star Elle Fanning, at the 2016 Cannes Film Festival.

Danny Martindale/Getty Images
Rihanna attends the Okja screening during the 70th annual Cannes Film Festival at Palais des Festivals on May 19, 2017 in Cannes, France. Photo courtesy of Getty Images.

Vittorio Zunino Celotto/Getty Images
Sara Sampaio attends the 120 Beats Per Minute (120 Battements Par Minute) screening during the 70th annual Cannes Film Festival at Palais des Festivals on May 20, 2017 in Cannes, France. Photo courtesy of Getty Images.

Venturelli/Getty Images
Bella Hadid is seen during the 71st annual Cannes Film Festival at on May 12, 2018 in Cannes, France. Photo courtesy of Getty Images.

Marc Piasecki/Getty Images
Though, for some in France those signs of possible appeasement haven't gone far enough.
"They are the perfect representation of American cultural imperialism," Christophe Tardieu, director of the National Cinema Center, a government entity distributes funding to French cinema told _The New York Times_. "I deplore Netflix's attitude in this affair, which showed total intransigence and refusing to understand and accept how the French cultural exception works."
Well, tell us how you really feel.
Then, of course, there's also the much older matter of those who hold to the idea that a big screen is the only valid place to see a film.
It's an issue that has pitted unlikely rivals Pedro Almodóvar, the Spanish film director who serves as the president of the festival's awards jury this year, and Hollywood star Will Smith, who is serving as a jury member, against each other.
"Digital platforms are a new way of offering words and images, which in itself are enriching. But these platforms should not take the place of existing forms like the movie theaters," said Almodovar during a jury press conference according to The Hollywood Reporter. "They should under no circumstances change the offer for spectators. The only solution I think is that the new platforms accept and obey the existing rules that are already adopted and respected by the existing networks."
He then suggested that he might hold the release plans for Netflix's two offering against them. "I personally don't perceive the Palme d'Or [should be] given to a film that is then not seen on the big screen," he added.
It was Smith who then spoke up in favor of Netflix while citing the viewing habit of his progeny Jaden and Willow Smith.
"In my home, Netflix has had absolutely no effect on what [my children] go to the movie theater to watch, go to the cinema to be humbled by certain images and stay home for others — no cross. In my home Netflix has been nothing but an absolute benefit — [they] watch films they otherwise wouldn't have seen," he said. "It has broadened my children's global cinematic comprehension."
Who knew this could all come down to the Smith children's media habits?
In any case, Netflix has a whole year to rethink both its theatrical release strategy and its commitment to Cannes.
Related: Nicole Kidman Will Have Four Projects at Cannes 2017
See What's Tending in W Video:
Brigitte Bardot's Best Bombshell Moments at the Cannes Film Festival
French actress Brigitte Bardot lounges on the beach at the Cannes Film Festival in 1953 wearing a floral bikini bathing suit.

Getty Images
French actress Brigitte Bardot has her hair braided by friends while on the beach at the Cannes Film Festival in 1953.

Getty Images
French film actress Brigitte Bardot poses by the water in Lérins Islands during the 8th Cannes Film Festival in 1955.

Getty Images
A young Brigitte Bardot wears hoop earrings and a sleeveless top to the 8th annual Cannes Film Festival in 1955.

Getty Images
Brigitte Bardot poses with Pablo Picasso and his work while at his studio in Vallauris on the Cote d'Azur, during the Cannes Film Festival in 1956.

Getty Images
Brigitte Bardot poses with Pablo Picasso and his work while at his studio in Vallauris on the Cote d'Azur, during the Cannes Film Festival in 1956.

RDA
French film actress Brigitte Bardot runs on the beach in a little black dress at the Cannes Film Festival in 1956.

Getty Images
French film actress Brigitte Bardot poses with a pigeon while on the beach at the Cannes Film Festival in 1956.

Getty Images
French film actress Brigitte Bardot attends the Cannes Film Festival in 1956 wearing a simple sleeveless dress and pearl necklace.

Haywood Magee/Getty Images
French film actress Brigitte Bardot walks the Cannes Film Festival red carpet in 1953 wearing a white gown and fuzzy shawl.

Getty Images
The French film actress Brigitte Bardot walks the red carpet in a bustier dress and gloves at the Cannes Film Festival in 1956.

Getty Images
French actress Brigitte Bardot poses on the beach at the Cannes Film Festival in 1953 wearing a floral bikini bathing suit.

Mirrorpix
French film actress Brigitte Bardot waves goodbye to fans after attending yet another event at the Cannes Film Festival in 1956.

Getty Images