Ayo Edebiri, Big Mouth's New Missy, Is Just Getting Started
Ayo Edebiri on the catharsis of watching Big Mouth, writing and acting on the new season of Dickinson, and pushing for a job on The Kominsky Method.
---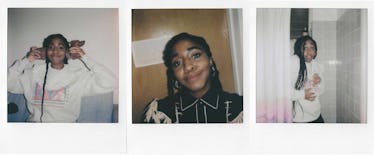 Selfies by Ayo Edebiri for W magazine. Special thanks to Polaroid.
Nine episodes into the fourth season of the acclaimed animated series Big Mouth, one of its main characters, Missy Foreman-Greenwald, experiences a transformation. Missy, who is half Black and half Jewish, has finally reached her breaking point when it comes to "choosing" a side of herself to maintain as her principal identity. While on a Us-inspired "trip" of sorts (it's a Halloween episode) she looks into the funhouse mirrors of her multiple identities until they all converge and crack. Then, she puts the pieces together to make a mosaic of her fractured reflection.
Up until this moment, Missy was voiced by Jenny Slate. But Slate, who is Jewish, made the decision this summer to step down from voicing a Black animated character. "At the start of the show, I reasoned with myself that it was permissible for me to play 'Missy' because her mom is Jewish and White—as am I. But 'Missy' is also Black, and Black characters on an animated show should be played by Black people," Slate wrote in a statement released on Instagram.
At this point in Missy's journey, it made perfect sense to figuratively and literally give her a new voice. According to comedian Ayo Edebiri, who was already tapped to be a writer on the fifth season, these conversations about Missy's understanding of her Blackness being written more and more into her character's journey had been ongoing in the writers' room months before her arrival, but this summer's moment of racial reckoning moved the needle. "I wasn't a critical part of the conversation and I definitely wasn't angling myself in any way," she said. "I auditioned for it in the traditional way that everybody else does."
Real ones already know Edebiri. If you're someone who finds yourself on Twitter for longer than 10 minutes at a time (or at The Bell House in Brooklyn during pre-pandemic times), it's likely you've seen the comedian's name—or at least a handful of her viral tweets. At 25 years old, she has performed a stand-up set on Comedy Central, hosts her podcast Iconography with Olivia Craighead, and successfully started a rumor that she is the show-runner of the Emmy-award winning Netflix series The Kominsky Method.
Before leaning all the way into comedy, Edebiri actually studied to be a teacher. "I wanted to be a high school English teacher and I looked like how I do now, but I looked even younger, and I was like, um, 10th graders are really mean and I'm too fragile for this," she joked. And now, she has the esteemed honor of voicing the endearing and spastic Missy on Big Mouth. "I've just always been kind of a strange child and I think in her journey through puberty, there's definitely a lot of things I can relate to that, in terms of finding yourself on your own time and not always being the coolest or most suave."
Edebiri also finds the show's ability to so adeptly tap into our blocked memories of awkward middle school pasts, balancing hilarity with empathy, to be its superpower. "Even though it's not true, you're like, well, everybody's a witness to my shame and will remember it forever and it's going to last forever," she joked. "There's just something cathartic about re-experiencing certain moments of awkwardness and discomfort and pain. We all went through it so let's just laugh because we're on the other side of it now."
There isn't exactly one correct answer to the question of whether or not it's okay for a Black actor to voice a Black character who is biracial, and specifically is half Jewish. But Edebiri certainly has a lot of thoughts on the subject. "There's a moment of reckoning, and I think because we're in that, a lot of things feel very heated and people don't actually have nuanced answers," she said. "There's going to be back and forth and eventually maybe we'll end up in a place of nuance. I don't know what that looks like yet because we're not there. There's the obvious answer that's like, I'm a Black person and Black identity is such that Black people are not a monolith. Even though Blackness isn't a monolith, there are things that for Black people in the U.S. and globally are shared experiences. I think that that is important to know."
Edebiri will next be seen on the Apple TV+ series Dickinson, which follows a fictional account of the life of poet Emily Dickinson and premieres a second season on January 8. Dickinson is not like Big Mouth when it comes to subject matter, but it does share a similarity in that it presents viewers with a conceit often initially met with skepticism. A semi-fictional mid-19th century period piece that remixes anachronisms and positions Emily and her peers as the "Millennials" of their time might make your nose wrinkle, but Edebiri has an idea as to why the show works: there's nothing else like it out there.
"I wanted to write on it because Alena Smith's vision was so specific, and it's such a talented cast and crew," she said. "When I had my interview to write for season two and we were talking about meeting, one of the things that I did want to talk about—this kind of makes me nervous to say in an interview—but I was like, I think the way that Black characters are handled in the first season, there's something a little off," she recalled. Smith was quick to admit that she agreed with Edebiri's assessment of the fact that racism in pre-Civil War era Massachusetts was elided over a little too smoothly in the first season, and hired Edebiri as a writer and actor on the series. She plays Hattie, a servant of Sue Gilbert (Emily Dickinson's best friend, sister-in-law, and rumored lover) who covertly works on publishing a Black newspaper.
Before returning to Los Angeles, which is where the Boston-raised Edebiri is currently based, she wrapped filming Hello, Goodbye, and Everything In Between, a forthcoming teen romantic drama, in Vancouver. Until that premieres, the actress has just one request: can Netflix please just hire her to write on The Kominsky Method already? "Alan Arkin, Michael Douglas, hit me up. Chuck Lorre, hit me up," she said. "I'm around."