E'myri Crutchfield Is as Intellectually Curious as Her Fargo Character
20-year-old E'myri Crutchfield knows she gets typecast in younger roles, but she welcomes the challenge when it comes to playing Ethelrida on Fargo.
---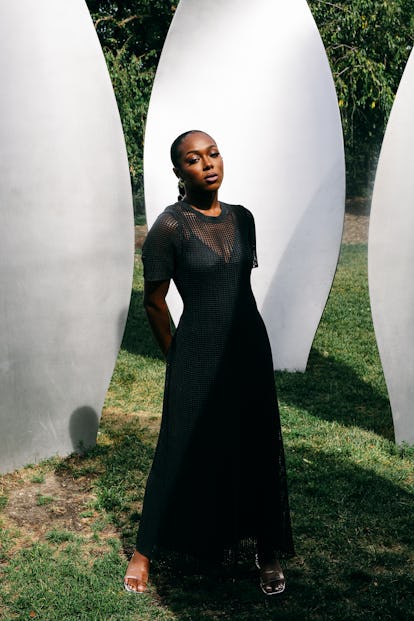 E'myri Crutchfield photographed by Lawrence Agyei.
The new season of Fargo, which premieres on September 27, opens with a voiceover monologue from a character named Ethelrida Pearl Smutny, a precocious Black teenager who, as "a student of exceptional virtue and high achievement," has just been sent to the principal's office for a beating after quoting Frederick Douglass in an essay about her family history.
"I appear before you this evening as a thief and a robber. I stole this head, these limbs, this body, from my master and ran off with them," Ethelrida quotes Douglass. "My point being, the moment our feet touched American soil, we were already criminals," she continues, before explaining the history of mob families in Kansas City, Missouri. First run by Hebrews, then the Irish, followed by the Italians, and eventually a Black crime family run by a man named Loy Cannon (played by Chris Rock).
Ethelrida, however, is not presented to audiences as a member of this 1950s crime faction. She and her parents, played by Anji White and Andrew Bird (yes, that Andrew Bird), live in and operate a funeral home in Kansas City. As is to be expected with a slow-burn series like Fargo, and as played by E'myri Crutchfield, Ethelrida's relationship to the crime families arguing over who controls what is steadily revealed over the course of the entire season.
Crutchfield filmed the fourth installment of the anthology series in Chicago, from October to March. The 20-year-old actress, who was born and raised in New Orleans, went back home, and has remained there for the pandemic (except when she returned to Chicago for a moment in August, when the cast resumed filming the tail end of the series). On a Zoom call, she explained her affinity for the quietly tenacious character she plays on Fargo. "You know, being younger, I get a lot of young roles. I rarely get older roles. And then with the younger roles, I rarely come across a character as complex as Ethelrida," she explained. "And I love drama. I normally get a lot of comedy and lighthearted stuff, but I love tapping in to that dramatic side. I was so surprised when I got a call back, but [Fargo's creator and director] Noah Hawley knows what he's doing."
When Crutchfield auditioned for the role, she didn't have to seek out much inspiration to study the era. She said she accidentally did research on the period, and the racism young Black women faced at the time. In a twist of fate, the actress just so happened to be re-reading the autobiography of activist Assata Shakur while in the middle of auditioning for the role.
"I've had that book on my Kindle since I was about 15 years old and I never finished it. For some reason, I just decided to reread it and try and finish it while I booked the role of Ethelrida," Crutchfield said. "And she had flashbacks in the book of when she was a younger girl and she was teaching herself different languages, her parents were very stern on her about school, she was the only black girl in a primarily white school, and was teased. She dealt with a lot of hardship going to that school and she always wanted to further her education and had to go through a lot of obstacles to do it.
"And I'm like, what the heck?," she continued. "Like, how ironic is this? So that was my research right there. It wasn't set in the 1950s, but it was closer to when they were still going through a lot of the same problems. And I'm like, what a coincidence this is. That helped me a lot. I was able to understand from another perspective."
Another part of immersing herself into the specificity of the time period that was simultaneously engrossing and challenging for Crutchfield was the costuming. "The clothes were so delicate. I ripped so many clothes just from bending over or lifting my arm up," she said with a laugh. "If I ripped something and I was already wearing it, they would tie me in there to secure it. I did love the look of it, but oh my god, the bra—it was uncomfortable. But it was nice to tap into."
Many of Crutchfield's scenes involve intellectual sparring against a homicidal nurse with a pitch-perfect Minnesota accent played by Jessie Buckley. "I think it's going to be very refreshing for Fargo lovers out there who love the show," Crutchfield said. She also found the tense moments with Buckley to be the perfect acting lesson. "Honestly, she's inspiring, and she is such a light-hearted, fun person," she said of Buckley. "It's crazy how deep and dark she can get on Fargo, but she's the total opposite when we're not filming."
"I think what I've learned from her is to travel more," she continued. "She says, 'Live your life, just travel!' And honestly, I think that's how she's able to tap into all those characters, just seeing the world and being able to live off of different experiences or reflect on different experiences and being able to give that to your character and feed it. Whenever Covid blows over, I want to travel by myself."
Like Ethelrida, Crutchfield remains intellectually curious, particularly about the theoretical aspects of performance. "Acting is observing," she declared. "I also want to look into psychology and just learning how the human mind works and how people react to certain things, just get all the technical things out of it. Because that's what acting is about. It's about observing and feeding that into your acting."
Though she knows that her age and youthful appearance have positioned her to take on roles of characters that are in their early teens, Crutchfield admitted that being the youngest was actually her favorite part of working on Fargo. "I'm this sponge soaking in everything from everyone," she said. "Every day was a lesson for me, or an experience, or an observation, just watching all these actors and actresses tap into their characters."
Related: Meet Geraldine Viswanathan, a Leading Lady With Perfect Comic Timing