Meet Geraldine Viswanathan, a Leading Lady With Perfect Comic Timing
This year, her buzzy performances in Bad Education, The Broken Hearts Gallery, and Miracle Workers have made Geraldine Viswanathan stand out from the crowd.
---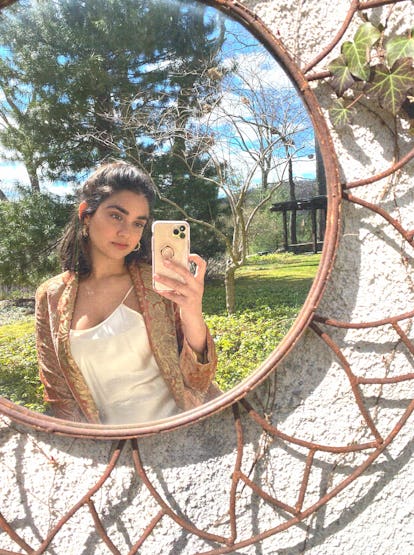 Self portrait by Geraldine Viswanathan for W Magazine.
Like most of us, Geraldine Viswanathan's summer has turned out to be quite a bit different from how she expected. Two days before New York went on lockdown, she had just secured an apartment in Brooklyn. She also was set to star in The Broken Hearts Gallery, a movie that was supposed to be the big screen rom-com of the summer.
The Selena Gomez-produced project was just one of the many movies scheduled to go toe-to-toe with other blockbusters like Tenet to become the first theatrical release amid COVID-19, and was continually delayed due to safety protocols. Now that theaters are slowly becoming more safe to visit (and the popularity of drive-ins has resurfaced), the film has been given an early fall release of September 11.
During a Zoom call in July, Viswanathan was located at her boyfriend's family's summer house (that would be the country home of none other than Susan Sarandon, whose son Miles Robbins has been dating Viswanathan since the two starred together in Blockers in 2018). "Even though I'm not living in my apartment, it is really nice to just know that I have a space which I have the keys to, where I can go to any time," she said, noting that before she moved to the States and settled down, she had been living out of suitcases while trying to get her career off the ground. Now that she's got a little more free time on her hands, the actress plans to go back to her hometown for a bit.
Viswanathan grew up in Australia, and sure, she admits it's a little bit of a cliché, but she's always known she was a performer. "I just talked a lot," the self-described horse girl said. "I came out of the womb loving horses, I don't know what happened," she joked. "I was really passionate about animals, and especially horses, and I just loved to tell people how much I loved horses."
Starting in kindergarten, the actress went to a performing arts school, where she was placed in the drama class. Fast forward to her teen years, and Viswanathan had become interested in performing standup and sketch comedy with her group, Freudian Nip. She still has plans to get back into sketch and standup, but, "I feel like the further away it gets from me, the easier it is to not do it," she admitted.
"I do miss live comedy and writing with other people; I feel like that's just a lot more fun than writing alone," she said, noting that Zoom seems to be the best forum for comedy in this particular pandemic era. "We have to get innovative and find new ways of doing things, but it's tough. Especially with comedy and with standup—that really immediate response is pretty vital."
A cursory glance at her social media presence would reveal that Viswanathan is well-acquainted with the Millennial comedy cohort in New York, including her The Broken Hearts Gallery costar Molly Gordon. On screen, their chemistry as roommates is just as palpable as that of their real-life friendship, which is what drew the actress to writer-director Natalie Krinsky's film in the first place.
In The Broken Hearts Gallery, Viswanathan plays Lucy, a gallery assistant who hoards all of the ephemera of her past relationships—ticket stubs, sweatshirts, you name it. She eventually opens up a museum dedicated to dead relationships with the help of a guy named Nick (Dacre Montgomery), with whom she forms a friendship after drunkenly mistaking him for her Uber driver one night. Romance ensues.
Though she does not come across as an introverted type, the actress identifies as one, which made playing Lucy a bit of a "fantasy" for her. "I feel more similar to her on my best, most energetic, most confident days," Viswanathan said. "And then, I'm also very sentimental and I love living in the past a little bit. I definitely hold on to things from good times, not exclusively from relationships but also just good experiences or turning points in my life that I want to be reminded of. So, her sentimentality I definitely related to, I think she's quite a romantic in that way."
For Viswanathan, playing Lucy was more than just a fantasy for an introvert playing a slapstick extroverted romantic for a summer movie. It felt like a turning point in her career as an actress to play the lead in a genre that has only recently begun to put more women of color at the forefront of its mainstream content. "I think I maybe would have felt more intimidated by it if I hadn't been so emboldened by Natalie [Krinsky]. I think she's such an amazing cheerleader to the people in her life and she always made me feel like I belonged there, leading a romantic comedy, which is something that I never even really thought would be possible," she said. "I had already very much accepted my fate as maybe a best friend in a romantic comedy. It exceeded my expectations of what was possible in my career."
The actress, who is of Indian-Australian descent, said she feels incredibly moved any time she receives word from a young person that seeing another Brown girl on screen had an impact. "Anyone who's not the 'default' in movies, I think that it does have an impact not seeing yourself represented and especially in a character who's meant to be relatable and you want to be her friend and she's beautiful and she's confident and all those good things," she said. "So I do feel very fortunate that this is even possible. I think it's a very exciting time to be entering this industry, and from my older peers who I've spoken to about this, this was just not an option before. Even the fact that my mom in the film is blonde, and she actually looks a lot like my mom, but we never have to explain it. I think audiences are just getting smarter and it's not as confusing as the gatekeepers in the industry have thought it might be for so long."
At the time of our conversation, Viswanathan admitted that she'd been missing going to the theater. There's only so much at-home movie watching one can take, even if it has been the "highlight" of Viswanathan's day in quarantine (an especially good quarantine watch the actress recommends is Jennifer Kent's The Nightingale, which is set during Australian colonial times and according to Viswanathan handles that "in the most tactful, honest way that I've seen that done").
"I really miss the big chair, big screen, you've got the big popcorn, all that good stuff," she said with a laugh. "But I think I really love the intention of going to the movie theater. You can't look at your phone, you can't go to the bathroom. You're in it."
While in quarantine, another project of Viswanathan's debuted. Bad Education, which was a hit at Sundance and snagged a couple of Emmy nominations, was released on HBO in April. It stars Hugh Jackman as the principal at the center of a real-life financial scandal that took place at a Long Island high school and was exposed by a high school journalist, whom Viswanathan plays in the film.
It was fun for Viswanathan to peek into early Aughts American popular culture as part of her preparation for the film, but that exercise came with a little bit of anxiety. "We all were given a big book of documents to research that time period," she revealed. "I was apprehensive because of the low-rise jeans. I was just like, 'This is not my fashion era.' I love flip phones and the little handbags and stuff but everything else is like, 'This is going to be rough,'" she laughed.
Viswanathan is only at the beginning of her career, but she has already worked with a bevy of heavy-hitting A-list performers, from Jackman and Allison Janney in Bad Education to Daniel Radcliffe and Steve Buscemi in Miracle Workers, an anthology comedy series in which she and Radcliffe play angels responsible for answering human's prayers and Buscemi plays God. But she's not intimidated by their star power.
"When it becomes more casual and normal, you start to forget [who they are] and then you're reminded. That happens to me a lot with Daniel Radcliffe," she noted. "I just forget that Dan is one of the most recognizable faces in the world. But I feel like all of the big names that I've worked with are just truly and genuinely kind and good people. There's a lot of power in that," she said.
What does she plan to work on next? The actress said she's drawn to just about anything that feels like it's a fresh take and allows her to explore sides of herself that don't necessarily come up in her real life off-screen. "I like things that challenge a genre or a way that we've typically done things or seen things," she said, citing Get Out as an example of a new spin on a genre, and one of her favorite films. "I like [projects] that are socially conscious and have good things to say and put good things into the world. That's definitely what gets me excited to be a part of something."
Related: P-Valley's Brandee Evans Was Made for a Life of Stardom