Nicole Kidman Will Have Four Projects at Cannes 2017
The Cannes Film Festival's just announced 2017 lineup is heavy on Nicole Kidman projects, and politics. Plus, Kristen Stewart also makes her directorial debut.
---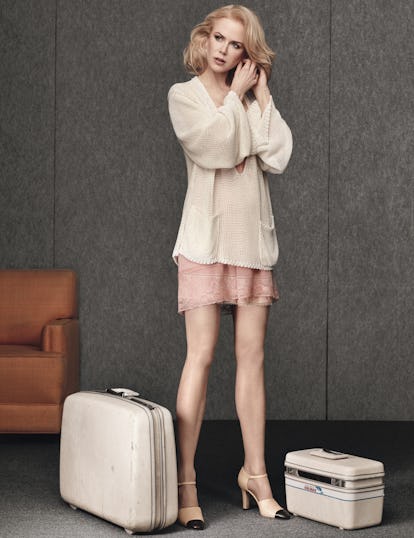 Craig McDean
The media narrative around Nicole Kidman's triumph in Big Little Lies has been odd. Some have claimed that the series included her best acting in years and that she's finally "back." Others have taken to defending Kidman as a consistently great actress worthy of respect.
Listen, Kidman doesn't need the defense. She's done tons of fine work over the past decade (she literally just came off an Oscar nomination for Lion). It speaks for itself, even if she has a habit of doing that work in riskier, artier films.
Indeed, right on cue, Kidman will be the unofficial queen of this year's Cannes Film Festival. She'll have four separate projects screen at the festival, whose 2017 lineup was just announced Thursday morning.
First is her role as the headmistresses of a secluded all-girls school in Sofia Coppola's Southern Gothic spooker The Beguiled. That film will face-off in competition against The Killing of the Sacred Deer, another Kidman film helmed by Greek director Yorgos Lanthimos (most recently of The Lobster). If Kidman is queen of this year's Cannes, Colin Farrell might be her surprising king. He co-stars in both films.
Meanwhile, How to Talk to Girls at Parties, the latest from Hedwig & the Angry Inch director John Cameron Michael, who last directed Kidman in Rabbit Hole—another part that got Kidman an Oscar nomination—will premiere out of competition. That film finds Kidman co-starring once again with her Beguiled cast-mate Elle Fanning, who seems to be serving in the role of Cannes princess.
Kidman's fourth project at the festival is, surprisingly, a TV series. For the first time in the festival's history Cannes will formally provide a showcase for some TV shows, and the second season of Jane Campion's Top Of The Lake will premiere in France. Longtime Campion collaborator Kidman has a small but important role this season. (The other TV project is, of course, David Lynch's Twin Peaks sequel).
The fest will also premiere the latest projects from notable directors Todd Haynes, Michael Haneke, Bonn Joon-ho and Noah Baumbach (Incidentally, those last two films are Netflix exclusives) Alejandro González Iñárritu will also premiere a virtual reality film, though out of competition.
Oh, and someone named Kristen Stewart will be premiering their directorial debut, a short film titled Come Swim.
Here's the full lineup:
OPENING NIGHT FILM
Ismael's Ghosts, dir: Arnaud Desplechin (Out of Competition)
70th ANNIVERSARY EVENTS
Top of the Lake: China Girl, directors: Jane Campion & Ariel Kleiman
24 Frames, dir: Abbas Kiarostami
Twin Peaks, dir: David Lynch
Come Swim, dir: Kristen Stewart
VIRTUAL REALITY FILM
Carne Y Arena (Virtually Present, Physically Invisible), dir: Alejandro G Inarritu
SPECIAL SCREENINGS
An Inconvenient Sequel, dirs: Ronni Cohen & Jon Shenk
12 Jours, dir: Raymond Depardon
They, dir: Anahita Ghazinizadeh
Keul-Le-Eo-Ui-Ka-Me-La (Clair's Camera), dir: Hong Sangsoo
Promised Land, dir: Eugene Jarecki
Napalm, dir: Claude Lanzmann
Demons In Paradise, dir: Jude Ratman
Sea Sorrow, dir: Vanessa Redgrave
MIDNIGHT SCREENINGS
AK-Nyeo (The Villainess), dir: Jung Byung-gil
Bulhandang (The Merciless), dir: Byun Sung-hyun
Prayer Before Dawn, dir: Jean-Stephane Sauvaire
OUT OF COMPETITION
Mugen Non Junin, (Blade Of The Immortal), dir: Takashi Miike
How To Talk To Girls At Parties, dir: John Cameron Mitchell
Visages, Villages, dir: Agnes Varda & JR
UN CERTAIN REGARD
Barbara, dir: Mathieu Amalric (Opening Film)
La Novia Del Desierto (The Desert Bride), dirs: Cecilia Atan & Valeria Pivato
Tesnota (Closeness), dir: Kantemir Balagov
Aala Kaf Ifrit (Beauty And The Dogs), dir: Kaouther Ben Hania
'Atélier, dir: Laurent Cantet
Fortunata (Lucky), dir: Sergio Castellitto
Las Hijas De Abril (April's Daughter), dir: Michel Franco
Sanpo Suru Shinryakusha (Before We Vanish), dir: Kiyoshi Kurosawa
Lerd (Dregs), dir: Mohammad Rasoulof
En Attendant Les Hirondelles (The Nature of Time), dir: Karim Moussaoui
Apres La Guerre (After The War), dir: Annarita Zambrano
Wind River, dir: Taylor Sheridan
Jeune Femme, dir: Leonor Serraille
Western, dir: Valeska Grisebach
Posoki (Directions), dir: Stephan Komandarev
Out, dir: Gyorgy Kristof
COMPETITION
Loveless, dir: Andrey Zvyagintsev
Good Time, dirs: Benny and Josh Safdie
You Were Never Really Here, dir: Lynne Ramsay
L'Amant Double, dir: François Ozon
Jupiter's Moon, dir: Kornel Mundruczo
The Killing Of A Sacred Deer, dir: Yorgos Lanthimos
The Day After, dir: Hang Sangsoo
Redoubtable, dir: Michel Hazanavicius
Wonderstruck, dir: Todd Haynes
Happy End, dir: Michael Haneke
Rodin, dir: Jacques Doillon
The Beguiled, dir: Sofia Coppola
In the Fade, dir: Fatih Akin
The Meyerowitz Stories, dir: Noah Baumbach
Okja, dir: Bong Joon-ho
120 Battements Par Minute, dir: Robin Campillo
Hikai (Radiance), dir: Naomi Kawase
A Gentle Creature, dir: Sergei Loznitsa
Related: Nicole Kidman and Elle Fanning Get Dark in Trailer for Sofia Coppola's Southern Gothic The Beguiled
At 49, Actress Nicole Kidman Is Still Quite Impressionable: