Nike Teams With Alicia Keys, Serena Williams, LeBron James and More To Make Statement for Equality During Grammys
Nike recruited Serena Williams, LeBrom James, Alicia Keys and more to make a powerful stand for diversity.
---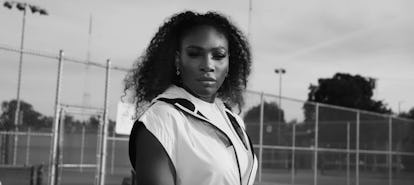 Fresh off voicing their corporate concern of President Donald Trump's travel ban, Nike is upping it's commitment to the theme of diversity. The company will debut a star-studded short film during tonight's Grammy award: Simply titled "Equality," the film features Nike athletes LeBron James, Serena Williams, Kevin Durant, Megan Rapinoe, Dalilah Muhammad, Gabby Douglas, and Victor Cruz. Alicia Keys provides a new cover of Sam Cooke's "A Change is Gonna Come," one of the best-known anthems from the Civil Rights era. Actor Michael B. Jordon provides the narration.
Melina Matsoukas, the music video director best known for her work with both Knowles sisters (she directed both Beyoncé's "Formation" and Solange's "Losing You"), was recruited to bring it all together.
In addition to the film, Nike will also offer "Equality"-branded shoes and t-shirts as part of its annual Black History Month collection. The company will also be putting its money where its mouth is by donating $5 million to organizations that work to advance equality, including MENTOR and PeacePlayers.
In a glimpse of the behind-the-scenes process, several of the athletes share their motivation for participating.
"Being a gay woman in this country, in this sport, wherever I am in this conversation it's there," says U.S. women's soccer star Megan Rapinoe. "Just my responsibility of making sure that I speak up about it, and speak up for other people, and hopefully grow that movement in that way."
"Being a Muslim woman, being a black woman, being a woman just in general we have so many things just working against us already, it's important to be that voice for someone else," says hurdler Dalilah Muhammad.
Watch W's Most Popular Videos: