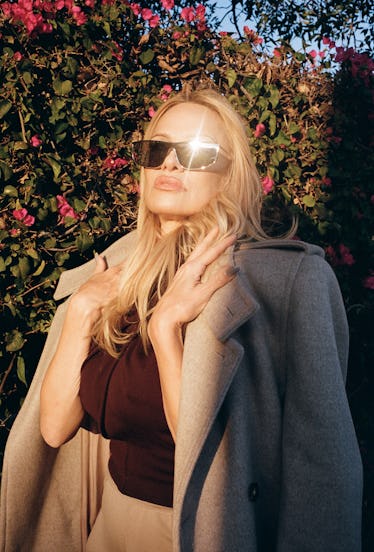 Pamela Anderson wears a Saint Laurent by Anthony Vaccarello coat, top, pants, and sunglasses.
The Netflix documentary Pamela, A Love Story examines how a young girl from British Columbia, Canada, turns into a Playboy ingenue, a Baywatch babe, the wife of rock star Tommy Lee, an animal-rights activist who helped persuade President Vladimir Putin to stop importing seal products from Canada, and, most recently, a long-shot Broadway star. It comes out the same day that your memoir, Love, Pamela, is being published. How do you reconcile the two projects?
Well, my book is an expression of my feelings, from birth until now—all my memories. It's funny how people are formed. We're all born innocent, and then life happens. I really don't know much about this documentary, except that it's about me. I was interviewed for it, but I've never seen it, and I'm not going to see it. It was fun to be able to tell my story, from childhood all the way through, but I can't imagine what it says about me. There has been this manufactured cartoon character out there that took on a life of its own. Baywatch, V.I.P.—I feel like everything I've done is a Halloween costume.
There's a great clip in the documentary of you being asked about Barb Wire, the 1996 film in which you play a leather-clad superhero, and you say: "I have no idea what happened in that movie. I don't think anyone does."
Again, I like the outfit. I like the hair and makeup. A lot of times I'll go, Wait, that really happened? How could that possibly happen? I'm just in shock. So now I have the backup because the documentary is there.
Although I haven't seen Baywatch in years, I must say: It's all pretty iconic. No notes over here.
Jeff Koons once said that every time I walk out of the door, it's performance art. I looked behind me a lot of times thinking, Who are they screaming for, and where are they? And then it slowly dawns on you: This is my life. You just make the most of it. I don't think I've ever felt that pressure again. I'm not chasing youth; I always joke that youth is chasing me.
Gen Z lives for those images of you serving that huge, furry pink hat.
I always rebelled against clothes. Those moments people remember are things that I did completely on my own. I went to the basement, I found those pants, I put that eyeliner on, and I put that big hat on. They were not chosen by a fancy stylist—obviously, they would not have wanted to put their name on that.
Tommy has had an enormous impact on your life, from your elopement after four days of wild romance to the stolen sex tape and heartbreak. And now, as a co-parent of your two adult sons.
Trying to create a family after Tommy was hard, because having that kind of romantic experience is hard. How do you top that? I never got over that. I don't know if I'm over it yet. Romance is tragic. It's unsustainable, but it's worth it. If I end up alone, I can still live in those moments.
You made your stage debut last year, at 54, as Roxie in Chicago.
I needed that. I thought, If I fail, I'm not going to surprise anybody. But if I don't fail, I'm going to surprise a lot of people. I've always known I'm capable of much more than I've been able to do, in my career, at least. I'm like a racehorse—well, I hate to say that, because I'm in PETA too, and I don't really believe in racing horses. But I love pushing my body physically. I love the emotional torture. I love the cruel self-examination.
After Broadway, what is next for Pamela Anderson?
I don't know what's ahead. I'm a big reader, and I have great, interesting friends who are artists and intellectuals. I used to look at David LaChapelle and be like, "Okay, you're a photographer. But, what do I do?" My friends are like, "You're just you, and that's it." I have so much more to give and so much more I want to do. I just need to get out of my own way. It's such a fleeting thing, to be alive. For me, it's a mystery tour.
Hair by Sara Tintari for Balmain Hair Couture; makeup by Eileen Madrid for MadridGlow; photography assistant: Ross Fraser; fashion assistant: Janice Angelica