Parasite's Best Picture Win Angers Donald Trump for Obvious Reasons
To no one's surprise, Donald Trump is not a fan of Parasite, the first non–English language film to win Best Picture at the Oscars.
---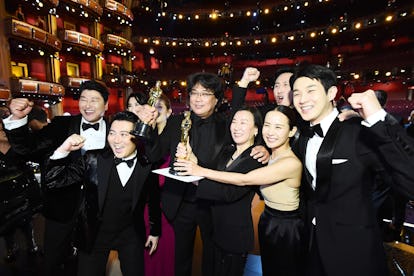 When director Bong Joon Ho accepted the Golden Globe for Best Foreign Film in January, he remarked upon the "one-inch tall barrier of subtitles" that some English-speaking viewers in the U.S. have cited as an excuse for not watching international films.
And to no one's surprise, there is still one person who has not been able to see past that "barrier" in cinema: Donald Trump.
At a Colorado Springs rally, Trump whined about the Academy's decision to give Parasite the Oscar for Best Picture, making it the first non–English language film to win the award.
"By the way, how bad were the Academy Awards this year, do you see? 'And the winner is,' " he mocked, " 'a movie from South Korea.' What the hell was that all about?"
As the audience laughed, he continued: "We got enough problems with South Korea with trade. On top of it, they give them the best movie of the year? Was it good? I don't know."
Neon, the production and distribution company that released Parasite, clapped back on Twitter with a quip about Trump's illiteracy when it comes to watching a film with subtitles: "Understandable, he can't read."
The president also called for a return of "great movies" from the first half of the 20th century. "Can we get Gone With the Wind back?" he asked, which evoked loud cheers from the audience. By the way, Gone With the Wind, which won Best Picture in 1940, takes place on a Georgia plantation and follows the trials and tribulations of a slave-owning family aligned with the Confederacy.
"Sunset Boulevard?" he implored again. Judging by the lack of applause from the audience, the reference to this Best Picture winner about a former silent-film queen setting up a comeback after the advent of talkies, must have gone over their heads. Or, as Ira Madison III joked on Twitter, it was possibly "too gay" for this crowd.
Regardless of the international accolades and awards that Parasite has garnered, and regardless of whether or not the dialogue onscreen was told via subtitles, something tells us the film's message about the realities of class warfare would go over Trump's head as well.
If living well is the best revenge, Bong and his $45 million box office earnings in America alone, in addition to an IMAX rerelease, will certainly let the filmmaker continue to live his best life until the end of time. (And not that he needs any more presidential approval, but for what it's worth, Barack Obama listed Parasite as one of his favorite films of 2019. Taste.)
Related: Bong Joon Ho Thinks Alfred Hitchcock Is the Most Original Filmmaker