What to See During Paris+ par Art Basel 2023
The French capital is buzzing with art fairs, museum exhibitions, gallery shows and much more you won't want to miss this fall.
---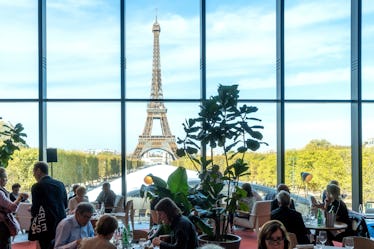 Courtesy of Paris+ par Art Basel
Paris+ par Art Basel returns to the French capital for the second time this fall, bringing with it a flurry of mind-bending museum exhibitions, gallery shows, pop-up spaces and satellite fairs that have the city positively bustling with art lovers. And there's plenty to love this year, not just at the fair itself, which is open to the public from October 20 through October 22, but at countless other locations both private and public, inside and outside, many of which will remain on view through December and beyond. It would be impossible to attempt to see everything, but we did our best—it also helps that many of the best contemporary galleries are condensed in a walkable stretch of the Marais. And if your feet get tired and your appetite worked up, there's always a fabulous café nearby for a pit stop. Here are some of the most exciting things to take in across the city right now:
The main event is being held at the Grand Palais Éphémère, a sprawling temporary structure on the Champ de Mars, a stone's throw from the Eiffel Tower. If you've ever been to Art Basel anywhere in the world, you know the drill: dozens of the top galleries on the planet bring work by top artists for a whirlwind few days of selling, schmoozing, seeing and being seen. This is only the second year of Paris+, and it was clear that gallerists wanted to match the energy of the wildly successful debut. Everyone brought their A-game, in particular Karma, where the larger-than-usual works by Andrew Cranston proved that the Scottish artist is a master in the making; Mendes Wood DM, where the staff was doing brisk business in Sanam Khatibi's eerie, diminutive paintings of skeletons inhabiting dreamy landscapes; Galerie Karsten Reve, whose outer-wall installation of faceless portraits and florals still lives by Gideon Rubin cut through the chaos; and Victoria Miro, where Flora Yukhnovich's stunning Thicker than Peanut Butter beckoned viewers from afar.
Beyond the fair itself, several galleries have sponsored public art installations across the city. A giant Urs Fischer sculpture from his clay series looms over the Place Vendôme, Daniel Buren and Michelangelo Pistoletto's collaborative work Divisione – Moltiplicazione enlivens Palais d'Iéna, and at the Jardin des Tuileries, a group show curated by Annabelle Ténèze juxtaposes sculptural flora, fauna and abstraction with the serene autumn hues of the park. Compared to the chaos of the fair itself, the open-air space makes for refreshing, contemplative viewing.
This satellite fair featuring emerging galleries from around the world is worth a visit, if only to get a sense of the wide variety of subject matter and media that are entrancing young artists today. Highlights include Em Rooney's sculptures and photographs on New York gallery Derosia's wall (instead of booths, a series of temporary walls divide the raw, industrial building that houses the fair), Eline McGeorge and Jennie Bringaker's quietly gorgeous works presented by the Oslo gallery Femtenesse, and Rasha Omar's haunting green portraits at Cologne-based Jan Kaps.
This authoritative dazzling retrospective brings together 115 works from throughout Mark Rothko's storied career. Presented in chronological order, it charts his development from a figurative painter to an abstract master. As Rothko once put it, he "became a painter because I wanted to raise painting to the level of poignancy of music and poetry." This show proves that he achieved just that.
The latest outpost of the global gallery Hauser and Wirth is an entire hôtel particulier near the Champs-Élysées. For its inaugural exhibition, the cavernous space is filled with work by Henry Taylor, whose casually intimate portraits of friends and family members contrast with his more abstract sculptural works. The show includes works made by Taylor when he was still a student in the 1990s to more recent paintings from his residency at the gallery's Somerset, England location last winter.
The vast, airy grandeur of the Pinault Collection's Paris location is an ideal setting for this wonderfully moody retrospective of Mike Kelley's work, contrasting the sunlit central spaces with Kelley's dark, immersive installations. His famous Kandors series are on full display, along with drawings, photographs, and preparatory writings that preceded them. If you don't manage a visit while in Paris, the show will travel to the Tate Modern in London next year.
Swedish artist Mamma Andersson's latest show with David Zwirner may be her best and most affecting one yet. This new series of paintings on canvas (a departure for the artist) depicts mostly interior spaces suffused with a sense of surreality, emptiness and loss. They're a little bit De Chirico, a little bit Gertrude Abercrombie, and entirely entrancing.
Mamma Andersson, Armageddon, 2023 © Mamma Andersson/Artists Rights Society (ARS), New York/Bildupphovsrätt, Sweden

Courtesy the artist and David Zwirner
Mamma Andersson Willy-nilly, 2023 © Mamma Andersson/Artists Rights Society (ARS), New York/Bildupphovsrätt, Sweden

Courtesy the artist and David Zwirner
South-African-born, London-based painter Lisa Brice's first exhibition with Thaddeus Ropac is a triumph. Many of the works in the show, rendered in rich shades of deep brown, are direct responses to iconic paintings made in Paris in the 19th and early 20th centuries, from Courbet's L'Origine du Monde to Manet's A Bar at the Folies-Bergère. In her reimagining, the female subjects of these historic paintings are the ones in charge, often shown observing and painting themselves. Don't miss the second floor, where studies for the larger works downstairs pop in indigo-hued oil on tracing paper.
Lisa Brice, Untitled, 2023.

Courtesy Galerie Thaddaeus Ropac, London · Paris · Salzburg · Seoul © Lisa Brice. Photo: Mark Blower
Lisa Brice, Untitled, 2023

Courtesy Galerie Thaddaeus Ropac, London · Paris · Salzburg · Seoul © Lisa Brice. Photo: Mark Blower
This thrillingly multi-sensory exhibition is the Colombian artist Delcy Morelos's first show with the gallery, opening just a few weeks after her first U.S. solo debut at the Dia Art Foundation in New York. On the ground floor, abstract paintings and textile works invite close viewing. In the dimly lit basement space, an installation made from earth mixed with cinnamon and cloves covers most of the floors, walls and ceiling, enveloping viewers in the intoxicating scent as their eyes adjust.
This just-opened gallery in the Marais brings American photographer Peter Schlesinger's work to Europe for the first time. The intimate, sunlit space is the perfect environment to take in the casual glamour of the images, all of which were taken during Schlesinger's visits to France between 1969 and 1979. Some of the most arresting include his former partner David Hockney reclining in a bathtub, Paloma Picasso and Tina Chow touching up their makeup at Picasso's wedding reception, and Robert Mapplethorpe emerging from a camera store.
Peter Schlesinger, Paloma Picasso and Tina Chow after Paloma's wedding dinner, Paris, 1978

Courtesy the artist and Mariposa
Peter Schlesinger, Snack shop, Saint Tropez, 1974.

Courtesy the artist and Mariposa
The Approach, a small but influential London gallery, has a pop-up space on Place des Vosges featuring an intimate, transportive series of landscapes by John Maclean. Trained as a painter in the 1990s, Maclean left art behind for 20 years in favor of a career in film and music, but a pandemic slowdown brought him back to the easel. The subject of each watercolor on board work is not the result of en plein aire inspiration, but of postcards that he finds online. Together, they form an intriguing and nostalgic mix, in an array of colors that both soothe and attract.
Italian artist Cinzia Ruggeri's practice spans furniture design, textiles, installation, drawing and more, and the results are intriguing, darkly humorous and fabulously surreal. At this multi-part exhibition (one room on the street level, another two up a few flights of stairs) her breadth and genius is on full display: mesh gloves with pearls pooling in the fingertips, a divan in the shape of a manta ray, a glass with a handle shaped like someone already taking a sip.
Rising-like-a-rocket British painter Issy Wood's first solo exhibition in France showcases her careful power of observation and dark sense of humor. Titled Study For No after a 2019 painting, the selection of paintings on view explores the artist's unease in and resistance against systems of oppression.
A selection of major works by the contemporary master Peter Doig are on view in the museum's domed rooms, showcasing the Scottish artist's deft ability to capture mood, light and seemingly even temperature in his richly colored paintings of figures exploring richly textured landscapes. In an adjoining room, a selection of additional works is presented in conversation with the d'Orsay's permanent collection.