Parker Posey Jumps Right In
In Beau is Afraid, the actor cuts through director Ari Aster's surrealist haze with her signature blend of kookiness and confidence.
Photographs by Andreas Laszlo Konrath
---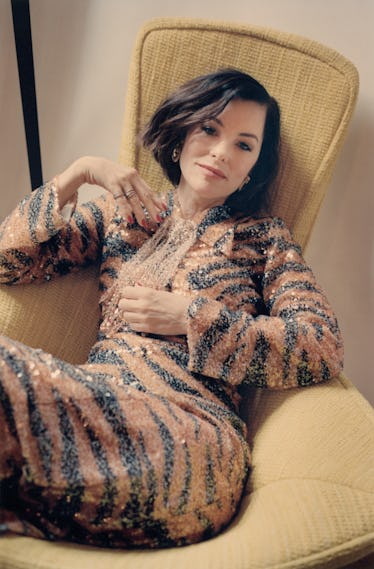 Parker Posey wears Gucci dress; Kenneth Jay Lane earrings; her own rings.
It's a cool, sunny afternoon in Greenwich Village, and Parker Posey is cozying up in a leather banquette in the back of The Marlton Hotel's dining room, scooping an assortment of natural remedies out of her crescent-shaped bag. "We have to make believe we're not going to get sick," the actress says with a sigh, lining the botanicals up alongside the table's salt and pepper shakers. "I'm just run down."
It's no surprise: Posey is fresh off of an extended off-Broadway run of Thomas Bradshaw's adaptation of The Seagull/Woodstock, NY. In this version of Chekhov's early modernist classic, she plays the lovingly narcissistic Irene, the magnetic center of an endearing, often laugh-out-loud production. The two show a day, six day a week endeavor wrapped up just as Posey's latest role, in Ari Aster's surrealistic Oedipal nightmare comedy Beau is Afraid, is being shared with the world.
Aster's film follows Beau, played by Joaquin Phoenix, on a paranoid and often head-spinning quest home to his overbearing mother. In Beau's world, fear rules: a trip to the corner shop becomes a Bondian mission; having sex, Beau's mother tells him, will result in his death upon completion. Posey plays Beau's childhood friend and enduring love interest. She is, without giving too much away, very much a scene stealer in a movie ripe with climatic and comedic competition.
After several years of taking on mostly television roles, the return to film and live performance has been exhilarating: "It's like turning on your own jacuzzi jets!" Posey exclaims, as the waitress approaches. Posey orders an herbal iced tea and a side of brussels sprouts before pulling a bright coral lipstick out of her bag (MAC's Lady Danger if you're curious) and adds it to the line of get-well potions.
Posey describes her journey as an actress as "a nomadic Indiana Jones in the Temple of Doom path." Rather than following any particular strategy, she goes with her gut. "I mainly get offered things I pass on," she says. "I've always done unexpected things. I wait for the ones who can fight for me." Her role in The Seagull/Woodstock, NY felt like kismet. She and Bradshaw first met in 2014, at his play Intimacy, but he came back into her life at a moment when Chekhov was on her mind.
When Aster approached Posey for Beau is Afraid, participation felt not just right but necessary. "It's everything," Posey says of the film. "Ari was able to successfully portray a whole nightmare world. When I read the script, I was like, this is just as good as Kafka, just as good as Chekhov, this is a real writer with a real voice. I had to do it."
But when it came to filming, Posey admits she was terrified. "When I arrived on set, I was shaking and had sweaty palms," she admits. "I can only describe it as jumping in the water of Joaquin and Ari. I knew I was in good hands, even if it was a little scandalous and dangerous." On screen, her character is kooky, confident, and unapologetic in her needs and desires — everything Beau is not.
There's a vulnerability and contagious, almost conspiratorial energy to Posey. She'll take you on the journey with her, with a self-aware humor that comes through in her performances. Her character studies, often quirky, at times silly, and almost always deeply funny, have defined a cult type. (Who can forget Darla screaming "Air Raid!" in Dazed and Confused, or Posey's improvised turn as the ultimate neurotic wasp in Best in Show?) Now, decades after Posey was crowned "The Queen of Indies," the actress is looking for roles that hold depth and dialogue-driven storytelling in an era dominated by big-budget franchises. (Although, she's no stranger to the latter and has said that she would love to return to the Scream series.)
"I think there are new forms to be made and theater to be made and the healing arts need a lot of attention," she says. "We're a traumatized culture. We're losing our connection to one another. We are losing our words, and by words I mean our feelings to words."
One passion project she's considering is inspired by Norwegian "Slow Television," a genre that includes minute-by-minute coverage of ordinary events, like a 7-hour train journey or a multi-day ship crossing. She envisions great actors reading selected shorts against the sounds of "a tent in the rain or wind in the trees, rain on leaves; to get back to that dream state of being alone or in your solitude with a story and where it takes you."
Posey takes a final sip of her iced tea as she leans back in the booth. "I am feeling too sensitive for these times," she says. "I tell my agents, 'Well, if you can't find me work that I'm really satisfied with, then I'll try to drum up my own thing.'"
Hair by Rheanne White, makeup by Tyron Machhausen.