Why the Party Down Revival Works So Well
A reboot so good, it's worth the Starz subscription.
---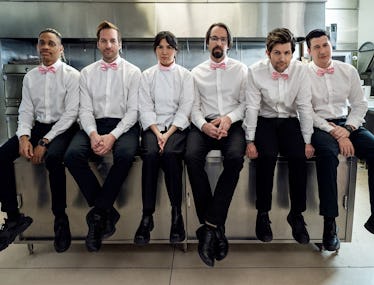 Starz
The TV landscape is riddled with the corpses of disappointing reboots. When shows like Arrested Development or Gilmore Girls returned to screens, they just couldn't capture the magic of the originals. Something was off. The sequels weren't totally irredeemable, but it was oddly disappointing to see actors trying to slide into roles they had long ago left behind.
Party Down, the Starz comedy that ended in 2010, understands disappointment, which is maybe why its revival, more than a decade after it ended, is basically miraculous. The episodes are just as funny as they used to be, if not occasionally more so.
It might be appropriate to say it's almost as if no time had passed, but the dreaded march of the clock is one of the reasons why Party Down succeeds all these years later. This series has always been about people who don't achieve their dreams, stuck in cater waiter purgatory while they wait for their Hollywood careers to take off. The fact that so many of them are back in their pink bow ties in the new season is thoroughly depressing, but it only makes the humor sharper.
For the uninitiated, Party Down—created by John Enbom, Dan Etheridge, Paul Rudd (yes, that Paul Rudd), and Rob Thomas (of Veronica Mars)—follows the employees of a Los Angeles-based catering company as they pour drinks and serve apps at wild events all while hoping this is just a temporary gig on their way to stardom or maybe just a recurring role. At the center of this miserable crew is Henry Pollard (Adam Scott), best known for a beer commercial where he bellows, "Are we having fun yet?"—a phrase that has become torture for him thanks to people shouting it when he's just trying to disappear into the background of festivities.
When Party Down was first on the air it seemed barely anyone watched it, but over time its fanbase steadily grew, in part because it starred a bunch of hilarious geniuses most of whom have only gotten more famous over time. In addition to Scott, who was Henry before he was on Parks and Recreation or Severance, the initial cast included featured Ken Marino, Martin Starr, Ryan Hansen, Lizzy Caplan, and Jane Lynch, who had to leave during the first season to play Sue Sylvester on Glee. She was replaced first, briefly, by Jennifer Coolidge, and then by Megan Mullally.
The only one who doesn't return in 2023 is Caplan (she was too busy filming Fleishman Is In Trouble, but says she'd love to return for a fourth season, should there be one). As for the show's in-universe explanation for her absence, we quickly learn that Caplan's aspiring comedian Casey Klein got cast on SNL and has seen her career take off, making her too busy to come to the reunion that takes place in the premiere to celebrate Hansen's handsome doofus Kyle Bradway getting cast in a superhero movie. The only two members of the original group still working at Party Down are Marino's Ron Donald, the team leader who sees catering as his calling, and Starr's Roman DeBeers, the "hard sci fi" writer who has now turned to vlogging. Henry has gotten married and become an English teacher, while Lynch's Constance is now a rich widow and Mullally's Lydia is managing her daughter Escapade's successful acting career.
There's a hint of optimism in this first episode back. Henry's given up on acting, but seems to be at peace with it, and, maybe aside from Roman and Ron, the characters have largely moved on from their service industry days. But that's short lived. Over the course of the night Kyle is canceled when a video of him performing his accidentally Nazi song "My Struggle" with his former band Karma Rocket resurfaces. (The joke of "My Struggle," which Kyle first performs at Jewish wedding in season two, was good in 2010. In 2023, the idea of a dumb guy singing about how special he is because of his blonde hair and blue eyes and thinking it's just about how hard it is being an actor is even funnier in a horrifying way.) Still, the grimmer punchline of Party Down's return is that it turns out this celebration is occurring in early 2020, just before COVID-19 comes and ruins everything for everyone.
When episode two begins, lockdown is over and everything's just a little bit sadder, which is, frankly, just how it should be. It hurts to see Henry back in that white button down, his soul ground into bits, and the isolation has made Ron, a recovering alcoholic, more pitiful than ever.
If this sounds just too much of a downer, don't fear, Party Down balances its existential malaise with near constant hijinks thanks to an array of absurd scenarios and a bevy of delightful guest stars including James Marsden, Quinta Brunson, Nick Offerman, and Judy Reyes.
The returning performers are also supported by new members of the team who fit right in with the tone. Zoë Chao is Party Down's latest chef, who cares more about what emotions food can provoke rather than how edible it is, and Tyrel Jackson Williams is an eager young caterer whose job as content creator befuddles the Gen X-ers and elder millennials who have more traditional goals. Most delightfully, Jennifer Garner, back in bubbly romantic comedy mode, has a major role as a movie executive who turns out to be a love interest for Henry. Yes, it's hard not to miss the acid tongue of Caplan's Casey Klein, but the creators made the smart decision to swerve in a completely different direction. Whereas Casey and Henry were soulmates in sarcasm, Garner's sweetness complements Scott's bitterness.
For however brutal Party Down can be, the brilliance of the series is that it's not mean. You end up caring for these dopes and sadsacks. And no matter how much they tease one another the camaraderie they have when eating shit is palpable and sometimes even strangely moving. Seeing them all these years later is, yes, sort of a downer, but it's also supposed to be. Their stagnancy is the point. At the same time, it's also just nice to have them back.
Party Down season three is now streaming on Starz.