There's Something About Paul Mescal
With his poignant portrayal of a young dad in Aftersun, the Emmy-nominated star of Normal People just might be on his way to the Oscars.
Interview by Lynn Hirschberg
Photographs by Jamie Hawkesworth
---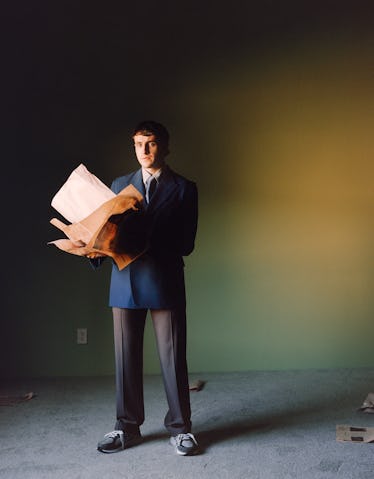 Paul Mescal wears a Fendi jacket, shirt, and pants; Charvet tie; New Balance sneakers.
Ever since the April 2020 premiere of Hulu's Normal People, Paul Mescal has been an object of the Internet's unwavering desire. Audiences who were first introduced to the Irish actor as the brooding dreamboat Connell opposite Daisy Edgar-Jones's Marianne in the television adaptation of Sally Rooney's novel, still equate the man with the heartthrob they saw on screen. But in the past year, a pair of critically acclaimed A24 films—the anxiety-inducing thriller God's Creatures and the touching drama Aftersun—have put at least a little distance between Mescal and the steamy series that made him famous. In the latter movie, Mescal portrays a young dad on vacation with his 11-year-old daughter Sophie (played by Frankie Curio) at a Turkish resort in the '90s. Here, the Critics' Choice Award nominee discusses the part and his own childhood memories.
In the Charlotte Wells film Aftersun, you play a father who's about to turn 31. As a 26-year-old yourself did you have any trepidation about taking on the role of a dad?
I probably should have been more nervous, given the conversations that have followed the film coming out. But I wasn't, because I think the whole point of it is that he is a young man as well as a very young father. He's mistaken as Sophie's brother rather than being her dad. I'm not used to seeing that on screen. [Being young myself ended up] a way into feeling like I could do it.
Many people came to know you through your role in Normal People which they binge-watched at the height of the pandemic.
I was a little bit worried that it had come out in COVID, initially. I was like, "God, this show seems to be doing really well. What happens if...." But it was a blessing in disguise. It allowed a lot of people to see the show and get their friends to see it. It also protected Daisy and myself from being fired into the madness of it all.
Initially, you were attracted to sports rather than acting.
When I was young, Gaelic football was the thing that I was good at. But my school has an amazing policy where everybody has to audition for the school musical in their fourth year. It was a big one—The Phantom of the Opera—and I ended up playing the Phantom. That probably changed my life.
Where was your first kiss?
The first kiss doesn't really count, because it was more of a headbutt. It was one of those arranged kisses at a friend's birthday party. I misjudged my calculation in terms of entering the kiss, and we kind of smacked heads and ran away. My first proper kiss was very unglamorous. It was behind a white van in a housing estate.
Have you ever been starstruck?
Yeah, there's a documentarian called Louis Theroux. He is an extraordinary man. I did a radio interview in the UK with him. We were being interviewed for stuff that we had coming out. I love his shows more than anything. I think he's at the top of his game and has been for such a long time. So yeah, I got pretty starstruck when I saw Louis Theroux.
Hair for portfolio by Anthony Turner at Streeters; makeup for portfolio by Lucia Pica for Byredo at Art Partner. Senior style editor Allia Alliata di Montereale; senior fashion market editor Jenna Wojciechowski. Manicure for portfolio by Michelle Saunders. Set Design by Gille Mills at 11th House.
Produced by Connect the Dots; executive producer: Wes Olson; producer: Zack Higginbottom; production manager: Nicole Morra; photo assistants: Cecilia Byrne, Jack Buster, David Gurzhiev; retouching: Simon Thistle; fashion assistants: Julia McClatchy, Tori López, Jacqueline Chen, India Reed, Nycole Sariol, Derek Ezra Brown, Karla Garcia, Rosa Schorr; production assistants: Khari Cousins, Tchad Cousins, Kelsey Swope Romero, Mateo Calvo, Juan Calvo, Rayon Pollard, Gina York, Peter Ditzler, Nico Robledo; hair assistants: John Allan, Dylan Michael, Ramdasha Bikceem, Malika Palmer; makeup assistants: Kate O'Reilly, Lilly Pollan, Bailee Wolfson; manicure assistants: Pilar Lafargue and Victoria Valenzuela, Jolene Brodeur; set assistants: Cory Bailey, Dirk Knibbe, Joel Garcia, Matt Day; tailors: Irina Tshartaryan, Ripsime Vartanyan at Susie's Custom Designs, Inc.