Emma Stone Will Creep You Out In The Poor Things Trailer
The surrealist, Victorian-era film stars Stone as a Frankenstein-like woman brought back from the dead.
---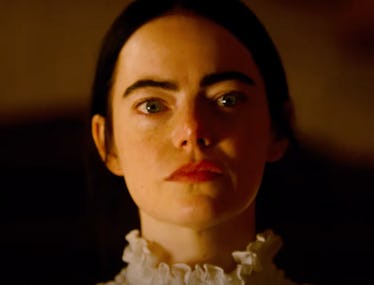 Screenshot via YouTube
Emma Stone and director Yorgos Lanthimos are reuniting following The Favourite for a surreal new film, Poor Things. The film is a story of "love, discovery and scientific daring" based on Alasdair Grey's novel of the same name.
Per the official synopsis, Poor Things centers on the incredible tale and fantastical evolution of Bella Baxter (Stone), a young woman brought back to life by the brilliant and unorthodox scientist Dr. Godwin Baxter (Willem Dafoe). Under Baxter's protection, Bella is eager to learn. Hungry for the worldliness she is lacking, Bella runs off with Duncan Wedderburn (Mark Ruffalo), a slick and debauched lawyer, on a whirlwind adventure across the continents. Free from the prejudices of her times, Bella grows steadfast in her purpose to stand for equality and liberation.
In a new trailer for the film, a ghostly pale, dark-haired Stone wanders, dances and runs around a dreamlike landscape. Something's not quite right, as she plays with animals that are half-dog, half-bird, and her movements are peculiar. Dafoe then appears with Frankenstein-like scars on his own face, saying, "She's an experiment. Her brain and her body are not quite synchronized. But she's progressing at an accelerated pace." As images of Bella trying to act like a normal person flash on the screen, Stone narrates, "I am Bella Baxter. And there is a world to enjoy, circumnavigate. It is the goal of all to progress, grow."
"A woman planting her own course to freedom. How delightful," the trailer concludes.
In addition to Stone, Dafoe and Ruffalo, the film also stars Jerrod Carmichael, Ramy Youssef, Christopher Abbott, Margaret Qualley, Kathryn Hunter, Suzy Bemba and Wayne Brett.
The role marks Stone's first major film feature since 2021's Disney movie Cruella, which told the origin story of 101 Dalmatians' iconic villain. It's her third collaboration with Lanthimos; she received an Oscar nod for her turn in the enigmatic Greek director's 2018 period drama The Favourite and also worked with him on the short film Bleat. She's also in his upcoming film And, which stars Dafoe, Jesse Plemons, Hong Chau, Joe Alwyn, Mamoudou Athie and Hunter Schafer.
In his 2019 W cover story (for which he shot Emma Stone with a cast of 15 dogs), Lanthimos noted that his "films are meant to be somewhat disturbing. I prefer to shake things up in an engaging way." If the Poor Things teaser is any indication, that's exactly what he's done here:
This article was originally published on