Prada's First Campaign of the Raf Simons Era Was Photographed by "No One"
The designer seems to have convinced Mrs. Prada to get weird.
---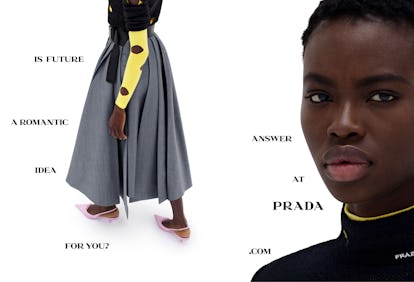 Courtesy of Prada
It's already a good year for the devoted fanbase of fashion and blanket designer Raf Simons. On Tuesday, Prada rolled out its first campaign since he joined Mrs. Prada in a joint design position at the house's helm. Unmistakably Raf, it seems to confirm that she's given Simons free rein—and hint that in 2021, the pair plans to get weird.
Simons and Mrs. Prada stuck with the creative director Ferdinando Verderi, who's headed up the house's campaigns since 2019. But their choice of photographer is quite the departure from, say, Juergen Teller, who shot the pair's first look book. The press release kept it simple: "The Prada spring/summer 2021 campaign is photographed by no one."
At least, it wasn't photographed by anything living. Instead, hundreds of cameras circled the models, simultaneously capturing a plethora of 360-degree views. To Simons and Mrs. Prada, it's "a riposte to authorship and auteurship" and "study on the conversation between man and machine." Representing "man" are 17 of the new faces who walked the pair's debut Prada show, marking the first time each had ever walked a runway.
There's another reason why the photographer-less campaign stands apart. Each image meditates on humanity, "perceptions of self," and more existential topics through questions like "Does 'cloud' make you think of data or sky?," "How is unique different from new?," and "Is future a romantic idea for you?" The answers, the images promise, can be found at Prada's website, where you can also submit your own response. It just might turn up in the next rollout of the ads, which Simons and Mrs. Prada prefer to think of as a "subversion of traditional fashion advertising communication."
Related: The Latest Sold-Out Raf Simons Accessory Is… a Blanket?