Brooke Shields' Pretty Baby Documentary Charts Her Objectification & Rise to Fame
"I spent my life owing people things," the famous model and actress says in the film's first teaser.
---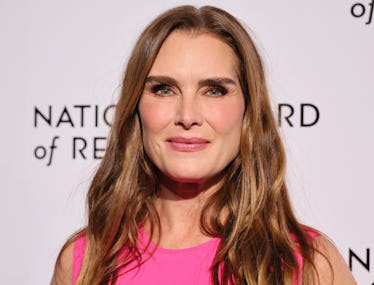 Theo Wargo/Getty Images Entertainment/Getty Images
"I spent my life owing people things, and doing whatever they wanted. I finally asked myself, who will I be if I don't allow that anymore?" This is the dilemma at the crux of Pretty Baby: Brooke Shields, the forthcoming documentary about the famous model and actress' rise to fame as the "face of the '80s" and beyond. Helmed by Lana Wilson, who also directed Taylor Swift's Miss Americana documentary, the film first premiered at Sundance and will be on Hulu next month. A new teaser for the film finds Shields asking herself that question as images from her storied career flash on the screen.
The doc gets its title from Louis Malle's controversial 1978 film that Shields starred in when she was 12-years-old, about a child prostitute in New Orleans' red-light district in 1917. In addition to its material, the film was protested at the time due to Shields being nude and kissing an adult male costar.
The documentary delves into the making of that film but also looks at Shields career as a whole, and how her early sexualization both reflected and transformed the way young women were perceived in America at the time. Per a release, the film "holds a mirror up to a society that objectifies women and girls, her story shows the perils and triumphs of gaining agency in a hostile world." It also shows how Shields came into her own during her life, reckoning with her self-image and the conflict between her personal and public lives.
Pretty Baby also tells the complex story of Shields' relationship with her mother, Teri Shields, who was also her manager. Shields' professional career started at the age of 11 months, when she started modeling in commercials and print ads, and truly blew up after starring in films like Blue Lagoon, Endless Love, and the infamous Calvin Klein ads in which she folded into provocative poses while saying, "Nothing comes between me and my Calvins." As her public image came under intense scrutiny, Shields began to learn how to push back, taking a break from the limelight by going to Princeton and reentering Hollywood as an adult.
Pretty Baby: Brooke Shields was made by ABC News Studios in partnership with Matador Content and BEDBY8, and will premiere on Hulu on April 3, 2023.