The Most Ridiculous Prince Harry Memoir Headlines, Ranked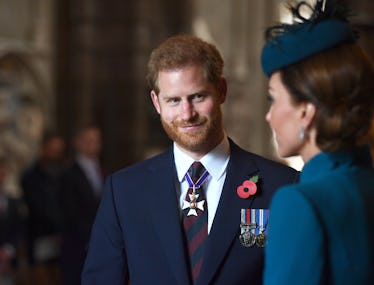 Photo by Victoria Jones - WPA Pool/Getty Images
Prince Harry's upcoming (but already leaked) memoire "Spare" may as well be the crown jewel of royal family gossip. Indeed, the House of Windsor surely would rather have a few scepters and tiaras stolen than these secrets revealed to the public. While Harry's joint Netflix docu-series with his wife Meghan Markle was relatively tame, "Spare" removes the robe from all the hints of Windsor drama we've been subjected to over the past few years. The highlight seems to be Harry's claim that Prince William physically attacked him after calling Markle "rude" and "abrasive," but there's so much more between the book covers—more than anyone could have predicted.
Harry details his life not like a Prince, duty-bound to protect the magic of the monarchy and present it as a real-life fairy tail, but as an average-joe memoirist eager to explain his personal circumstances, warts and all, regardless of how his family feels about it. The man even reveals they way in which he lost his virginity and some specifications about his princely anatomy.
There have been juicier celebrity memoirs before "Spare." In fact, normal people regularly upload deeper secrets about themselves and their family to YouTube and TikTok every single day. Yet, the fact remains Harry is not only a Prince, but a member of a family whose history is nearly mythological. It's all a bit ...weird? Here, the oddest headlines about Harry's book and his attendant media interviews, ranked for your pleasure.
"Prince Harry Says Princess Diana 'Would Be Sad' About His Relationship with Prince William Today"
Completely understandable. In fact, at this point, we're all a bit sad about it.
"Prince Harry Finally Breaks Silence Over Rumor That James Hewitt Is His Real Father"
If you told us 10 years ago, long before Markle, that Harry was going to write a tell-all memoir, this longstanding rumor would have been at the top of our list of things we'd expect him to discuss. Turns out, Harry not only completely denies it, but felt it was used by the British press to mock him.
"Prince Harry Claims King Charles Joked About Possibility He Wasn't His 'Real Father' in New Book
We are, however, slightly—just slightly—more shocked to find out that Prince Charles himself thought the rumors were funny.
"Prince Harry: 'I Was Probably Bigoted Before the Relationship With Meghan'"
Only "probably?"
"Prince Harry Says It Was a 'Mistake' to Watch Meghan Markle's 'Suits' Sex Scenes: They Were 'Mauling Each Other'"
Weird ...but this is something anyone dating an actor might be tempted to do. In fact, "Have you watched your partner's sex scenes?" is a somewhat standard late night talk show question posed to actors who date other actors.
"Prince William, Kate Middleton Were 'Religious' Fans of 'Suits' Before Meeting Meghan"
This one's really funny, actually. We wish the fact that Will and Kate were mega-fans of Markle's old show had been made public earlier. If anything, to finally answer our long-held question: "Who was watching Suits?"
"Prince Harry Claims Camilla Changed His Bedroom Into Her Dressing Room"
This feels like something a student in a Scriptwriting 101 class would come up with to flesh out an "evil stepmother" character.
"Meghan Markle's Comment About Kate Middleton's 'Baby Brain' Caused Heated Exchange, Prince Harry Recalls"
Shocking, in that Harry somewhat corrects his wife's own telling of the spat with Middleton. He adds that Markle's own "baby brain" gaffe was partly to blame.
"Kate 'Reluctantly' Lent Meghan Her Lip Gloss in 'Awkward Moment': Harry"
To be honest, we completely understand how a princess might be a bit alarmed about sharing lip gloss.
"Prince Harry Mocks Williams' 'Alarming' Hair Loss, Says His Resemblance to Princess Diana Has Faded"
Mean ...but we were all thinking it.
"Prince Harry Claims Kate Middleton and Prince William Encouraged Him to Wear Nazi Costume in 2005"
He explains the story about the Nazi party costume—but not the time he was photographed nude in Las Vegas? Maybe because he couldn't blame that one on Will and Kate...
"Prince Harry Details Losing His Virginity to an Older Woman Who Treated Him Like 'A Young Stallion'"
He added that it took place behind a pub.
"Prince Harry Says He Had a 'Frostbitten Penis' at William and Kate's Wedding"
Royal or not, we actually don't want to hear this from anyone, ever. If this happened to my own brother, I'd rather he'd keep it to himself.
"Prince Harry Book Updates: Harry Admits He Took Cocaine—and Says He Killed 25 in Afghanistan"
Are these two things related?
"Prince Harry Thought a Toilet Was Talking to Him After Doing Magic Mushrooms"
Okay, they're just playing MadLibs at this point.