Six Great Quarantine Reads, According to Ashleah Gonzales
The modeling agent (and Kendall Jenner's unofficial literary consultant) shares her list.
---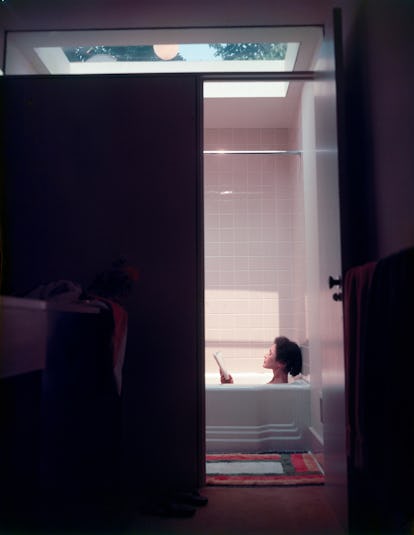 Photo by Nina Leen/The LIFE Picture Collection via Getty Images
We first learned about Ashleah Gonzales's superior literary taste last year, when Kendall Jenner posted an Instagram story featuring a pile of her annotated picks, which ranged from contemporary poetry by Fariha Róisín to a collection of stories by the late surrealist artist and writer Leonora Carrington. Since then, the public has gotten glimpses of Gonzales's recommendations (easy to spot because of their signature turquoise post-it notes) through paparazzi photos of Jenner, who is often seen toting so-called "alt lit" poolside or on the deck of a yacht. Seeing as we'll all be cooped up inside for the foreseeable future, W reached out to Gonzales (who is currently working, reading, and hanging out with her cat at home in Brooklyn) to see if she would share some ideas for what to read in these strange and trying times. Here, her six favorites. (She'll continue to add more recommendations on her Instagram in the coming weeks.)
If you decide to spring for any of Gonzales's book ideas, please consider ordering directly from a local independent bookstore, or check out the selection on Indiebound.
"A gorgeously weird collection of short stories that range from a teenage girl believing she is an actual plant to everyone in Florida is living dead. Dark humor combined with sympathetic strangeness for what feels like a compulsive imagination. This book is alluring, beguiling, and unsettling."
"I would find the characters in these stories saying things that I have said alone to myself, which felt oddly homey. While in the same moment (quite literally) shape-shifting/morphing into something unexpectedly foreign but fever-dream familiar. Fun fact: Motoya is a playwright, which you'll notice by how well her characters come to life."
"Hempel's work is something to be admired: This collection of micro-fictions offer momentary glimpses into her bold and seemingly lonely characters' lives. Even I was surprised how long these brief but heavy words stuck with me. Quietly extraordinary!"
"What a gift to literature this masterpiece was. In each of these stories, Pursell places relationships under the scope, but only for a moment, then it's gone. She helps remind you how painfully beautiful life can be and demands attention to moments in our daily lives that easily slip away. I have read this book more times than I can say, each time taking something different with me. Truly a lingering tug at all heartstrings."
"A collection of flash fiction that feels seemingly arbitrary with an ache of human longing for connection peppered in. A few of the stories are left with loose ends, so you can decide the outcome which feels like a 'choose your own adventure' in a way. These bizarre but beautiful stories transport you elsewhere with no intention of bringing you back."
"I was caught off guard by how this booked PULLED me in. Each story in the collection is told from the viewpoint of woman who is real and flawed in a very relatable way and all of them seem to be looking for something even if they are not sure of what that something might be. Bergman's words read like poetry that not only inspires, but demands reflection."