Raf Simons Tapped as Prada's New Co–creative Director
Miuccia Prada and Raf Simons will share creative control of the brand.
---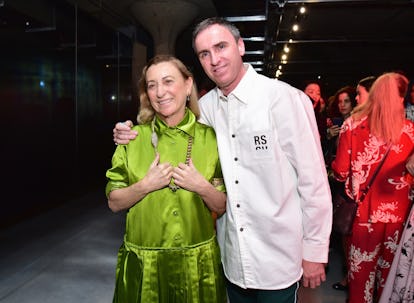 Raf Simons's unparalleled journey through fashion continues. His latest stop? Co–creative director of Prada, alongside Miuccia Prada herself. The announcement came at a press conference held Sunday, February 23, during the last day of Milan Fashion Week. "We feel the need to join as creative people in a dialogue, to bring emotion and bring co-creation," said Simons. The arrangement will find the two designers sharing equal control over all creative facets of the Prada brand.
Simons will also maintain his namesake menswear label, while Mrs. Prada's other brand, Miu Miu, is not part of the arrangement.
The fashion community, as it likes to do, had been buzzing that Simons, who left his former position at Calvin Klein in 2018, would wind up somewhere within the Prada family, but no one quite predicted the unique power-sharing arrangement. Though, in retrospect, perhaps the writing has been on the wall for a while.
The two designers have long been friends and mutual admirers. Simons was appointed as creative director of Jil Sander, his first major job outside of his own line, in 2005, when Jil Sander was owned by Prada. He eventually left that position in 2012, after which it was announced he'd succeed John Galliano at Dior. When Simons ultimately left Dior, the first public comments he made on the matter were in a joint interview with Mrs. Prada in System magazine.
"One thing that I would really love to do is to work with Raf, and maybe with other people—it would be so much fun," Mrs. Prada said during the interview. "If I could do a show with him, imagine how much fun we would have."
Simons, too, was excited about the possible ways more collaboration could shake up the industry. "Sometimes you just need this different eye and different mind-set to break out from your own systematic behavior."
Both also lamented the ways in which the current fashion system produces more responsibility than any one person can sanely handle.
The press release reads as something of a continuation of the dialogue the pair had in that interview. "As times change, so should creativity. The synergy of this partnership is far-reaching. It is a reaction to the era in which we live—an epoch with fresh possibilities, permitting a different point of view and approach to established methodologies. It can also be seen as the first step toward broader scopes of interaction—an initiation of free exchange and collaboration, a questioning of creative conventions."
Their first collection under the arrangement will premiere on the runway next fall.