RIP Raquel Welch, the Star Who Helped Redefine American Beauty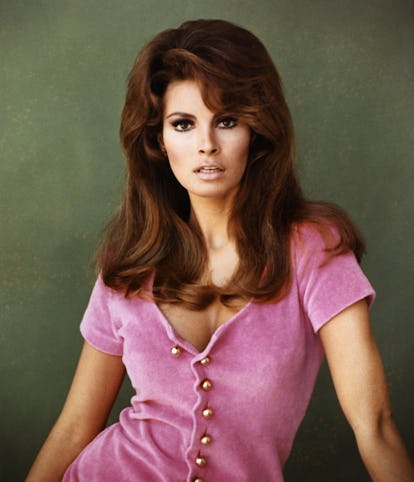 Photo by Herbert Dorfman/Corbis via Getty Images
The word "sex symbol" will inevitably find its way into every remembrance of Raquel Welch, the actress who died today at 82 years old. There's no denying she was—yet, those words alone tend to undersell her impact. Although Welch never considered herself a natural sex symbol, presenting herself as one to the public was a business decision. And it was one that would change the ideals of American beauty forever.
Few need to be reminded of the beauty standards of the 1950s. The biggest female stars in the world were almost uniformly blonde; blue eyes and painted red hips often completed their looks. Welch entered the public eye in the mid '60s. By that time, she was a divorced mother of two who had worked at jobs as varied as television weather presenter, department store model, and Texas cocktail waitress. Even though it was hidden from the public at the time, she was also of Bolivian heritage (in fact, one of her cousins was the first female president of Bolivia ...until she was overthrown in a coup conducted by another cousin). For a few years, she had small parts in a few films, unsuccessfully auditioned for the role of Mary Ann in Gilligan's Island, and appeared in an episode of Bewitched. But it was the 1966 film One Million Years B.C. that made her a star. She had just three lines of dialogue in the film, but appeared on its poster in a fur-lined bikini, causing a cultural phenomenon. She went on to costar with Frank Sinatra, won a Golden Globes for a Three Musketeers movie, and could often be found within the pages of Playboy (though she never posed fully nude for the magazine). There was also that infamous starring role in the 1970 X-rated flop Myra Breckinridge, a film that would surely earn the ire of multiple online movements across the sociopolitical spectrum if it were re-released today.
In more recent years, Welch had popped up in everything from a memorable episode of Seinfeld to a role in Legally Blonde. At the age of 67, she also served as the face of MAC cosmetics. An early example of pop-culture-glamour-girl-as-entrepreneur, Welch also had her own successful line of wigs.
Welch's icon status would continue to resonate with those who followed in her footsteps. Khloé Kardashian at one point hung a photograph of Welch on a crucifix in her house. Emily Ratajkowski once dressed in a full homage to the fur bikini for Halloween. And Welch's film Hannie Caulder was also a major influence on Quentin Tarantino's Kill Bill.
Welch was married four times, and leaves behind two children, incuding the model Tahnee Welch.