Raye Rewrites Her Narrative
The British singer-songwriter talks "Escapism," My 21st Century Blues, and why she won't be pigeonholed into a single genre.
Photographs by Charlie Gates
Styled by Lauren Anne Groves
---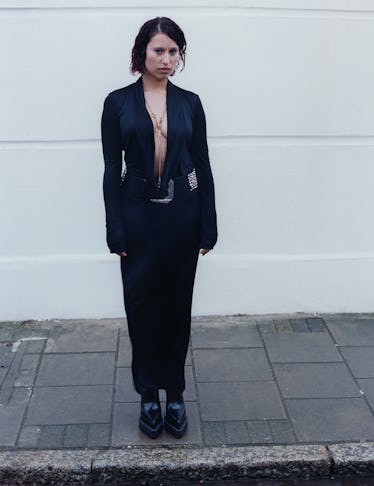 Raye wears a Versace dress, earrings, necklace, belt, and boots.
Shortly after the release of her debut album, My 21st Century Blues, the British musician Raye posted a TikTok with the caption "I find myself in a great position," an inversion of a line ("I find myself in a shit position") from her breakup anthem with 070 Shake, "Escapism." The song, which has been used in more than a million TikToks and streamed over 500 million times on Spotify, has become inescapable since it came out last fall. The caption accompanies a video of Raye beaming triumphantly, strategically filmed near the offices of the label with which she parted ways in 2021, after it refused to take on what is now her critically acclaimed record. "I waited seven years to release this," she says on its final track. "Finally, My 21st Century Blues is ours, forever."
Raye, who was raised by a British father and a Ghanaian-Swiss mother in South London, remembers telling her parents when she was 10 years old that she would become a musician. At 17, she signed a four-record deal, but was quickly pigeonholed as an EDM vocalist. "When you have a dream, you often can't see how ugly and unsimple things are behind closed doors," she said. While the singles she created with major DJs like David Guetta were well received, she describes that early stretch of her career as time spent "wearing a mask." "It was all about fast hits, big hooks, and music that makes money," she said. "There was no consideration for depth or artistic intention. This chapter has been about rebelling against all of that."
While Raye's bluesy, powerhouse vocals bring to mind Adele and Amy Winehouse—both alumni of the same music school that Raye attended—her lyrics hark back to poets of '90s hip-hop like Nas and Mary J. Blige, who wrote with urgency about their interior world and the chaos around them. Raye doesn't shy away from heavy topics on tracks like "Body Dysmorphia" and "Environmental Anxiety," but she also makes plenty of room for joy with dance floor–ready bops like "Black Mascara." On "Buss It Down," she croons the lyrics to a hip-hop song that could have been written by Ludacris, over a piano and with the backing of a gospel choir.
Snippets of Raye's live shows—like one of her belting the revealing ballad "Ice Cream Man" in her underwear—show a performer for whom connection means everything. When asked about her onstage presence, she shared the definition of "sonder," a word that is important to her: "It's the feeling of overwhelm that comes with the realization that every individual human being is living a life as detailed and complex as your own."
Fittingly, she takes a "very analog" approach to production. "I play the keys; I produce. I arranged a lot of the horn parts and the string parts. We bring brass on tour and have live drums whenever we can. I want that raw, live feeling," she said. Both her sound and her aesthetic transmute 1950s pinup style and the soulful haze of 1930s jazz clubs into her own very 2020s perspective. "To think that I was going to be this EDM girl for my whole life," she mused, trailing off. "Being able to rewrite my narrative, and the fact that people are even listening, is just beyond my wildest dreams."
Hair by Naoki Komya for Oribe at Julian Watson Agency; makeup by Erin Green for Chanel Beauty at Bryant Artists; photo assistant: Tommy Francis; makeup assistant: Hanna Friedrich.