Rihanna Trolls Those "Avon Lady" Allegations During Her Super Bowl Halftime Show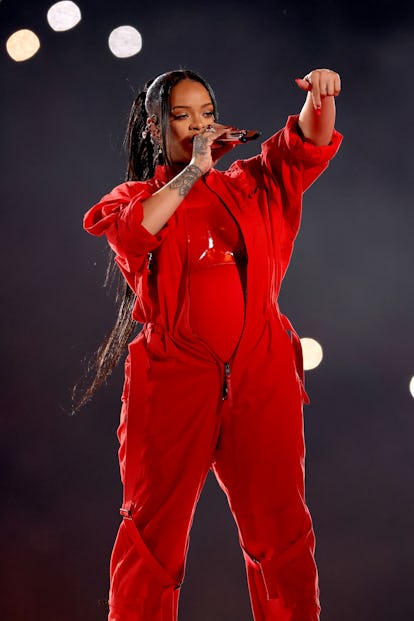 Gregory Shamus/Getty Images Sport/Getty Images
Some of Rihanna's testier fans have taken to calling her the "Avon Lady" on social media because over the past few years she's concentrated more on her Fenty Cosmetics empire than she has her music career. Back when she was announced as the Super Bowl halftime headliner, there were many jokes that we were about to see a live 13 minutes beauty tutorial right in the middle of State Farm Stadium in lieu of a mini-concert.
While Rihanna may not be quite as quick with the Twitter fingers as she used to be (she's a soon-to-be mother of two), we do know that she's pretty "online." We're sure she saw some of those Tweets, because she slipped what very well may have been a little bit of a clapback troll at the "makeup sales lady" allegation.
In between songs, she had a backup dancer hand her a Fenty compact so she could get in a quick touchup before launching into a snippet of "All Of The Lights." Granted, the reasoning may have just been some quick product placement, but given Rihanna's history for trolling, we're just going to assume she saw your little tweets.
According to Allure, Rihanna did indeed wear a face full of Fenty Beauty products. Her brand also held a dinner for beauty influencers in Arizona the night before the game. Though, as far as we can tell the compact reveal did not serve as the introduction of a brand new products. Some marketing professionals may consider that something of a fumble.
Unfortunately, for the corner of the Navy who just want new music (and not new palettes), Rihanna didn't come through on that front. Her set included no new songs, and no new album (or tour) was immediately announced. Instead, the biggest debut during the set was her second pregnancy (confirmed afterwards by her representative). So she'll have a new mouth to feed. Time to sell some more makeup it seems.