Rihanna Revealed She's Pregnant With Second Child at the Super Bowl Halftime Show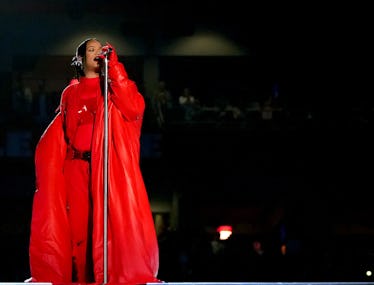 Kevin Mazur/Getty Images Entertainment/Getty Images
Rihanna fans may not be getting a new album, but her son is getting a new sibling. The singer revealed that she was pregnant again during her halftime performance at the Super Bowl. In an all-red outfit including a custom Alaïa coat designed by Pieter Mullier, the singer opened up her jacket to reveal a slight baby bump.
It was a seeming nod to Beyoncé's famous pregnancy reveal at the MTV Awards in 2011, but far more subtle as the cameras quickly cut away, leaving fans to speculate. Rihanna's rep confirmed to multiple outfits after the show, though, that she is indeed pregnant with her second child.
Rihanna and partner A$AP Rocky welcomed their first baby boy just 9-months ago after announcing that pregnancy just a year and two weeks ago. In an interview with Apple Music prior to the Super Bowl, Rihanna said that motherhood inspired her to perform at the game despite initial hesitations.
"I was like, 'You sure? I'm three months postpartum. Should I be making major decisions like this right now? I might regret this," she said.
"When you become a mom, there's something that just happens where you feel like you could take on the world — you can do anything," she added. "And the Super Bowl is one of the biggest stages in the world, so as scary as that was … there's something exhilarating about the challenge of it all," she said. "It's important for my son to see that."
In a rare move for a Super Bowl performer, Rihanna didn't bring out a single guest. In a prior interview with CBS' Nate Burleson, Rih hinted that there would be just one surprise guest—and she didn't lie.
Before the performance, there were rumors that the singer would play a new song, announce a tour, reveal a new album, or some combination of the above. However, she stuck to hits like "Umbrella" and didn't so much as hint at any new music. Fans will have to hit replay on Anti for now.