Ritu Arya Brings Sibling Rivalry to Life in Polite Society
The Umbrella Academy actress talks her Sundance hit, bonding with screen sister Priya Kansara, and what she can say about the upcoming Barbie movie.
---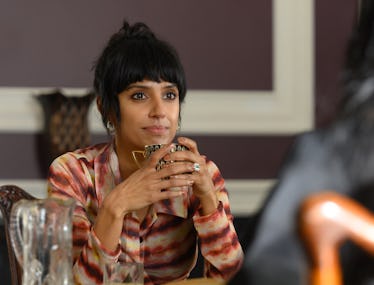 Ritu Arya stars as Lena in Nida Manzoor's "Polite Society." Photograph by Parisa Taghizadeh / © 2023 FOCUS FEATURES LLC.
In the British comedy short We Are Lady Parts, Ritu Arya kicks off a band rehearsal with the immortal lyrics: "I'm going to kill my sister!" The line jumped to mind while watching the wildly entertaining Sundance hit, Polite Society, which opens on April 28. Arya plays Lena, the aspiring-artist sister of Ria, who wants to become a stuntperson, against all odds. When Lena ditches her dreams and gets engaged to a hunky surgeon, Ria feels like, well, killing her sister—or at the very least, sabotaging the marriage.
Hilarity ensues, and in the comedy-action mélange of Polite Society that means some off-the-wall fights and one of the great wedding disaster scenes. But the heart of the story is how Lena and Ria (Priya Kansara) can reconcile; as Lena, Arya brings the simmering cool that she puts to witty use in the Netflix show Umbrella Academy—plus those action chops.
Polite Society reunites her with director Nida Manzoor, creator of We Are Lady Parts, who has spoken about the importance of centering Polite Society on a South Asian girl and drawing on her own personal experience and her mother's. "What was lovely is that Nida has this amazing crew full of women," Arya said. "That felt really special. I've not had that before on a show."
I spoke with London-born Arya, who was in Toronto shooting season four of Umbrella Academy, about the secret language of siblings, bonding with her screen sister Kansara, and what, if anything, she can say about the upcoming Barbie movie.
You first connected with Nida Manzoor on We Are Lady Parts, but when did you first hear about a Polite Society script?
Not until the audition came through. She'd never mentioned it. I worked with Nida on the short and then we did Doctor Who together. I think it was a couple of years since then. The script came through my agent, and I was like, 100 percent, I want to have a chat with Nida!
What did you like about the role?
She felt so relatable. It was interesting to see her lost, in a place without purpose, just filling a void—seeing her go through this journey of meeting someone and not listening to her sister and then coming out the other side. I loved her dynamic with Ria, the sibling love as well as rivalry. There was just so much to play with when I read the script.
What do you think the movie gets right about sibling relationships?
I think it's the way Lena encourages Ria to follow her dream. She makes these videos [of her practicing stunts] and she encourages her to get back up when she falls down. She even spars with her. She really wants her sister to do well! And I thought her fighting with her sister was done so well. It can feel like the biggest and worst thing in the world when you fight with your sibling, especially at that age, when they are your everything. And then just the banter they have. In every sibling relationship, you have your own humor, your own language that no one else can get, or probably even find funny.
What for you is the funniest moment in the film?
It's hilarious when Ria and her friends go on the heist at the gym, dressed as boys. It's these really weird walks that they do. I'm such a sucker for stupid stuff like that. It's a funny script, but—every time—that has me really LOLing.
Have you had a sibling relationship that's been meaningful like this?
Yeah, I've got two brothers, one older and one younger. They're my best friends. We laugh, we cry, we fight. We encourage each other and we've got each other's back. I feel so blessed to have those relationships.
Did you also relate to the idea of pursuing a particular path in life, no matter what?
Yes. There's something very relatable about that. One, she wants to be an artist and, you know, growing up I said to my parents, "I want to be an actor," and no one else in the family had ever gone into the arts before. So I was really navigating it myself, and I never felt I wanted to conform to what was around me. I don't know where that came from! But I was lucky enough to have parents who supported me. And the parents in Polite Society are like that, too. They're like, "She'll figure it out."
Also, Lena gets engaged to this guy, and I think she even shocks herself: she's like, I know this isn't something that I'd do, I'm not a traditional person. And I really relate to the rebel in her.
How do you build up your bond with Priya Kansara, who plays Ria?
Sometimes it's easy because you just click with that person. She's such a positive, easygoing, beautiful human, so I always felt like we were sisters, from the first day we met. I gave her a card and a gift when I first met her. She came over for breakfast before we started filming. I think those things make a bit of a difference in terms of feeling, sharing, connecting, and giving love. That set us off on a really lovely foot, but we would have clicked like that no matter what, just because of her being so awesome.
That's so sweet about the breakfast because I read a Sundance interview that said Priya made you a lovely egg sandwich.
I love this [game of telephone]! But firstly, I made it. I don't know why I'm taking credit for it—it wasn't good! Secondly, it was a very boring omelet. Just egg and onion.
I'm glad we cleared that up. The reporting has been all wrong on this issue.
I love that it's become a thing. News bulletin No. 1.
Looking ahead, I saw you're intriguingly credited as "Barbie Newswoman" in Barbie?
[Deadpan] Oh, cool. Am I? I hadn't seen that. I don't want to trip up on anything so I'm not saying one word about Barbie. But I will say I had just an amazing time working with Greta and Margot [Robbie] and I can't wait to watch it. I think we're all gonna love it.