In the Studio with Sam McKinniss, the Unapologetic Painter of "Perverted" Internet Culture
The artist behind the cover of Lorde's Melodrama gives us a preview of his next exhibit, full of morbid subjects like Princess Di's car crash and JonBenét Ramsey.
---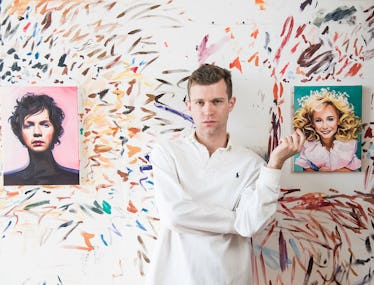 Teddy Wolff
"I almost wore my Crocs today," the artist Sam McKinniss said on a recent afternoon in his Williamsburg, Brooklyn studio, which found him hungover, sipping a Dunkin Donuts iced coffee, and surveying the wall of works that in a few months would be shipped to Venice, California, for his latest solo exhibition at Team Gallery. Instead, McKinniss wore a pair of sneakers that were beat up and battered—probably a reflection of his state of being after he spent the night before partying with RuPaul's Drag Race alumni, after of course first paying homage to Oscar Wilde at a Greenwich Village shrine to the writer in celebration of his 163rd birthday. A typical night, really.
Nevertheless, McKinniss—who's a boyish 32, and has a bit of a Wildean air himself—was in the studio the next morning, keeping with his daily "work hard, party hard" ethos. Occasionally, he'll reprieve himself from the studio to visit his favorite art works throughout the city. His favorite place seems to be the Met, which he visits at least once a month, whether to revel in Manet's The Dead Christ with Angels, which McKinniss declared "maybe the best painting in New York," or the still lifes of the 19th-century painter Henri Fantin-Latour, which he regularly recreates.
It's telling that along with Manet's Dead Christ, one of McKinniss's "absolute favorite works of art, period," is Jeremy Blake's portrait of Beck for his 2002 album Sea Change—so much so that he's recreated it in his upcoming show, "Daisy Chain," which opens January 7. Since moving to New York from Connecticut, where he grew up, and earning his MFA at New York University, McKinniss has become increasingly obsessed with depicting pop culture in his work, painstakingly reproducing everyday images we take for granted—paparazzi photos of Cher, the Lord of the Flies book cover—in hopes of elevating them to the level of classics.
Over the last year, his obsession met its source material when Lorde wrote him a bit of "fan mail." After seeing the gigantic portrait of Prince that McKinniss painted in the three weeks following his death, she wanted McKinniss to paint her, too, for the cover of her latest, long-awaited album Melodrama. And for all his respect for the old masters, McKinniss always works from photographs—as he said of an erotic shoot he did a few years ago for Adult magazine, "that guy was not about to hold an erection for two days"—so, after photographing Lorde at a friend's apartment building, McKinniss got to work on five editions of the cover. Eventually, he achieved the vibrant colors to mirror the record's depiction of the "lushness" of nightlife.
Almost immediately, McKinniss won his own following within Lorde's expansive fan base. His original Lorde portrait was reproduced by others as Halloween costumes and memes—a phenomenon he took in with fascination, as it was essentially the inverse of his own process. "I can steal and I can appropriate and I can borrow popular images all day long—forever, really. But it was a totally different set of challenges to invent from scratch, and then project that back into that realm of popular imagery. When she wanted me to do that, it was like 'Oh, okay, this is a different kind of job,'" McKinniss said.
"But I liked having that level of audience," he added. Audience is, after all, part of McKinniss's work, as he's focused more and more on recreating images we're all familiar with, often via the internet. These works depend on accessing a popular collective memory, which is why the artist has always based his paintings on his Google Images search results—or at least ever since it was invented in 2001, when he was was in high school.
"They're just stolen. They're just appropriated and taken from the internet," McKinniss said casually of his subject matter. An early breakthrough came when he evolved from simply Googling photos of "hot actors" to creating exhibition-like files of online images after he was seized by a desire to re-storyboard the Godard film Masculin Féminin. "I think in a way, I'm still doing that when I'm looking for source material—trying to tell some kind of almost cinematic story, and trying to cast it with characters who suit whatever mood I'm in."
In part because of the gallery's location in Venice, for "Daisy Chain" McKinniss was "in a kind of California mood," with a sense of nostalgia for the 1960s and its "flower-child, hippie lifestyle." The images in the show, however, span several decades: There's Drew Barrymore in a flower crown from a '90s Rolling Stone shoot and JonBenét Ramsey with a crown of baby's breath alongside Beck and images from 2017, including A$AP Rocky with Lana Del Rey in a still from her video for "National Anthem."
"The seed was thinking about Lana Del Rey's album cover, where she's wearing daisies in her hair and singing about all kinds of depressed things and being a great storyteller. I wanted this to be kind of daytime and sunny, but still retain some kind of threat, the risk or danger of noir-like storytelling," McKinniss said. Whether a landscape of Death Valley, inspired by Helter Skelter, which McKinniss read this past summer, or a portrait of Joan Didion, whose The White Album he also recently reread, the show's through line is the "little bit of danger" hidden in each work.
Then there's his recreation of a kitschy stock image of a lamb, which is the latest in McKinniss's pairings of pop culture with stray animals. In the past, he's described swans as "celebrities," but there's also a less intellectualized motivation: "I somewhat regularly make paintings of cute animals because I feel like it's a large part of the internet—and, in a subtle way, my work is about the internet." He paused. "But I don't feel like talking about why or how."
The explanation, though, might be found in a grouping of works furthest from the windows in his sun-drenched studio—ones that McKinniss decided didn't belong in the exhibition, and which will soon be shipped off to art fairs. Even though they're all pre-Google Images, they fit in entirely with McKinniss's pop culture theme: There's a still of Sinéad O'Connor tearing a photo of the pope on live TV, a paparazzi shot of Cher on her way to Sonny Bono's funeral, and, most notably, the darkest canvas in the room, depicting the scene of the car crash that ultimately killed Princess Diana.
"That's an oddball one," McKinniss said. He began painting Diana and Prince Charles because his best friend, the artist Alex Da Corte, had also been working with their likenesses. Yet McKinniss found himself more drawn to Charles, he said, "because he's the uglier one." Eventually, McKinniss settled instead on painting the scene of the crash because it was "so much sadder and so much weirder and so much uglier"—a decision that disturbed even himself.
"I don't think people should like that painting. I think it's a good painting and it's interesting in terms of formal decisions and mark making, but I think it's gross that I did that. I think it's gross that I painted JonBenét Ramsey. It's perverted," he said. "But I'm attracted to the pageantry, the human drama of it—the mythology wrapped up in certain well known faces and the symbolism of their public images and careers, which drive people's lifestyles and sense of right or wrong and righteousness."
As for if he's worried the painting will offend, McKinniss immediately said, "Of course—but not really." There's a cavalier blitheness to this response that echoes his Twitter, MoMA PS2, which has something of a cult following. There, his tweets come off as a kind of provocative performance—"My last intern buckled under the pressure, quit after one day and then suffered a nervous breakdown," he once said. The pinned tweet at the top, which he readily recited to me when I mentioned it, is from 2015: "All I f—ing do is touch lives."
I point out that often, it's hard for people to tell when he's being sincere or going for a kind of black comedy—and not just with his tweets, but in his paintings, too. "Good, I think that's okay," he said. "I hope that people don't know if I'm pulling their leg or not."
Related: The Story Behind Lorde's New Album Cover, From the Artist Who Created It
See Kendall Jenner, Performance Artist, Channel Icons Like Marina Abramovic and Yoko Ono: