Sarah Coleman Transforms Everyday Objects Into Luxury Keepsakes
The artist and designer proves that there can be opulence in the ordinary.
Photographs by François Dischinger
---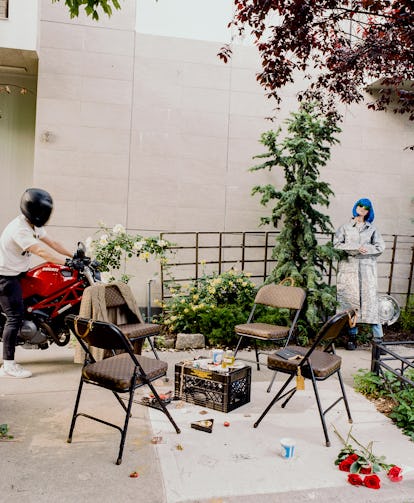 Sarah Coleman (far right), with folding chairs of her own design and a jacket by Ari Serrano (on chair). Sarah Coleman wears her own clothing and accessories.
For our annual "The Originals" issue, we asked creatives—pioneers in the fields of art, design, fashion, comedy, activism, and more—to share their insights on staying true to themselves. Read all of this year's interviews here.
After about three and a half years working as an interior designer in famed architect Peter Marino's studio, you began to support yourself as an artist and designer in 2018. You're best known for upholstering everyday objects in repurposed logo-emblazoned canvas, like a folding chair in Louis Vuitton's signature print, Fendi hand sanitizer, and Gucci pill bottle covers. How did this concept materialize?
Working for Peter was like going to graduate school. I learned the language of design from him, and so much about materials, textiles, artists—everything. I got the concept of repurposing designer luggage from something I made for myself. I was rummaging through my closet, looking for material I could use to reupholster a chair, and I picked up a Louis Vuitton garment bag with a broken zipper. I realized it was the right amount of material for the chair, so I just went for it. It all happened without any clear intention or plan from the start, which is how most of my work goes. It starts as one thing and turns into another. I try not to hold on too tightly to a specific result.
This past summer, you designed a psychedelic-inspired capsule collection for Fendi called FF Vertigo, covering their signature baguette bag and other pieces in a warped version of the classic FF print. Before that, you redesigned the brand's Miami store for Design Miami, covering the store in collages and archival Fendi images. How did that come about?
I met with Silvia Venturini Fendi and her team over Zoom. Silvia said to "be disruptive," and that freedom allowed me to design without any boundaries.
What was your first luxury purchase?
Orange Prada America's Cup sneakers.
You've said that you don't want to confine yourself to a singular category of artist or designer. Can you elaborate on this?
Utility and high fashion are concepts that often do not go together, and I like the idea of a folding chair being an item to cherish and take care of. I take my work, the process of creating, and the quality of my pieces very seriously, but I love a not-so-serious end result. My work is not meant to intimidate; instead, I want it to be very approachable. I want people to smile or giggle when they see it.
If you could cover any object, regardless of size, in a logo print, what would it be?
A New York City bus or a tugboat.
Could you ever see yourself working in-house for a fashion brand?
Anything is possible!
Whom do you consider original?
Missy Elliott.
Who is your style icon, and why?
A mix between Aaliyah and my grandmother—elegance, with some comfort.