An Activist's Post-Election Advice: Don't Point Fingers, Learn How to Organize
Throughout the 2016 presidential election, Sarah Sophie Flicker hosted events at her home to engage in a progressive dialogue about political issues. Now, the writer, performer, filmmaker, activist, and mother is encouraging others to do the same in their communities.
---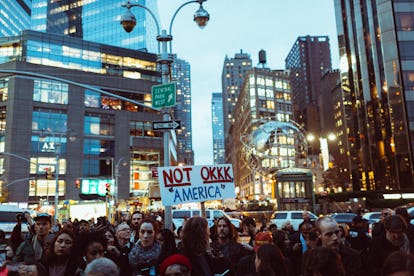 After the 2016 presidential election, in which Donald Trump won the electoral vote, many Americans are collectively keening. Keening is to wail in grief for a dead person; sing a keen, to make an eerie wailing sound.
The sounds I have heard, both in conversations and on social media, have been of sadness, disappointment, fear, and anger.
My ask to you, to those who are keening, is to keep doing so, loudly and efficiently. All we can do is soldier onward. And although many of us would rather be pushing from the middle with our first women president than from the margins with Trump, we will push through as we have always had to do.
There are no fingers to point. This election is, in part, the work of decades of organizing on the right in reaction to a changing electorate and the death knell of white male cis gendered supremacy. But many truths exist in how we lost. If you reject the binary world that Trump proposes than we must accept the complexity of this election. We must embrace nuance. We must embrace many truths at once.
In the coming months, concentrate your cabal. Gather ye people while ye may. Create email lists, Facebook groups, text lists. Do research, create study groups, become an expert, align with organizations doing the work that you can take cues from. Then share your knowledge. Be a leader. Be a leader who is humble. Listen to people. Be prepared to be wrong.
Learn how to organize. Look to Black Lives Matter activists, LGBTQ organizers, and the Occupy movement, and take cues from their successful activism. Do your research and do it quickly. Find ways to center the voices of the most vulnerable. Find a way to create safe places for those who are immediately threatened.
I promise you, we can do this. You may be doing it already and you don't even know it. Do the work with humility and an ear to the ground. Throw spaghetti at the wall until something sticks. Create meet ups. Look to leaders you trust. Donate to their organizations. Follow their directives. Activate your community. Be ready to sit in, stand up, march, vocalize and be relentless. Open your homes and your boardrooms for meetings. See a vacuum in your community and fill it. Encourage your elected leaders to neuter Trump's hateful agenda. Call out hate when you see it at every turn. Don't normalize Trump. Don't normalize hate. Stay mad. Stay outraged. Show up every single day. Double down on what you believe in. Be prepared to lose as often as we win. This is going to be a long four years, but don't lose faith in yourself, in your community, and in democracy.
Lastly, care for yourself and your beloveds. When you feel overwhelmed, stop and reorganize; reenergize; listen to yourself and to your community; and, as always, be safe.
Related: Progressive Organizations That Need Your Support, Now More Than Ever, in Trump's America.
Incredible Images of the Thousands of New Yorkers Who Shut Down Traffic Protesting Donald Trump
A protester at an anti-Trump rally in New York.
A reminder that voting matters: