Welcome to the Sasha Colby Meet and Greet
The Native Hawaiian and winner of RuPaul's Drag Race season 15 discusses finally taking her place on the world stage.
---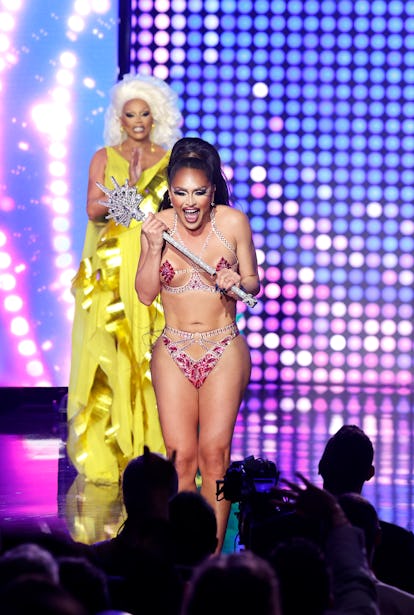 Courtesy of MTV
From the moment she entered the work room on the fifteenth season of RuPaul's Drag Race, Sasha Colby has commanded attention. The legendary drag queen, who won the famous Miss Continental drag beauty pageant back in 2012, has been performing her signature blend of sensual, modern drag in spaces around the world—which meant that, as a contestant on the long-running RuPaul's Drag Race, where some bedroom queens haven't even seen a stage yet, her reputation preceded her.
The running joke of the season quickly became that, rather than a competition, this was a Sasha Colby meet and greet. And given that Colby was just crowned the winner, it was a gag that became reality. Colby played mother on many levels to her fellow contestants, handling the seeming inevitability of her win with grace and humility, even as she won challenge after challenge and clearly charmed the judges, not least of all Ru.
Born in Waimãnalo, Hawaii and raised in a conservative Jehovah's Witness household, Colby is also a transgender woman, making her the latest in a now-long line of trans queens on the show. Throughout the season, she repped her Hawaiian culture both in her looks and interviews, talking about being Mahu (gender-fluid and third-gendered Native Hawaiians) and the legacy she's building for her home state. Competing against Anetra in the finale, Colby wore not one but three looks—first, a flowing black puffer-style coat with a wide brimmed "Formation" hat (there are rumors that Beyoncé was inspired by Sasha when creating her former alter ego, Sasha Fierce, after all), before stripping down to a classic beauty pageant gown. Halfway through the performance, Colby stripped down even further to sparkling pasties and a thong—and did the rest of the number nearly nude.
This was an intentional choice, she says: a fuck-you to all those questioning trans women's bodies and trying to control and demean them. Below, Sasha Colby discusses what this season meant to her, performing drag as a trans woman amid the current political climate, and what she has planned now that she's officially America's Drag Superstar.
What was the moment you were finally crowned like?
I definitely didn't think I would just be a crying baby, but it really felt like a relief—and then the tears started to come. They were flowing all night. To see all the love that came with it? It's my little dream, and then everyone else was so happy for me. I was getting videos of all kinds of reactions from all over the world. I could see in people's faces, they were reacting more than I was!
You've been doing drag for quite a while now. Was being on Drag Race always one of your goals?
Any drag performer who says they don't want to be on Drag Race is ridiculous and lying. This is a way to feel valid in an art form that was strictly niche and pushed off to the fringes. Where before, drag was just a mirror of pop culture, now we have our drag queens making pop culture. Fashion's referencing us, music is referencing. And that is so explosive.
What do you make of drag becoming so mainstream while simultaneously turning into such a political target?
That's why I waited until season 15. [Years ago,] I genuinely was like, "Oh, I'll catch my wig when I catch it." But now that I'm sitting here, I'm like, "My mere existence is what they want to eradicate and what they're trying to spread lies about." I'm all over the media right now, just negating what they say. It's the best clapback against this ridiculous rhetoric that is going around, all these bans. They're always trying to control people's bodies.
Could you talk about your last lip sync look and what went into the final reveal of being nearly nude?
Speaking of bodies.
Exactly.
It was very much intentional: the idea that these people who are trying to control how we want to live our lives are the same people controlling and grooming children, mostly queer kids, at a young age. These people are the same ones sexualizing everything, because they can't help but, I don't know, lust after the trans experience? Maybe wanting to be trans themselves and just jealous? Let's talk about it! I'm just here to keep on clapping back and saying, "Actually, we're really happy." I used to teach children as a trans woman, I taught dance class for years. All these things are not truths.
Were you nervous at all about the final look being nearly nude?
Yes. I was on pins and needles, because you have to get everything approved. So when I slipped that I was just wearing little pasties, they were like, "Oh, great. Just send us the dimensions of the black [coat]."
Coming onto the show with such a big reputation, did you feel like there was an even brighter spotlight on you?
Yes; I definitely understood that my reputation preceded me. I didn't realize how much—I definitely didn't think that it would be a Sasha Colby meet-and-greet. But it was nice to hear that every contestant really had a moment with me where they were like, "I look up to you, and I remember watching your videos." It reminds me of why I started drag, and the girls I looked up to. It felt nice to be that for someone else, because my drag revolves around emulating and referencing the divas I love.
You've already dispelled the rumors that you're going to take over for Ru, but it's undeniable she has a special affection for you. What was having that mentorship like?
It's been a beautiful ride with Ru, to feel that she sees me: my history, my art, my culture. The show allowed me to be vulnerable and really get some therapy in there. There were moments where she looked at me and she really saw inside of me. And to be a representative of her now? Wow. The queen of drag is amazed?!
You talked on the show about growing up queer in Hawaii and how important it is to represent your culture. What's the reception been like from your home state?
I've been seeing viewing parties every week from the few queer spaces that are left in Hawaii, celebrating that a Hawaii girl has made it. It's so lovely. A friend of mine was on the radio there saying, "I've always known Sasha Colby is the next drag superstar." They're all chehooing, you know. It's wild to represent a whole island nation that I connect so much with.
After the recent census, we found out there are more Native Hawaiians living in Las Vegas than actually living in Hawaii. So I'm working with a Hawaiian culture convention there to reach the Native Hawaiians. They're having me speak and giving me an award for being myself. That's the wild thing—just being a queer kid from this small town and being so vulnerable is allowing everyone to feel proud of being Hawaiian. Getting so much success and feeling seen in a culture that has experienced a cultural genocide—for the very few of us that are seen, it's beautiful.
Obviously you are America's drag superstar at the moment, but what's next?
I would love to do Broadway. I would love to do TV, movies, music. Talk shows, red carpets, fashion shows, front row. I don't know, president? Let's go!