DO YOU LIKE SCARY MOVIES?
Jenna Ortega Continues Her Scream Queen Legacy in the Scream 6 Trailer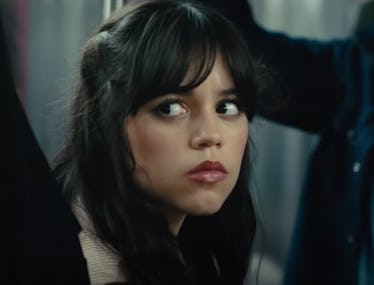 YouTube
Scream 6, the latest installment in Wes Craven's iconic horror franchise, has made its return. The first trailer for the film finds masked killer Ghostface not in the fictional town of Woodsboro, California but roaming the streets of New York City, stalking his prey — which includes a star-studded cast featuring Jenna Ortega, Scream alum Courteney Cox and Hayden Panettiere.
This marks Panettiere's character's first return to the installment since Scream 4, and her blonde-bobbed appearance in the trailer delighted fans online. The clip shows Ghostface shooting up a bodega and terrorizing his survivors on the New York subway. Melissa Barrera, Jasmin Savoy Brown and Mason Gooding all return from 2022's Scream, which marked the franchise's return to modern times after the first 1996 film became a cult phenomenon, spawning several sequels and spoofs over the years.
"With the last Scream, they were tip-toeing and trying to be very respectful of what the franchise had been, up until that point, and keeping their inner gory dreams at bay," Barrera told Collider. "But with this one, they were like, 'We're going all out.' It's potentially a hundred times gorier."
The trailer certainly indicates that, as Ghostface stabs, shoots and stalks the characters in increasingly suspensful situations. Barrera's Sam is at the center of things, saying in a voiceover as she touches Ghostface's mask, "I had this secret. There's a darkness inside of me. It followed me here, and it's going to keep coming for us."
Samara Weaving, Dermot Mulroney, Tony Revolori, Josh Segarra, Liana Liberator and Jack Champion all join the franchise as new faces. One person who won't be returning is Neve Campbell; the Scream original left the franchise last year over a pay dispute. "As a woman I have had to work extremely hard in my career to establish my value, especially when it comes to Scream," Campbell told Variety at the time. "I felt the offer that was presented to me did not equate to the value I have brought to the franchise."
Scream VI hits theaters March 10, 2023. Watch the first trailer below: