Susan Sarandon Joins Search Party as a Mysterious Rich Aunt
HBO Max released a first look of Search Party season four, with Susan Sarandon joining Busy Philipps, Ann Dowd, Griffin Dunne and Lillias White as guests.
---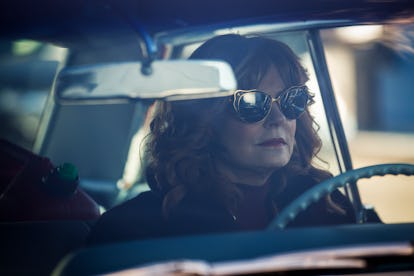 Photo courtesy of HBO Max.
Search Party, the millennial mystery satire which recently found a new home at HBO Max, has an amusing premise: a girl goes missing and her droll college acquaintances start a search party which leads to disastrous consequences. But even those who haven't tuned in regularly (or even ever) are bound to delight in the guests stars who reliably pop up every now and then. There's Rosie Perez and Parker Posey in season one, Kate Berlant in season two, and who could forget Michaela Watkins as a downtrodden prosecutor and Chloe Fineman's take on a Tomi Lahren type, who spars with Elliott for views on conservative TV.
HBO Max has just released a first look of season four, which reveals that Susan Sarandon joins the cast as Lylah, the wealthy aunt of Chip (Cole Escola), Dory's stalker and (spoiler alert if you haven't finished season three) kidnapper.
Other guest stars in season four include Busy Philipps, who will play Portia in a movie about the murder of Keith Powell, Ann Dowd as Chip's nosy neighbor, Griffin Dunne as a pastry company CEO and Lillias White as a talk show host obsessed with the formerly missing (but not really missing, after all) Chantal (Clare McNulty).
Official images have been released to hold you over until a trailer (and eventual full season drop on the streaming platform).
The story of season one was laid out like the plot of a Nancy Drew novel, season two had Hitchcock vibes, and season three was like a John Grisham courtroom novel. Season four, which premieres in January, picks up with Portia (Meredith Hagner) starring in the movie version of what happened in season one, when she and her friends went on a search for their missing former classmate, only to find out she wasn't really missing after all, and to accidentally murder the private detective Dory (Alia Shawkat) hired and became romantically involved with throughout the search. Elliott (John Early) has joined the far-right conservative talk show media, Drew (John Reynolds) is working in costume at a theme park like Cousin Greg, and Dory, having escaped a guilty sentencing at her trial for the murder of Keith Powell (Ron Livingston), is the one who suddenly goes missing.
As an added bonus, popular children's book author R.L. Stine (of Goosebumps fame) will make a cameo as himself in the fourth season of the mystery series, which could be a hint at the narrative structure of the way season four will play out, or just a hallmark of having a really good casting department working on this show.
Related: Meredith Hagner, Search Party's Favorite Narcissistic Millennial, Explains How to Be a Successful Social Media Stalker