Sebastián Silva on the Politics of Nudity in Rotting in the Sun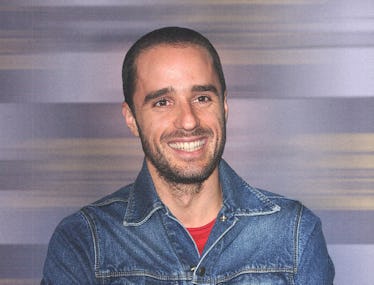 Image Courtesy of Getty. Treatment by Ashley Peña
With at least five Sundance premieres to his name, you might be tempted to call Sebastián Silva a darling of the film festival. But his fearless and hilarious new film, Rotting in the Sun, couldn't be more different from Sundance's signature brand of can-do crowd-pleasing. It's a sharp-witted, twisty look at life in the age of perpetual distraction for a frustrated queer filmmaker, also named Sebastián, in Mexico City. The character, which is something of an onscreen alter ego for Silva, passes his time reading morbid philosophy and doing ketamine—when he goes on vacation, he's bemused by the almost comical hook-up culture around him. (The movie is unabashedly explicit.) There, he meets a supremely extra influencer, Jordan (played by... Jordan Firstman), who badgers him to collab on a project called "You Are Me."
Things take a wildly unexpected turn for Sebastián—played by Silva, skewering his own life—and then his housecleaner, Signora Vero (Catalina Saavedra), begins to behave with suspicious secrecy. Saavedra's presence takes us back to Silva's beginnings as a director: Saavedra played the title role in his 2009 breakout, The Maid, a thorny, class-conscious portrait that was nominated for a Golden Globe. Then came two oddball adventures starring Michael Cera, and the edgy satires Nasty Baby (tweaking gentrified Brooklyn) and Tyrel (twisting issues raised in Get Out from the year before). Silva also directed episodes of HBO's late lamented show Los Espookys.
Rotting in the Sun screened in Sundance's Premieres section—a chaos agent lurking next to the serene romance Past Lives and Nicole Holofcener's latest high-concept confection. (It also has the festival's best ending, which I won't reveal here.) I spoke with Silva about the film's smart and raucous comedy, the nudity, working with an Insta-celeb, and what Robert Pattinson said about the movie.
I love that you poke fun at everything, including yourself.
I read a headline about the movie being "self-obsessed." I hope people don't think I'm self-obsessed! Because I did use my persona to poke fun at myself and what I represent, in a way—a privileged white Latino director who's constantly dissatisfied. It is ridiculous that privileged people like me live in this sort of existential torment. It's not like we're facing real problems, unless you get cancer or some health issue. It's like, "Oh, I didn't get financed for a movie about whatever...."
What made you want to take on the whole world of Instagram and social media, and how did you cast Jordan Firstman?
It's such a sickness of our times—making a financial living off it, or feeling emotionally stable because of likes or comments. And I feel that Jordan represented the most superfluous kind of living: an influencer who's poking fun at things, wearing Balenciaga, and just being very celebrity-hungry. When I met him, he told me about his social media success. I had never heard of him. I was like, wow, this is so profoundly sad—but funny at the same time, to be completely honest.
He invited me for dinner with some friends a couple of days later, and he was like he is: very forward, very aggressive, sexual talk. "Can I suck your cock, how big is your cock, do you like big cocks?" And I asked him: Are you willing to play yourself, and for me to write a character and a portrayal of you that truly humiliates you and shows your lifestyle? Would you have explicit sex on camera, as often as you do? He was very willing, and he was laughing at me insulting him. I thought, I'm going to get along with this weirdo.
It's really funny—it's like, everywhere Jordan goes, people are having an orgy or something.
[Laughs] I've been surprised at how many headlines or reviews have been about the penises [in the film]. Somebody told me about a review that was complaining, "The sex is not erotic at all." And it's like, amiga, that's the idea. The sex in the movie is just bringing humor to the screen. It's not a movie about dicks, and it's not a "gay movie." It's a thriller, a crime mystery, a dark comedy, making critical commentary on the state of culture and selfishness right now. We're not using sex in any way other than making Jordan's character real and raunchy and funny.
What made you want to lean into the nudity?
There's something so hypocritical in general about showing genitals and sex. It's like, pornography is massive! Everybody watches it. But when it comes to movies that are more mainstream, we avoid it completely. Why are we so afraid to admit that we have genitals and we use them? It makes you wonder about our society's mental health and fear of sex. And Jordan lives his life like this. When we premiered the movie, he went with pants that showed his balls. That's him. That's why I decided to put those dicks in there.
With Signora Vero's character, you're able to dig into some of the class tensions, but you also don't spare her or anyone else.
For sure. In the beginning, I wanted to make a movie about what a fucking puppet I was. I was going to call it The Muppets, and it was going to be unclear who the Muppets were and who I was poking fun at. Actually, I wanted to poke fun at all of us because we're all so self-centered. But I decided not to victimize Signora Vero—to make her a cleaning lady who's also very vengeful. I thought that felt fresh, especially during this era of political correctness where I feel that privileged people are patronizing to less privileged people. But at the end of the day, I'm not trying to make an audience feel bad about themselves. I'm trying to entertain them, make them laugh and think a little.
Part of what makes the movie feel so real is the naturalistic style, almost like a documentary. How did you do that?
I moved to Mexico, and wanted to stay away from movies because I had a total flop, a film that went to Telluride and then never saw the light of day. I'm like, Okay, man, time to paint or do something else. But I just can't help it—I see stories everywhere. So I was like, I'm going to make this movie, but I want to make it with no one on set, I don't want makeup, I want to shoot it with phones. We got seven fucking iPhones, and we tried, and it looked so shit. So we used the smallest camera possible, a Red Komodo, and some angular lenses. And the way I shoot movies, I keep the camera turned on for a long time. I do many takes in different ways [within the same shot]. Sometimes I would do a 35-40 minute take. And I like how dynamic and agile it feels.
And I read that you'll be working with Robert Pattinson's production company?
Yeah, we got on the phone yesterday with him for a long time, talking about movies and the reaction to the movie and who's going to distribute it. He loves it, man. He was praising the movie so much. And he was like, dude, I find this movie to be highly accessible!
How did it feel to premiere the movie in Sundance after working so long on it?
It's amazing, because this movie is so personal: it's exposing my death wish, the place that I live, the dog that I have. But it also felt like such a dark version of me that it wasn't fully me. I think this movie makes people laugh and think at the same time, and nothing gets better than that.