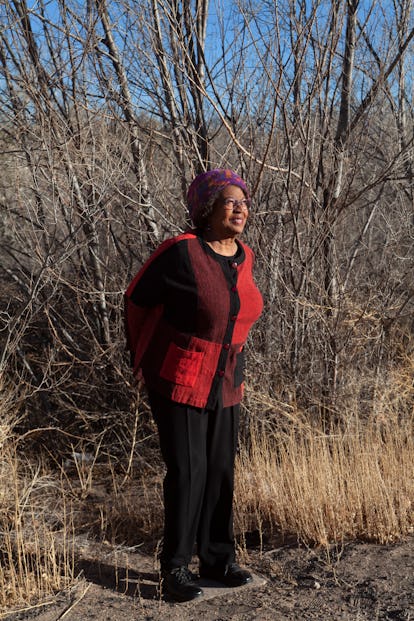 Senga Nengudi in Colorado Springs, 2022. Photograph by Nan Coulter, courtesy of the Nasher Sculpture Center.
For more than five decades, Senga Nengudi has pushed the limits of abstract art. Born in Chicago in 1943, she studied visual arts and dance at California State University, Los Angeles—but went on to create a rich body of work across photography, poetry, painting, sculpture, and performance. The Colorado Springs-based artist is most known for her cutting-edge, performance-based sculptures that often draw on her dance background to reflect on matters of the human body. And this year, the trailblazing American artist is finally getting her due.
Nengudi was recently selected as the 2023 Nasher Prize Laureate, a distinction that honors the work of an artist whose oeuvre has influenced our collective understanding of sculpture as a medium. "Senga Nengudi," a long-term solo exhibition of her work, is currently on show at Dia Beacon in Upstate New York, and the artist also has a solo exhibition at Sprüth Magers's New York City location set to open to the public from May 16 to July 29, 2023.
Nengudi, who will be 80 this year, says she has been drawn to art for as long as she can remember. "Even in elementary school, when I was asked by the teacher to get something from the supply closet, I was turned on by these beautiful supplies, the colors, and how they were laid out," the artist tells W. "I wanted to somehow utilize materials to make my own statement."
Red Devil (soul 2), Senga Nengudi, 1972. © Senga Nengudi, 2023.

Photograph by Doug Harris. Courtesy Amistad Research Center, Sprüth Magers and Thomas Erben Gallery, New York.
Drifting Leaves, Senga Nengudi, 1972. © Senga Nengudi, 2023.

Photograph by Doug Harris. Courtesy Amistad Research Center, Sprüth Magers and Thomas Erben Gallery, New York.
During the early '60s, when Nengudi started college, she longed to pursue a dance major but ultimately decided on a more pragmatic approach. "I knew that under the best conditions, I might become a choreographer or something," Nengudi says. "Your time as a dancer physically is very limited. But I loved dance and art, so I decided to make art my major and dance my minor."
To this day, Nengudi's education as a dancer is greatly reflected in her pieces, which have an undeniable physicality to them. In RSVP (1975-ongoing; the title alludes to the artist's intention to receive a response from viewers), Nengudi crafted a series of fascinating biomorphic sculptures made from flesh-colored pantyhose stuffed with sand. The installation speaks volumes on its own, but it's also frequently activated by performers who interact with the materials to illustrate themes of femininity, sensuality, and resilience.
When Nengudi began working on this piece, she was in her first pregnancy, which she says greatly influenced her creative process. "I saw my body changing, and I wanted to express that, so I tried a number of materials. But when I came upon nylons, I thought, this stuff is really flexible," she says. Plus, "it's the color of the human body."
Despite the years that have passed since she first made RSVP, this continues to be one of her most renowned and celebrated works to date. "A lot of women who have gone through that experience [of pregnancy] get it, understand it, and it resonates with them," she says. "And it's not only the physicality of it, it's also the emotional aspect. The body and the mind just stretch out—we're very resilient, and these nylons mirror that."
Nengudi's Water Sculptures (1969–71), which is currently on show, also have a unique physicality that is achieved by using simple materials. "I made forms and filled them with water and dye," the artist explains. "These forms had a sensuality about them. If you touch them, they respond as a body responds." Similarly, Sandmining B (2020), one of her more recent works also on show at Dia Beacon, melds sand, nylon, and car parts with an original soundscape produced by Nengudi that's meant to evoke feelings associated with healing, ritual, and spirituality.
Senga Nengudi with Water Composition II in 1970.

Courtesy Tilton Gallery, New York
Water Composition (Orange), Senga Nengudi, 1969–70/2018. Heat sealed vinyl, colored water. © Senga Nengudi, 2022.

Photograph by Stephen White Courtesy Dia Art Foundation, New York
Nengudi's upcoming show at Sprüth Magers is devoted to her Spirit Flags (1971-1974), a body of work that hasn't received the attention it's owed. The pieces are composed of colorful fabrics shaped into human silhouettes and staged to interact with currents and breezes, conjuring physical and spiritual movements. The works were inspired by a short period of time the artist spent living in Harlem during the early '70s, when she recalls witnessing the plight of homelessness very starkly. "Spirits is the subject I am working with," she says. "The inner souls or spirits of people I have seen on the city streets."
Despite being one of the first artists featured in Just Above Midtown, the New York gallery known for pioneering a dedicated space for African American artists and Black art in the '70s and '80s, Nengudi's works were often misunderstood and labeled as "outrageously abstract." Critics, and even many of her peers, were unable to grasp the importance of her abstract pieces in times of political and social turmoil—not to mention the criticism she faced for producing works that explicitly focused on the female experience. ("In the beginning, with the nylons, there were particularly men who actually would laugh at my work," she recalls.)
Still, Nengudi believed her abstract works had the power to explore urgent issues in a distinctive way. "Abstraction is very much like jazz," she explains. "It [conveys] that internal energy that is about staying alive. Even though there's no tune per se, you feel the pulsation of being in America or being in an urban setting. The abstraction becomes even more vivid than something figurative. It [reveals] the soul of the thing."
Despite rarely winning major accolades or praise for most of her career, Nengudi continued working for decades to expand the definition of abstract art. Reflecting on the overdue recognition she's receiving today, she tells me, "I kept doing my work because I love my work—because I have something to say. I can't do it any other way. And I guess people are just catching up."