Shalom Brune-Franklin Gives New Life to Estella in Great Expectations
The British-Australian actress discusses working with Olivia Colman and what's to come in the Dune: The Sisterhood series.
---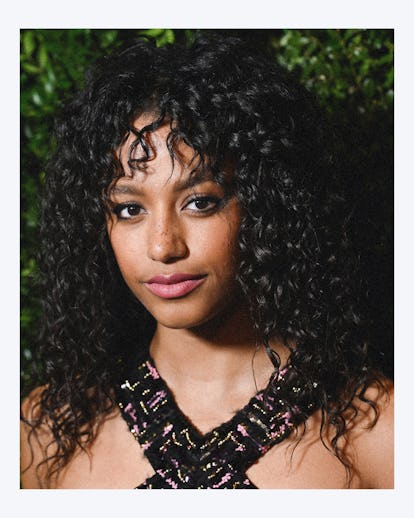 Photograph by Getty; image treatment by Ashley Peña
The actress Shalom Brune-Franklin can still recall the "collective moan" her high school classmates emitted once they found out Charles Dickens novels were on the syllabus. "Oliver Twist and Great Expectations… We wanted to read more modern authors!" Brune-Franklin tells me over Zoom from her London flat during a frigid February day. "You don't appreciate it until you get older, go back and read it, and realize just how good it is."
Not only has the 28-year-old British Australian revisited the Victorian author's texts, she's dived headlong into Great Expectations specifically, starring as Estella in the FX and BBC adaptation of the classic novel, alongside Olivia Colman (who plays her adopted mother, Miss Havisham) and Fionn Whitehead (the orphan Pip, her love interest). Written by Peaky Blinders creator Steven Knight and directed by Top Boy's Brady Hood—Tom Hardy is also an executive director on the project—this version of Great Expectations takes on a decidedly darker, brooding, and more Gothic feel, with Knight and Hood digging their heels into new and previously unexplored versions of these storied characters. In other words, Dickens purists: proceed with caution.
For her part, Brune-Franklin—who previously starred in HBO Max's The Tourist and is currently filming the streamer's Dune: The Sisterhood TV series—is a huge fan of the way Great Expectations's characters have been reinterpreted in the new series, especially when it comes to her own role. "Estella's wants, needs, and perspective is more drawn out, as it has to be, I think, in a screen adaptation," she says. "In the book, things are a little bit more mysterious and ambiguous. We see Miss Havisham and Estella's relationship through Pip's eyes, whereas in the show, we get to see what goes on between those two when Pip's not there."
Great Expectations is one of the many film and TV projects born during lockdown, so all of Brune-Franklin's rehearsals, table reads, and preparation took place over Zoom. But she credits the costume department for helping her get into a Dickens mind-set once she and the rest of the cast and crew finally started filming in person in February 2022. "A lot of the dresses I wear were made from scratch," she says. "Verity [Hawkes], the costume designer, showed me sketches of the dresses during our very first meeting. We talked about the idea of decaying, and how that played out between Miss Havisham and Estella over the series, what the colors represented for her." Compared to her previously roles—including one alongside Daisy Edgar-Jones in War of the Worlds—Brune-Franklin found herself in a whole different zone once she'd entered the realm of period pieces. "I didn't mind that, though," she says, smiling. "It throws you in the deep end, in the best possible way."
Brune-Franklin is at ease outside of her comfort zone, and has been since she was a child. Born in England, to a Mauritian mother and British-Thai father, her family decided to move to Perth, Australia when she was 15 years old. Her dad, who worked a trade job as an electrician, made a career pivot to being a chef. "He was always super creative and artistic," the actress says. "He was amazing at drawing and painting, and he worked this job that he didn't hate, but he didn't love it. My parents wanted to chase a better life for themselves, and started from the ground up with no friends, no family, no money. They were like, 'We may as well go for it now, if we're getting another chance at life.'"
Curiously enough, the story mirrors Brune-Franklin's own when it comes to how she got into acting. Initially, the actress had aimed to pursue journalism—but when she failed a key class during her last year of high school, she transferred to drama. "I was thinking, that can't be a hard subject to pass," she recalls. "All you have to do is perform at the end of the year—get up on stage and say a few lines." As the year went on, she found acting came naturally to her, and moreover, she enjoyed it. Encouraged by her drama teacher to pursue acting "for real," Brune-Franklin then enrolled in the Western Australian Academy of Performing Arts, where she experienced "a savage, fun, crazy, three years. It was pretty amazing, but it's definitely tough. There's 18 of you, and you all want to become actors. In the first week of drama school, the instructors were like, 'Only two of you will still be doing this job in 10 years.'"
The actress tells me she's always floated between worlds, as a mixed-background person splitting her time between London and Perth (in Australia, her friends tell her she's become "so British," while in England, she's instantly ID'ed as an Aussie. "I can't catch a break!" she says, laughing). But she's finally found her anchor in a career that has led her all the way to Budapest, where she's working on the Dune series with Emily Watson and Travis Fimmel. She can't share much, aside from the fact that it's "so fun, and totally different."
"But it's so good, doing the press for Great Expectations," she adds. "I always play characters that are like, don't talk about the twist, don't talk about the reveal, don't talk about the mystery!"
"With Great Expectations, there haven't been spoilers for over 150 years," I reply.
"That's the best thing," Brune-Franklin says with a sigh.