Shanzhai Biennial at the Frieze Art Fair
The Shanzhai art collective gets into the real estate business.
---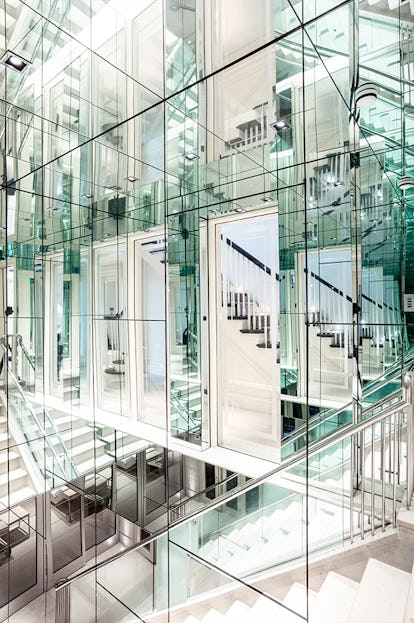 One of the most expensive items at London's Frieze Art Fair this year uncharacteristically had its price on full view—£32,000,000, or just over $50 million—but it wasn't cultural real estate for sale. It was actual real estate. Shanzhai Biennial—"a multinational brand posing as an art-project posing as a multinational brand posing as a biennial," according to its artist statement—presents projects at the ever-fainter intersection of art and commerce; in other words, the perfect foil for an art fair. Its project at Frieze was a booth at the entrance that was commissioned as a store—but instead of selling art objects, the group decided to sell 100 Hamilton Terrace, a mansion in St. Johns Wood, not far from Frieze's home in Regents Park.
The Shanzhai collective, which consists of the artists Cyril Duval, Avena Gallagher, and Babak Radboy, contacted Aston Chase, a high-end London real estate agency that offered five possible properties to advertise (they chose the most expensive one). They went on to create an ad campaign, a fashion advertorial video of the property, and luxury items like a fake quilted Chanel tote bag with a hand-painted Frieze logo. The booth's candy apple-red carpet offered a rough floor plan of the property detailed in block-white Chinoiserie patterns, while the walls listed its details in the signature Frieze font. (The huge price tag loomed over the sales desk.) The ads of dewy women posing in the home are modeled after images from the Rent Collection Courtyard in Sichuan, China, where 114 propaganda sculptures made in 1965 showing a rich landlord collecting rent from the area's poor.
"We generally like to play in the kind of space between commercial and fine art images, and how images disperse and why people reprint them," Radboy said. The booth mirrors their exhibition at Project Native Informant, which will stay up through November 15, where editions of the ad, the rug, and other ephemera are for sale. And should the house be purchased, the group will collect a small commission.
"That kind of ethical jeopardy is the core of the work," Babak said. "The artwork at the end of the day is the sale." And there may be more properties to come: Aston Chase was so impressed with the work, it offered the group another house, this time allowing them to decorate the interiors. Babak added, "We're in the property market now."
Photos: Shanzhai Biennial at the Frieze Art Fair
Shanzhai Biennial at Frieze London.
Stairs inside 100 Hamilton Terrace.
A special tote bag by Slow and Steady Wins the Race + Shanzhai Biennial No3.
The pool at 100 Hamilton Terrace.
A Shanzhai Biennial campaign poster.