Frieze New York 2016: What the Hell Is Soylent and Why Is Everyone Drinking It at Frieze?
Inside the meal supplement company's futuristic booth at the art fair on Randall's Island.
---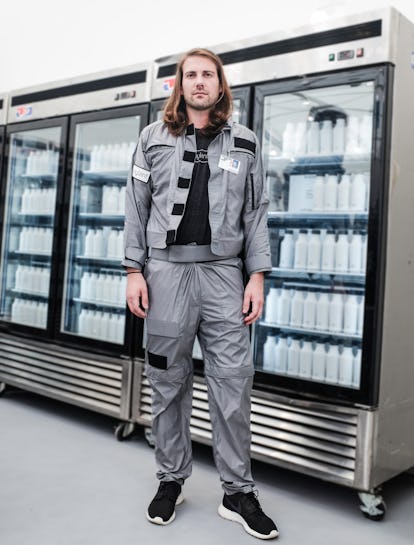 "Yes, this is a real company. No, it's not made out of dead people."
These were two of the many questions being answered at Société gallery's booth at Frieze New York this year, which featured free samples of a new meal supplement called Soylent. In collaboration with the artist Sean Raspet (who also works for the Los Angeles-based startupas a "flavorist" and "food product developer"), the booth was comprised of refrigerators stocked with clean, label-free white bottles of Soylent's milky concoction. Instead of stylish gallerists, attendants in futuristic jumpsuits designed by Nhu Duong, which were made out of a microfiber material that eliminates the need to wash them with water, handed out bottles. Imagine KITH treats meets Juice Press meets Star Trek.
One male attendant with long, dirty blond hair told a group of older women that he drinks Soylent every morning for breakfast. They each tilted their oversized designer glasses, giving him a quick up-and-down. "Well, aren't you just a picture of health!" said one of them. He flipped his hair and smiled. When they heard each bottle contained 400 calories, however, they frowned and shuffled away.
Soylent's reference to the 1973 sci-fi film, Soylent Green, is perhaps an unfortunate one. In the mind of Rob Rhinehart, the company's founder, it was just a nerdy callback; more importantly, it's a portmanteau of the main ingredients: soya and lentil. But in everyone else's mind, Soylent's odd taste and presentation makes it almost believable that it's made out of the deceased. Almost.
To my tongue, Soylent kind of tastes like the milk at the bottom of your cereal bowl. "It reminds me of my childhood," said one girl excitedly. Her father, on the other hand, made a face of disgust.
"It tastes like baby food," he added.
A younger patron was more interested in the samples of "Soyleny 0.10," which looked like space food. This new product is a 90% algae-derived paste with a flavor Raspet calls "PENTAGON 2.4." Yum?
To be fair, visitors trapped at the fair on Randall's Island are forced to choose from high-end food vendors like Cosme, Sant Ambroeus, and Marlow & Sons — none of which are very affordable. So, when it came down to choosing between Juice Press and Soylent, many welcomed the Frieze free-be. Soylent's mission on a global scale is to provide an affordable and sustainable meal solution, and in this admittedly distorted context it succeeded. Whether or not it satiated the hunger of New York's art world, however, is undecided.
"Art is so widely acknowledged to be something that people can consume; why then is it so difficult to imagine that art can be eaten?" the hyperbolic Soylent futurist manifesto read.
It's not. Not if it's free.
Photos: Frieze New York 2016: What the Hell Is Soylent and Why Is Everyone Drinking It at Frieze?
Sean Raspet feat. Soylent feat. Nhu Duong at Société Gallery.
Photo by Biel Parklee.
Sean Raspet feat. Soylent feat. Nhu Duong at Société Gallery.
Photo by Jonah Rosenberg.