Originality Is In Spike Lee's DNA
The filmmaker opens up about his analog creative process, upcoming projects and the most prized possessions in his closet.
Photographs by Satchel Lee
Styled by Ashley Lampkin-Martinez
---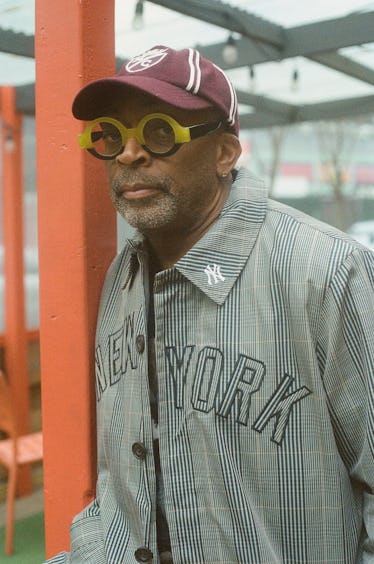 Spike Lee wears a Kith & MLB for New York Yankees coat; Polo Ralph Lauren for Morehouse College cap and sweater; his own glasses and earring.
Since the 1980s, when you made classics like She's Gotta Have It and Do the Right Thing, you have directed, written, and produced dozens of films and TV projects—from the documentary NYC Epicenters 9/11→2021½, which explored loss in the aftermath of the September 11 attacks, to the Oscar-winning feature BlacKkKlansman. Once you complete something, how do you decide what to pursue next?
I have a lot of things in my head, and I've come to understand that the one I think about the most is the one that I should pursue. But this is a tough business. There have been times when the film I wanted to do didn't happen for whatever reason. So then you just gotta keep it moving. Like Jay-Z said, "On to the next."
What does originality mean to you?
Originality is in my DNA. When people go right, I go left. And I'm not bragging; that's just the way it is. Everybody has different interests. And so I've never really wanted to just do what everybody else is doing. No hate, no disrespect with other people's interests. But for me, it's not invigorating to do what everyone else is doing.
You recently launched a fellowship with the Gersh Agency—Spike Fellows Program—for students from historically Black colleges like Morehouse, Spelman, and Clark Atlanta University. What was the idea behind the initiative?
It's something I've been doing since the beginning, which is to get Black people, Brown people in front of and behind the camera. But the next task is the agencies and the managers and those jobs within the studios. This is something that hopefully the other agencies will say, "Damn, look what Spike and Gersh are doing. We gotta get in that too."
What has it been like immersing yourself in the world of Colin Kaepernick for your upcoming documentary project Da Saga of Colin Kaepernick?
Well, brother man is determined, and he believes in his heart of hearts that one day he will get up behind the center of an NFL team and take a snap. This is the seventh year he has not played. He made a good point. People say, "Colin, you haven't played in seven years." He says, "Yeah, but you don't say why I haven't played in seven years." It isn't like he's not working out every day, training. There's a reason why he hasn't played for seven years: It's because the NFL has white-balled him. It's not because of his abilities and skills; it's because of his stance toward white supremacy.
Where is your favorite place to write? Where do you feel the most creative?
It doesn't matter. I can write on a plane, in my office at NYU, at home, in my office in Brooklyn. And also, I don't type. I just need my Montblanc Miles Davis pen, and there's no obstruction from what's in my mind to my left hand.
Are you still working on a musical about the invention of Viagra with Stew and Heidi Rodewald?
I have several projects that are in the pot, so we'll see what happens. The name is Boner. [Laughs] Very provocative. That gives critics ammunition. "It's called Boner, but it was limp."
What is the most prized possession in your closet?
The Kobe Bryant suit I wore to the Oscars in his honor. And then the fuchsia suit I wore in Cannes. I had an exhibition at the Academy of Motion Picture Arts and Sciences museum. The Kobe suit was there.
The exhibition was part of the museum's inaugural show, and you've described it as your "Pantheon." What was it like to go through your collection and put certain things on display?
That was just a small part of it. In October, I'm really taking on the Brooklyn Museum. I always collected stuff that inspired me. As a kid, I started collecting baseball cards, autographs, and Marvel Comics. And I still collect. My prized piece is a very large African National Congress flag signed to me by Winnie and Nelson Mandela. It was signed when there was still apartheid in South Africa.
What does collecting autographs mean to you?
These are people who inspired me and made a great difference in my life. I once asked Prince for a guitar. He didn't even answer me. And later, this big-ass guitar case shows up at my house. I said, "You can sign it." He says, "Spike, I'm not signing the guitar. And don't ask me again or I'm taking it back."