Stephanie Hsu Brings the Fear
In the genre-bending Everything Everywhere All at Once, Hsu stakes her claim as a villain for the modern era.
Interview by Lynn Hirschberg
Photographs by Jamie Hawkesworth
---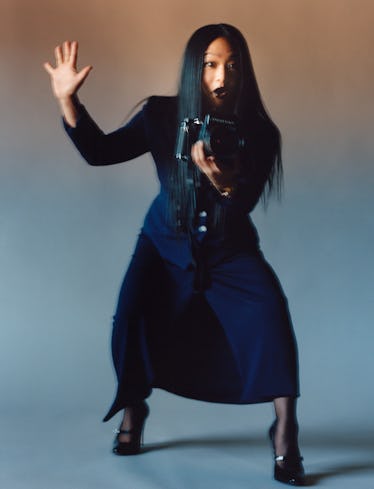 Stephanie Hsu wears a Ralph Lauren Collection jacket and skirt; Cartier watch; Wolford tights; Maison Margiela shoes.
Stephanie Hsu's Jobu Tupaki in Everything Everywhere All at Once is the kind of character that comes along once in a generation. She's a bona fide fast-talking, three-steps-ahead-of-the-game villain, but there's something different about Tupaki that sets her apart from film antagonists of the past. She's nihilistic, all-powerful, and set on destroying the world, yes. But she's also delightfully kooky, dragging Michelle Yeoh's Evelyn through a multiverse of costume changes, fight scenes, and life lessons, striking both fear and a fit of laughter into the viewer with every exaggerated facial expression and perfectly delivered line. With this one performance, the Hsu proved herself as an actor who is willing to cross boundaries and get weird, and why shouldn't she? As Tupaki says, "Nothing…matters."
How did Everything Everywhere All at Once come into your life?
The film came into my life when I met the Daniels—Daniel Kwan and Daniel Scheinert—right before they started filming. They're my dumb, silly, brilliant, beautiful directors. We met on a show called [Awkwafina Is] Nora from Queens, and we had such an artistic soulmate connection that I followed them out to L.A. I wanted to work with more creative people, and I felt I had saturated the New York market at that time. Within a week of getting to L.A., they called me up and were like, "Hey, we're working on this movie, no pressure, but we think you'd be really perfect for it." And the rest is history.
Were you familiar with the multiverse before you made this film?
I love philosophy and high-concept physics and metaphysics, but I had no idea that the multiverse was going to become such a touchstone of our culture. We filmed in 2020, and then [Doctor Strange in the] Multiverse of Madness came out, and we were like, "What? That's happening? Oh no, people are getting so tired of the multiverse." We were nervous about it, because we sat on it for two years. I think it's just a testament to the fact that a lot of people are curious and asking why and how we exist in the chaos and frenzy that we do. It seems like a piece of vocabulary for our society right now to try to unpack the cosmos.
Which of your various guises in the film was your favorite?
My favorite outfit changes every day, but I have to say the Elvis costume is pretty iconic. I'm the villain, and I wanted to make her both frightening and as dumb as humanly possible, because she's so powerful that she doesn't ever need to look or feel cool. Typically, villains have their cigarette hanging from the side of the mouth, but I wanted her to be smoking a cigarette in the center of her mouth. Last Halloween, a lot of people dressed up as characters from Everything Everywhere, which was insane. What's been so amazing is so many people dressed up as the Elvis character. And they put the cigarette right in the center of their mouth. I felt really affirmed by my dumb choice.
You play Michelle Yeoh's daughter in the film. Were you a fan?
Yes! When I told my mom I booked my first movie, she said, "That's nice." But when I said, "Michelle Yeoh is playing my mom," she exclaimed, "Oh my god!" My mother then called the entire family and told them: "Stephanie is going to be Michelle Yeoh's daughter!" That was the vibe in my household. My family were not cinephiles, they didn't really go to the movies, but they knew and loved Michelle Yeoh.
Hair for portfolio by Anthony Turner at Streeters; makeup for portfolio by Lucia Pica for Byredo at Art Partner. Senior style editor Allia Alliata di Montereale; senior fashion market editor Jenna Wojciechowski. Manicure for portfolio by Michelle Saunders. Set Design by Gille Mills at 11th House.
Produced by Connect the Dots; executive producer: Wes Olson; producer: Zack Higginbottom; production manager: Nicole Morra; photo assistants: Cecilia Byrne, Jack Buster, David Gurzhiev; retouching: Simon Thistle; fashion assistants: Julia McClatchy, Tori López, Jacqueline Chen, India Reed, Nycole Sariol, Derek Ezra Brown, Karla Garcia, Rosa Schorr; production assistants: Khari Cousins, Tchad Cousins, Kelsey Swope Romero, Mateo Calvo, Juan Calvo, Rayon Pollard, Gina York, Peter Ditzler, Nico Robledo; hair assistants: John Allan, Dylan Michael, Ramdasha Bikceem, Malika Palmer; makeup assistants: Kate O'Reilly, Lilly Pollan, Bailee Wolfson; manicure assistants: Pilar Lafargue and Victoria Valenzuela, Jolene Brodeur; set assistants: Cory Bailey, Dirk Knibbe, Joel Garcia, Matt Day; tailors: Irina Tshartaryan, Ripsime Vartanyan at Susie's Custom Designs, Inc.