Sundance Star Hari Nef Had Some "Tough Discussions" with Her Assassination Nation Director on His Revenge Fantasy About Teen Girls Killing Misogynists
"You know, it's like, I got this script about four teenage girls by this white guy."
---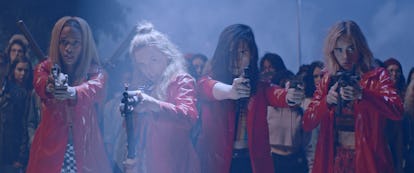 At this year's Sundance film festival, Assassination Nation, with its buzzy young cast of Odessa Young, Hari Nef, Abra, and Suki Waterhouse (Bill Skarsgard is there, too), was met with some of the most enthusiastic audience reactions all week—and also sold for the biggest price so far at the fest, with the doxing horror flick set in East Salem High School going for $10 million to Neon. Unlike many Sundance favorites from previous years (Patti Cake$, Ingrid Goes West), this crowd-pleaser is likely to make that number back, plus more. Director Sam Levinson's film—which takes place after Salem's notable male citizens (including the mayor) have their dirty laundry aired on the internet following a hack, and who then lash out at the high schooler Lilly (Young) and her friends—is made with a fairly diverse cast and characterized by its progressive politics that take aim at self-righteousness from both the right and the left, but no doubt a lot of the talk will be about the lurid feel and violence after the young women's revenge plot on their sexist persecutors kicks in. (One reviewer called it "the most aggressive high-school movie in film history.") The film is also a breakthrough for Hari Nef, the trans model-turned-actress who is making her feature-length big screen debut here. She spoke to W at Sundance about the film's messaging and timeliness, and how she improvised some of her best lines on her first movie set.
Have you been to Sundance before? I actually haven't. This is also, effectively, my first film.
What a debut! You were amazing. Thank you so much.
And it's such a bonbon of a film. It's perfect. Yeah I think it's perfect, too. It's packed with so many different points of view, and so much necessary imagery and ideology, while simultaneously critiquing the idea of ideology itself. It's a girl power movie, it's a fun slasher movie, it's a coming-of-age comedy, I think? I had so much fun making it. It was like the happiest month of my life.
So how did you get involved with it? Were you onboard right after you read the script? Yeah.
Because it's a tricky thing, a progressive horror movie. Well, a friend of mine was going out for one of the roles. And she just read it and said, "There's this part in this film I'm auditioning for and you have to play this girl, Bex." I emailed my agents. And eventually the audition came through; I think they found me? And I went in for an audition and had a call back with Sam. And my call back was the day after the election, so there was a lot of emotion in the room. In addition to doing my sides, Sam and I just had to check in with each other, like, How are you doing, how are you feeling? It felt like the time to be making this film.
I love that this is your debut and you got all the good lines! I actually improvised some of them. Tell me which ones are you thinking of, and I'll tell you whether or not I improv-ed them.
"You're the bitch. I'm a feminist." I improv-ed that.
No wonder you got all the good lines, you wrote them. And then the line at the end… "Thanks for not killing me, I guess."
Yes! That was Sam. I mean, it's such a strange love story because I think Bex begins the film really wanting love and looking for love. She wants the love story and she wants girl to meet boy. And I think, in the end, she realizes she can gain the same affirmations that she'd get from romantic relationships from her friends. It's not that easy! But I think she knows that the moral thing to do is to send this fuccboi packing.
Did you and Sam discuss politics and ideologies a lot? Did you make changes on set? What was the collaboration like? Obviously, this is a diverse cast. I think certain things in the script—or that wound up not being in the script—that applied to certain intersectional identities Sam knows about but not necessarily from, there was an open discourse the whole time. There were emails I wrote him, thoughts I expressed, and I would get a new draft of the script the same day. Sometimes my words would be in the script, and he just incorporated them. I think if you're a cis, white, straight man as Sam is—god love him—if you're going to engage with women, or any minorities or intersectional identities, you can. Green light. Do it. But you have to not just invite, but welcome and seek out the perspective of the people you're representing. You have to open them up not only into the work but also into the process. And from day one, Sam just opened himself wide open to me. He sent me an email and said, "If there's anything anything you want to talk about, anything in the script, if you feel unsafe: I am here for you and I have your back."
It wasn't this rigid auteurist vision. I mean, I think Sam is an auteur. But Sam knows that the best work results from warmth, open collaboration, and full transparency. There were stumbling blocks!
Yeah? There were debates. There were things that I didn't understand, that he didn't understand, not just with me. There were some tough discussions.
With the other girls, too? Yeah, with the other girls, too! But they were had, with empathy and with listening. And I think it shows in the work, that warmth.
But it also makes sense it was right after the election, because there's so much rage, too. So much rage! If you're going to make a film about rage in 2018, 2017… If you're going to make a film about revenge and anger, I feel like that has to be a film about women. I don't really want to watch a film about angry men. I've seen way too many of those.
And obviously Sam has too. He references some of them. Yeah! I feel like the film is referential, and references genres that we're used to seeing men at the center of. And I think that just a simple switch in gender lends a fresh perspective on things.
Yeah, I think he references The Slumber Party Massacre, which is a horror film written and directed by women that switches gender expectations. And I was already along for the ride, but that reference is when I really trusted him. At the screening Q&A, this woman was like, "How did you get my head? How do you understand so intimately millennial female sexuality?" I'm telling you, that was all Sam! You know, it's like, I got this script about four teenage girls by this white guy. Oh, this will be good—not.
Exactly. I had such low expectations when I opened it up, and then I read it. We call him Auntie Levinson, because he's just one of the girls.
So you had this dream first experience on a film. Are you looking forward to more acting jobs? Are you excited to be entering at this particular time when we're challenging male power? Yeah. There's been such a spectacle in who's going down. But I am so much more excited and fascinated in who's going up in place of these men. And I don't think it's our place as women to aspire to replace men. I don't think that should be the goal. But I am excited to see how this paradigm shifts, not just the fact that it's shifted. And I really think it's a great time to be making my introduction to this industry. Fashion gave me my start and that will always be my home. I'll always be so grateful for all my collaborators and friends I've made there, but I'm so excited to dive head first into just being a working actor. This is what I want. And it's what I've wanted since I was little.