Ta-Nehisi Coates Talks Toni Morrison With Artist Calida Rawles
The artist Calida Rawles and her longtime friend, the writer Ta-Nehisi Coates, discuss the themes that unite their latest work.
Photographs by Max Farago
---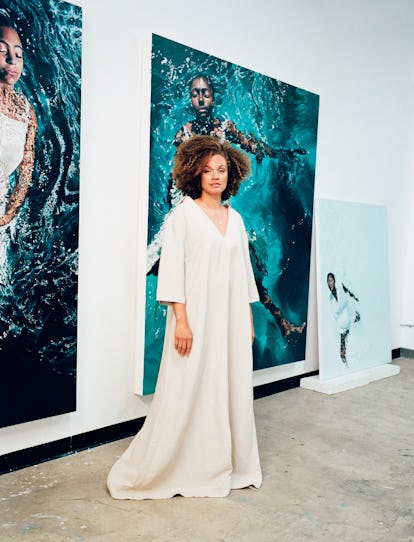 Photographed by Max Farago; Styled by Rebecca Ramsey.
There's nothing quite like the quiet of being underwater. The hubbub of the world becomes a pulsating hush, something in between silence and sound—almost like hearing the rhythms of our own bodies amplified. The artist Calida Rawles, 43, discovered this sensation and the sense of peace that comes with it when she started swimming laps for exercise seven years ago. She also discovered something else: an important subject for her work.
A graduate of Spelman College who got her M.A. in painting at New York University, Rawles kept up her artmaking in her 30s in Los Angeles—while working mainly as a graphic designer—by doing hyperrealistic portraits. She didn't devote herself full-time to art until 2015, when she began making paintings based on her own photographs of people underwater. Then last year, Ta-Nehisi Coates, her friend from their student days—well before he became one of America's leading intellectuals, praised by Toni Morrison and compared to James Baldwin—used her paintings on the jacket of his new novel, The Water Dancer. Now, from February 12 to March 14, Rawles is having her first solo show at the gallery Various Small Fires, which also decided to showcase her work at the Frieze Los Angeles art fair.
The paintings show figures submerged, including black girls in white, baptismal-looking dresses. While their faces seem serene, the water around them is -turbulent, swirling with currents and eddies. The exhibition, called "A Dream for My Lilith" with a nod to the Biblical character "demonized for wanting to be equal," as Rawles puts it, celebrates the power of individual strength and self-composure in a time of racial and political turmoil. Her black bodies are islands of innocence surrounded by raging forces.
Rawles deliberately roughs up the water during her photo shoots (done in a friend's pool in L.A., with her iPhone snug in a waterproof case), and says that the agitation has released her creatively. "I stopped being so realistic in my painting," she says. "A body moving through water creates these areas that are very abstract—real and yet unbelievable. It freed me up to improvise." Arms disintegrate into pieces. Legs splinter. And, once in a while, reality intrudes: In one painting, an ankle is vaguely topographic, taking the shape of Coral Springs, Florida, where a black girl was beaten by policemen.
Here, Coates and Rawles talk about the power of water, the persistence of racism, and their history as friends.
Jori Finkel: It's so rare these days to see a painting on the cover of a novel—it's all about big type treatment in the age of Instagram. How did the book jacket of The Water Dancer happen?
Ta-Nehisi Coates: My wife came out to California in 2017 and stopped in Calida's studio and saw the water works. She said, "You need to visit her." Everyone knows Calida is incredibly talented, so it's not surprising that I was blown away. More surprising is that we were both working with water, running on a similar vibe. I didn't even talk to my publisher about it and asked Calida, "Would you be willing to take a shot at this book cover?" So as I went along, I gave her different drafts. Sometimes she saw stuff even before my editor did.
Calida Rawles: I was really excited to think about visuals for his writing. When he first asked me, his idea was for me to make some sketches.
Ta-Nehisi Coates: And that's not how she works.
Calida Rawles: Right, I decided I was going to make paintings. Even if the publishers ended up not liking them, I told myself it didn't matter: I could say I painted a series based on his book. So I had two photo shoots done—these amazing models came and got into the pool with me. I took maybe 1,000 pictures and made six paintings based on them and my imagination. The publisher has the copyrights to use four of them in different ways: There are two on the cover, front and back, and some they used for publicity.
Jori Finkel: So it was pure coincidence that you were both working with water imagery. What do you think makes water such a powerful symbol?
Calida Rawles: I'm really fascinated with water memory theory, the idea that water retains the memory of the substance it goes through, which is the basis of some homeopathic remedies. I was thinking of water as a spiritually healing element. But there's also the experience of water for black people—our history with the Middle Passage slave ships coming to the Americas and the segregation of beaches and pools under Jim Crow laws, and that's why I use it as a visual language. I learned to swim as an adult. My parents don't swim; 60 percent of us in the culture don't swim. So for me there is a sense of overcoming the fear of water along with seeing how beautiful it can be.
Ta-Nehisi Coates: I also learned to swim as an adult. Even early in The Water Dancer where the main character, Hiram, talks about the experience of drowning, a lot of that is pulled from my learning to swim. But most significant for me is what Calida said about the Middle Passage: I'm fascinated by people who leaped off the boat during the journey, and some of that is in the book. And then in the course of research, trying to make things as whole and full as I could, I came across the Water Dance that black people used to do. They would carry a vessel of water on their head and compete to see who could execute the most complicated dance moves without spilling the water.
Jori Finkel: Water is also part of this mystical, otherworldly realm that you both point to in your work. It seems like you share an interest in magical realism, giving your characters supernatural powers.
Ta-Nehisi Coates: I think people deeply underrate the amount of supernatural, spiritual experiences that appear in African-American literature and first-person accounts by enslaved black people. Even Harriet Tubman believed in powers unseen, and Frederick Douglass described how another enslaved person gave him a root to protect him. So it didn't strike me as a big deal for me to give Hiram this power of "conduction"—the power to transport himself through space. It felt right in line. I was pulling directly from established traditions.
Calida Rawles: I've been trying to figure out how to describe my work, and it's not photorealism—following the photo directly. There is realism, no doubt, but there is also a spiritual element that you can't deny, like in my painting where people are wading in this white water or fog, like another dimension. There's the idea of baptism and this otherworldliness in a lot of the work. It's a magical realism, or maybe Afro-futurism, like Octavia Butler.
Ta-Nehisi Coates: People forget how much this is part of our tradition. Think about Toni Morrison's Beloved, the ghost story.
Jori Finkel: I thought your visions of families being torn apart by slavery in The Water Dancer—a boy watching his mother being taken away, or a mother robbed of all her kids—were really powerful. Can you talk about how your own children have inspired or figured into your work?
Ta-Nehisi Coates: In order for the work not to be abstract, you think about real people. When I was writing about families being torn apart in The Water Dancer, I had to focus on how I would feel if this happened to me and my family. So it's there in the work, even when it's not said.
Calida Rawles: And thinking about the story I wanted to tell in this show, I looked at my oldest daughter, who is 14, right on the edge of becoming a woman, and used her as one of my models. I know the idea of "child" and "adult" is a social construct, but I was concerned about the "adultification" of black girls, how they're seen so early as black women and not girls. As a parent, I'm scared of that. I wanted to play with that a little, so I put my daughter in a white dress with her hair pulled back. You can see she is still young, although she is formed as a woman.
Jori Finkel: What about your knowledge of your ancestors—how has that shaped your work?
Calida Rawles: The newest piece that I'm doing shows this watery reflection that looks like a totem. It made me think about stacking and about how I'm stacked, how I'm made up of my ancestors. On my mother's side I have two ancestors who were slaves, and I have this picture of when they were freed, and I keep looking at that. When I go back I imagine people never smile, but they are smiling in this picture.
Ta-Nehisi Coates: I have a huge family tree framed, hanging over my computer, and when I was revising The Water Dancer I would often look up at that. There are characters in The Water Dancer named after family members of mine. It's very hard to do this kind of work and not think about family, ancestors, and what they went through.
Jori Finkel: Ta-Nehisi, years ago you wrote about how our country was in thrall to white supremacy and the legacy of slavery even during the Obama administration. But now racism seems so open and even sanctioned by the government. I'm curious how Trump's election has affected your work in the past few years.
Ta-Nehisi Coates: I don't know that it has yet. With Obama I felt that there was an interesting question to be explored about the nature of the country. I'm much, much less curious about Trump. I find that he is who he says he is, where I found that Obama was still exploring. So not yet—maybe in 10 years.
Calida Rawles: For me some stuff Trump does seems frightening, but I try not to live in fear. There is turbulent water out there, but I try to stay calm, breathe, swim through it all.
Jori Finkel: I know you two met when you were still in college. What do you remember about each other from that time?
Ta-Nehisi Coates: Calida, I don't even remember when we first met.
Calida Rawles: I know I met you while you were in school at Howard and I was at Spelman. I think we had different spring breaks, but I was on the Howard campus hanging out with my cousin Chana [Garcia] and her friends. Chana's friends became my friends.
Ta-Nehisi Coates: What I remember from those early days was your intellect, your conversations, and that you were always reading. When Calida lived in New York, she was in this book group with Kenyatta, my wife, which indirectly led to me moving into fiction. They were reading Ragtime, and Kenyatta came home and said, "You would really like this book." This would have been 2001 or 2002, and it was one of my earliest notions that I should try doing something like this.
Calida Rawles: I had the same impression. I just thought Ta-Nehisi was very intelligent. But I didn't ask to read his writing. He's brilliant and amazing and has done so much, and I'm so proud of him, for sure, but that's not how I see him when we hang out. I don't think of him first as a writer.
Ta-Nehisi Coates: That's what's so great. That's one of the coolest things about Calida: We're friends, and she doesn't know me through my work.
Jori Finkel: And it's interesting that you both went to historically black colleges.
Calida Rawles: I think of Spelman as a mother ship. When I go back to campus, I feel recharged, like I'm going back home.
Jori Finkel: Ta-Nehisi, you referred to Howard University as the Mecca in Between the World and Me.
Ta-Nehisi Coates: Howard has all the attitude of New York City—there's nothing north, south, west, or east of Howard. It's kind of an arrogant thing to do, to refer to yourself as the center of black life. But when I go back for homecoming—and I have to say that I'm not the kind of person who enjoys too much fame—it is a beautiful thing to go back there and be stopped by kids on the Yard.
Jori Finkel: Have you ever modeled for one of Calida's paintings? Would you?
Ta-Nehisi Coates: No, I haven't. I wouldn't—I'd be a bad model. I write, that's what I do.
Calida Rawles: Ha! I don't know about that. I think I can get you in the water.