Taylor Russell Makes Her Own Luck
The Bones and All actress talks playing a teen cannibal opposite Timothée Chalamet and recognizing life's gifts.
Interview by Lynn Hirschberg
Photographs by Jamie Hawkesworth
---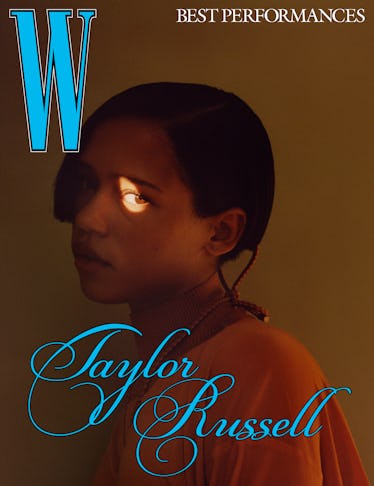 Russell wears an Hermès top.
It's been a good year for Taylor Russell. The 28-year-old actress first captivated audiences in the emotional 2019 film Waves, but it's her role in Luca Guadagnino's Bones and All that has garnered her a whole new fan base. In the film, Russell plays Maren Yearly, a teenage cannibal trying to find love and survival in 1980s America. In real life, Russell is navigating Hollywood and finding space for gratitude among all her newfound success. Here, the rising star discusses intention setting and why she just might be a vampire.
Tell me how Bones and All came into your life.
I got a FaceTime from Luca Guadagnino, and he said he had a script that he wanted me to read, and he sent it to me shortly thereafter. It was the coolest and weirdest and wildest script I ever read, and then he offered me the part.
What was your reaction initially?
I was perplexed by this director that I had known only shot in Italy. [To be shooting] in '80s America, and not in a coastal city but in the middle of it, and the romance, and the cannibalism, it just felt like, Boy, if I can be a little part of this, it'll be a really great thing. I guess my lucky stars had it that I was a bigger part than I even would've asked for.
Do you believe in luck?
Yes. I think you can consciously make your own luck—set wide intentions for your life and then lucky things happen. But you have to recognize the lucky things; you need a sharp eye.
Have you ever been starstruck?
Yeah, by Zadie Smith. I saw her at a fashion show years ago. I had just read White Teeth and some of her other books. I saw her and I was like, "I wanna say hi, but also, how am I breathing the same air as you?" We talked very briefly. She's a great person.
What's your secret skill?
I'm a great driver. I like speeding, [which is] not good, but I like it. I can parallel park so well. I wish people would ask me to just do it. Hire me on the side. On the weekends, I'll parallel park your car all over L.A.
Are you a day person or a night person?
I'm a night person through and through. Ever since I was out of the womb, I wanted to stay up all night. It's painful to function in a world that is driven by day.
Is this your way of saying that you're a vampire?
Maybe I am.
Hair by Joey George at MA+Group; makeup by Kali Kennedy for Pat McGrath Labs at Forward. Senior style editor Allia Alliata di Montereale; senior fashion market editor Jenna Wojciechowski. Manicure for portfolio by Michelle Saunders. Set Design by Gille Mills at 11th House.
Produced by Connect the Dots; executive producer: Wes Olson; producer: Zack Higginbottom; production manager: Nicole Morra; photo assistants: Cecilia Byrne, Jack Buster, David Gurzhiev; retouching: Simon Thistle; fashion assistants: Julia McClatchy, Tori López, Jacqueline Chen, India Reed, Nycole Sariol, Derek Ezra Brown, Karla Garcia, Rosa Schorr; production assistants: Khari Cousins, Tchad Cousins, Kelsey Swope Romero, Mateo Calvo, Juan Calvo, Rayon Pollard, Gina York, Peter Ditzler, Nico Robledo; hair assistants: John Allan, Dylan Michael, Ramdasha Bikceem, Malika Palmer; makeup assistants: Kate O'Reilly, Lilly Pollan, Bailee Wolfson; manicure assistants: Pilar Lafargue and Victoria Valenzuela, Jolene Brodeur; set assistants: Cory Bailey, Dirk Knibbe, Joel Garcia, Matt Day; tailors: Irina Tshartaryan, Ripsime Vartanyan at Susie's Custom Designs, Inc.