Everything We Know About Taylor Swift's 'Eras' Tour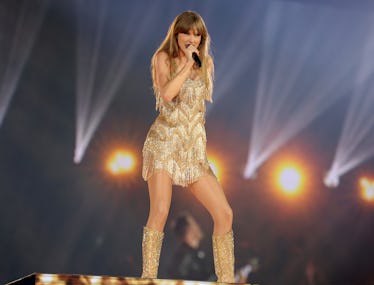 Scott Legato/TAS23/Getty Images Entertainment/Getty Images
Taylor Swift keeps adding more tour dates as fans buy up tickets to her Eras tour. Late last year, she announced eight extra concerts on the U.S. leg of the tour after releasing the first 27 dates—which were, apparently, not nearly enough for her robust fan base.
"UM. Looks like I'll get to see more of your beautiful faces than previously expected… we're adding 8 shows to the tour," Swift wrote in a tweet.
The singer didn't stop there though, on November 11, the tour gained 17 additional dates, totaling 52 concerts. As if that weren't enough Swift has recently announced that she will head to Latin America, Asia, Australia, and Europe to continue to success of her tour's U.S. leg.
"EXCUSE ME HI I HAVE SOMETHING TO SAY. I can't wait to see so many of you on The Eras Tour next year at these new international dates!" she posted on Instagram. On August 3, she announced yet again that she's added new shows in the U.S. and Canada.
Here's everything we know about the Eras tour, below.
When does the "Eras" tour start?
The U.S. part of Swift's tour began on March 17 of 2023, in Glendale, Arizona. The first U.S. portion of the tour will wrap up at Los Angeles's SoFi Stadium on August 9 but Swift has announced a range of international dates that will see her in spots well into the latter part of 2024. She will head back to North America on October, 18th 2024 for over a dozen additional dates.
Who is opening for Taylor Swift?
It's practically worth going to one of Swift's shows just to catch the warm-up acts. On the roster are Paramore, beabadoobee, Phoebe Bridgers, girl in red, Muna, Haim, Gayle, Gracie Abrams, and OWENN for her US stops.
Sabrina Carpenter will accompany Swift on the Latin American leg of her tour as well as dates in Australia and Singapore. While special guests have yet to be confirmed for later international dates, fans can certainly expect some big names.
Abrams will again join Swift for 15 dates across the United States and Canada, starting on October 18th and ending on November, 23rd, 2024.
Where, exactly, is she going on tour?
After her first show in Arizona, Swift headed to Las Vegas; then, Arlington, Texas; Tampa, Florida; back to Texas for a show in Houston; Atlanta; Nashville; Philadelphia; Foxborough, Massachusetts; East Rutherford, New Jersey; Chicago; Detroit; Pittsburgh; Minneapolis; Cincinnati; Kansas City, Missouri; Denver; Seattle; Santa Clara, California. She will play her final U.S. show in Los Angeles on August 9th.
After her whirlwind around the United States, Swift will then head to Latin America for dates in August and November. She will perform in Mexico City; Buenos Aires; Rio de Janeiro; with her last date being in São Paolo, Brazil in late November.
Just two weeks after announcing the Latin America tour dates, Swift added a roster of new stops throughout 2024 in Europe, Asia, and Australia. The singer will start in Tokyo in early February and then will head to Melbourne; Sydney; Singapore; Paris; Stockholm; Lisbon; Madrid; Lyon; Edinburgh; Liverpool; Cardiff; London; Dublin; Amsterdam; Zürich; Milan; Gelsenkirchen; Hamburg; Munich; Warsaw, and Vienna. Pending any additional shows, Swift will end the European leg with two nights at London's Wembley Stadium on August 16th and 17th, 2024.
After a brief break, Swift will head back to North America for additional dates in the fall of 2024. She will start in Miami, Florida on October 18-20th and then will perform in New Orleans; Indianapolis; and Toronto. Pending any further dates, Swift's "Eras" tour will conclude on November 23rd.
When and where will the shows take place?
Swift added even more dates to her now multi-year tour on August, 3rd. The singer announced that she will perform in several North American cities starting in the fall of 2024.
On June 27th, Swift added nine more shows to her already packed Eras tour schedule. There will be another L.A. date in addition to the already scheduled five as well as eight new shows in the United Kingdom and Europe.
The singer added 38 overseas dates in Asia, Australia, and Europe.
On June 2nd, Swift announced eight dates across Mexico, Argentina, and Brazil.
Swift announced her Eras tour on November 1, 2022.
Where can fans buy tickets for the Eras tour?
Ticketmaster was the official partner of the Eras tour, however, due to a massive influx of pre-sales (over 2.4 million in one day) they canceled a planned public sale of tickets which led to Swift issuing a statement as well as several lawsuits.
"Well. It goes without saying that I'm extremely protective of my fans," she said. "We've been doing this for decades together and over the years, I've brought so many elements of my career in house. I've done this SPECIFICALLY to improve the quality of my fans' experience by doing it myself with my team who care as much about my fans as I do. It's really difficult for me to trust an outside entity with these relationships and loyalties, and excruciating for me to just watch mistakes happen with no recourse."
For the remaining US dates, it's best to purchase tickets through a verified reseller like StubHub or Vivid Seats.
There was a verified fan sale for shows in Latin America, which ended on June 7th, with tickets selling out almost instantly. However, fans can purchase tickets on StubHub, Vivid Seats, MegaSeats and TicketNetwork. For dates in Asia, Australia, and Europe fans can visit Swift's tour page for specific information for registration, pre-sale, and on-sale dates.
The last time the musician toured was back in 2018. At that time, she'd just put out Reputation—since then, she has released Lover, Folklore, and Evermore, Midnights plus re-recorded her Red and Fearless albums. That's a lot of material to catch up on.
This article was originally published on