The Dare Is About To Be Everywhere
On his forthcoming EP, the electro artist known for his raucous live performances breaks out of the "indie sleaze" bubble.
Written by Alex Hawgood
Photographs by Nolan Zangas
---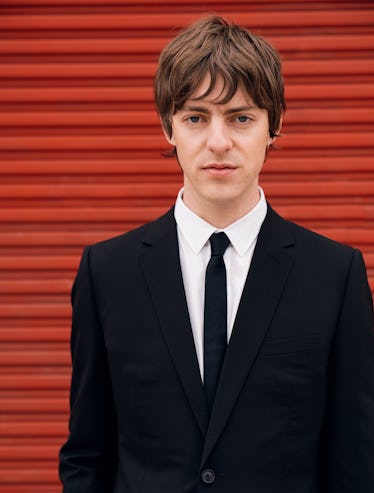 The Dare wears a Dior Men jacket and shirt; stylist's own tie.
Last October, some 400 guests flocked to the club Baby's All Right in Brooklyn for the second anniversary party for "Perfectly Imperfect," a newsletter that chronicles downtown's new guard. But the evening is likely to be remembered as the night a New York star was born.
Engulfed by white balloons, the indie electro artist Harrison Patrick Smith, better known by his moniker, The Dare, tore through his debut single, "Girls," with the intensity of a pulsating strobe light. "I like the girls that do drugs / Girls with cigarettes in the back of the club," he sang, tossing his body back and forth between the speakers. As he stopped to genuflect in front of the crowd, the kinetic energy generated from the stage threatened to short-circuit the sea of glowing iPhones. "When I perform, I just want to kind of go nuts and put on this Dare persona, which is very different from me in real life," Smith, 27, said.
Charli XCX said "Girls" "goes off at parties," and The New York Times named the track one of its Best Songs of 2022. His performance that night has become legend among those in attendance—much like Blondie's at CBGB or Madonna's at Palladium. Or, more fittingly, the Rapture playing somewhere like Plant Bar, Lit Lounge, or the raucous basement of Luxx, the famed Brooklyn nightclub, in the early aughts.
By design or mere happenstance, The Dare has become a poster boy for "indie sleaze," a term for today's post-TikTok embrace of the Golden Age of Pitchfork, when DFA Records was the only label that mattered and the electro act Fischerspooner was big enough to land an official remix of Kylie Minogue's "Come into My World." "Freakquencies," a popular party Smith throws at Home Sweet Home on the Lower East Side—with DJ sets full of bangers from Digitalism, Justice, and Soulwax—is certainly a love letter to that period. On Twitter, a partygoer called the night "like if Spirit Halloween had sex with a luxury fashion show," a reference, maybe, to Smith's moonlighting as a DJ at afterparties for Celine and Gucci, with young revelers working their best turn-of-the-millennium Dior Homme–esque pipe cleaner suits.
The sudden attention means Smith's career has already eclipsed those of many of his forebears. "There are more people stopping me on the street now," he said. He signed to Republic Records in April, and his first EP, The Sex EP, is out on May 19th. The Dare's second single, "Good Time," ditches party rock for grimier disco grooves. "I'm trying to tell a story very carefully with each song," he explained. "And 'Girls' is a really funny place to start the story. While it is so 'me,' it's a very extreme corner of my psyche. There is more I want to do that is nowhere near as sexual or goofy. I have bigger ambitions than that."
Grooming by Amanda Wilson for Color Wow Hair at Opus Beauty; photo assistant: Connor Preblick; fashion assistant: Jax Chen.