We Finally Have a Trailer For the Weeknd's Euphoria-esque HBO Show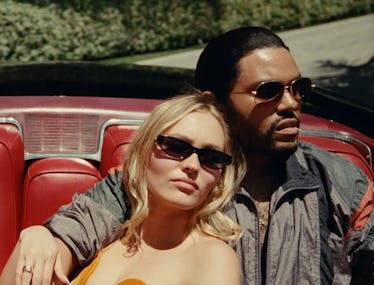 HBO
The Weeknd is getting into series television with a project titled The Idol for HBO, and he has recruited Euphoria creator Sam Levinson to help him. Which tracks. The man, also known as Abel Tesfaye, is famous for creating elaborate mythologies and storylines around his music. So much so that he recently convinced a good chunk of people that he really did get extensive plastic surgery (he did not, it was all just part of a story he was telling around his album After Hours).
He's also spoken of trying his hand at screenwriting before but has refused to elaborate on any of the details. You can tell from his music videos alone, the man definitely watches a lot of movies.
The Weeknd will co-created the project with Levinson and his own longtime creative producer Reza Fahim. Lily-Rose Depp will co-star in the series with Troye Sivan joining the cast as a series regular.
Here's everything we know about the series so far.
Is there a trailer for The Idol?
Anticipation for the upcoming HBO show, The Idol, continues to build with every small update we get from the network, but so far, there hasn't been too much information on the show aside from a few brief, high-energy teasers. Now, HBO has released a third trailer, and while this one is also only 90 seconds long, it provides a closer look at some of the side characters who are joining Depp and Tesfaye in what has been described as "the sleaziest love story in all of Hollywood."
Like the other trailers, this one dives right in to the LA scene as we see shots of Depp's Jocelyn partying at a night club and working hard to the point that some begin to worry the pop star might suffer "another psychotic break." That's where Tesfaye's club owner/cult leader Tedros comes in, with the chilling line, "Los Angeles is where all the monsters of the world come to gather. Trust no one. Just me."
As Jocelyn and Tedros' relationship begins to heat up, we also get peeks at the rest of the star-packed cast. Blackpink's Jennie is featured more in this teaser as she seemingly signs her own music contract, Rachel Sennott questions everyone's sanity, and Dan Levy, who plays an executive, is seemingly concerned about Tedros' new-found interest in Jocelyn. "Where did he come from?" he asks, but for now, that remains a mystery.
Will The Weeknd star in The Idol?
In addition to his behind-the-scenes work, Tesfaye will also co-star in the series. He's previously tried his hand at acting in Uncut Gems, and he certainly seems to give his dramatic all in his music videos. In the first trailer for the series, we see the singer's character for the first time, a sleezy nightclub owner who engages in a relationship with Depp's pop star. It's a character we could imagine seeing in one of Tesfaye's music videos, but will absolutely be his most realized role to date.
What is The Idol about?
According to a statement from the show, The Idol is "set against the backdrop of the music industry, centers on a self-help guru and leader of a modern-day cult, who develops a complicated relationship with an up-and-coming pop idol." This of course begs the question of which one is the titular "idol": the actual famous pop star or the guy who has a cult devoted to him?
Who Will Lily-Rose Depp Play?
Depp stars in the show as Jocelyn, the pop star who develops a relationship with Tesfaye's club owner. This will be Depp's first time on TV, and pretty much her first chance to helm any project. As for her singing ability, well, Depp had a memorable musical moment in one of her earliest films, Yoga Hosers. She took lead vocals on a rendition of Styx's song "Babe." Singing is also in her blood. Before her mother Vanessa Paradis became a Chanel model and actress, she actually first found fame at 14 as a teenage pop star in her native France. Paradis has kept up with her music career, most recently releasing a studio album in 2018.
Who is producer Reza Fahim?
Fahim is The Weeknd's longtime creative producer, though the Iranian native first made his mark in Hollywood as a well-known nightlife guru himself. He's best known for being the co-owner of former Silverlake hotspot Tenants of the Trees (a favorite among celebrities) but left nightlife with the ultimate goal of screenwriting.
Who is in the cast of The Idol?
Along with The Weeknd and Depp, The Idol has quite the cast. Australian singer Troye Sivan has been announced as a series regular, as has Suzanna Son, Steve Zissis, Hari Nef and Rachel Sennot. In addition, Melanie Liburd, Tunde Adebimpe, Elizabeth Berkley Lauren, Nico Hiraga, and Anna Heche are joining the cast in recurring roles. The first trailer also provides a sneak peak of Blackpink's Jennie, who will seemingly have a part in the series, though at this point it's unclear how large of a part she will play.
When is the release date?
The Idol has had some struggles throughout its production, including a creative snag back in April 2022 that led the show to "build, refine, and evolve their vision for the show," according to Deadline. Because of that, the release date is unclear, and the teaser provided very little information, just saying the show will premiere in 2023.
What channel is it on?
HBO, which means it would also likely stream on HBO Max.
Is it anything like The Neon Demon?
Several commenters have noticed some parallels between The Weeknd's cinematic music videos and Nicolas Winding Refn's 2016 film The Neon Demon before. Elle Fanning plays a young model who finds fame in Los Angeles who gets entangled with something like a cult (or at least occult-ish). It's maybe not a surprise that the film's co-writer Mary Laws has been recruited as a writer and producer for The Idol. We doubt she wants to directly repeat herself, but the two projects are bound to be compared.
This article was originally published on