W TV Club: Watching The West Wing to Escape From 2020 Politics
For this week's W TV Club, senior digital editor Maxine Wally shares her go-to season of television to watch when current-day political brouhaha gets you down.
---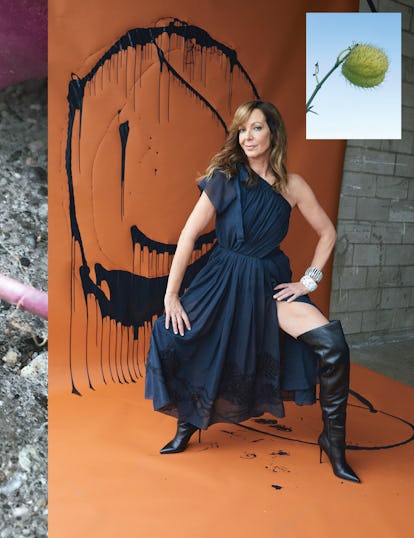 Photographs by Juergen Teller; Styled by Edward Enninful
Welcome to the W TV Club, a spin-off series of W Movie Club, in which W magazine's editors pick a season of a television show they'd recommend you binge-watch while in quarantine. This week, senior digital editor Maxine Wally shares her go-to season of television to watch when 2020 political brouhaha gets you down.
The West Wing, the Aaron Sorkin classic often at the top of "Best TV Shows of All Time" lists, hits different amid four years spent with President of the United States Donald Trump and the landmark, unprecedented election year in progress. In 1999, when The West Wing first premiered on NBC, Bill Clinton was POTUS—his administration marked by a scandal with Monica Lewinski and playing saxophone on the Arsenio Hall show, among other things. Then, during The West Wing's seven-year run, came the Bush Administration: which, at the time, became the butt of many political jokes, especially when it came to George Bush himself, who was painted as something of a blithering idiot.
In The West Wing was respite from all the political noise, and the prospect of something that many hadn't seen before: politicians depicted as real people, the goings-on of their personal lives portrayed with honest humanity. Plus, they truly cared about the citizens they served. Rewatching the first season of The West Wing (my favorite season, don't @ me,) today, during the Trump Administration, gives me an especially potent feeling of nostalgia. I see Martin Sheen come on screen as Josiah "Jed" Bartlet, the fictional president, and I experience a twinge of sadness; Allison Janney in her role as press secretary C.J. Cregg fills me with a sense of longing for another time—a time, perhaps, that has never really existed.
Full transparency: I am not by any stretch of the imagination politics-obsessed. In fact, I am largely politician-averse, and see figures in the White House as public servants whose main goal is to be reelected. But while watching The West Wing, I'm able to let go of all that aversion and jaded discrimination against government officials.
For a brief moment, Bradley Whitford is Josh Lyman, a fast-talking (let's be real, everyone in Aaron Sorkin's world is fast-talking) deputy chief of staff; Rob Lowe, with a full head of hair, is the lovable bro Sam Seaborn. They pace down the hallways of the White House discussing matters of state—but most importantly, they are smart, able to not only string together full sentences, but also insightful ones. It never feels like they're trying to deceive any members of the public with the legislation they're trying to put in place.
Janney-as-Cregg is my personal favorite—because when's the last time you've felt a press secretary was being honest to you? Cregg had a working—albeit curt and smart-mouthed, but that was the beauty of C.J.!— relationship with the press. She sported a typically 1990s "Rachel" haircut, sleek power suits with huge collars à la Calvin Klein, and statement necklaces. Cregg knew what she wanted and stood for the principles in which she believed. She asked poignant questions you'd never expect from someone in the White House, like: "Do you ever look around and think, if we're the ones in charge, this country's in a hell of a lot of trouble?"
The characters on this show were brilliantly written, so much so that they felt like people first, and politicians second. Sure, the entire show centers politics, but the issues and conflicts in its storylines were entirely human. I've never been able to relate to a politician before. But with The West Wing, I could. In my eyes, the characters are at their purest during the first season. But the entire series is worth binging if you haven't already. You'll surely feel the pangs of sadness and longing that inevitably come along with watching competent, veracious leaders, the unflinching portrayals of their real lives on display.
Related: Goodfellas and Legally Blonde—W Editors Pick Their Favorite Films