Thundercat Talks It Is What It Is and Raising His Teenage Daughter on George Duke
Stephen Lee Bruner—who has fans in Ariana Grande, Brad Pitt, and most of the music industry— discusses his upcoming album while surrounded by piles of his belongings.
---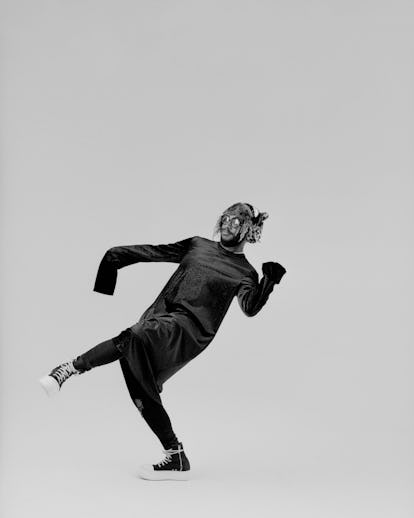 Thundercat photographed by Lea Winkler for W Magazine.
Stephen Lee Bruner, the bassist known as Thundercat, travels with a lot of stuff. Tons of it: a Pikachu backpack filled with other, smaller Pikachu statuettes, plus fuzzy Pikachus clipped onto the straps of the knapsack; a Louis Vuitton leather makeup case stuffed with heavy gold chains; a Gucci barrette; pins from the anime Evangelion (Bruner himself has an interest in illustration, and has been drawing since he started playing music).
Tchotchkes of all kinds are spread around the studio where the 35-year-old musician has come to discuss his upcoming new album, It Is What It Is. Bruner brought with him a large red suitcase brimming with Kapital clothing; his signature leopard-print earmuffs decorated with rhinestone Chanel brooches; seven pairs of sunglasses; and X-Men, Thor, and the Hulk comic books still wrapped in plastic. It looks like a small bomb filled with collectors items has gone off.
"These come everywhere with me," Bruner says, his bleach-tipped dreads quivering slightly in front of his face, like long bangs. "Flying Lotus told me one time, 'You sit somewhere for five minutes and suddenly there's stuff everywhere.'"
Bruner's conversations often go this way—he casually peppers his stories with mentions of legends like Miles Davis, the producer and his best friend Flying Lotus, his longtime collaborator Kamasi Washington, and jazz pianist Robert Glasper. He grew up surrounded by musicians: His father and brother are both acclaimed jazz artists, and Bruner was in the punk band Suicidal Tendencies before going on tour with Snoop Dogg's band, collaborating with Erykah Badu, and working closely with Kendrick Lamar on To Pimp a Butterfly. The Los Angeles native talks about going to school with Shia LaBeouf, and how, when he used to bring his now 13-year-old daughter Sanaa to school on the handlebars of his bike, he'd see Anderson Paak with his kid at the bus stop.
He's had a lifelong career as a studio artist, and gained the respect of music heads who have revered his idiosyncratic and fiery playing and composing style early on. But after it was revealed just how much of an influence Thundercat had on Lamar's groundbreaking album, (the records he and Lamar listened to for hours in the studio ended up building the blueprint for TPAB's sound) and with the release of his album, Drunk, in 2017, fans of more mainstream music started to take note. Ariana Grande, who covered his song Them Changes, attended Thundercat's L.A. concert earlier this month, where Brad Pitt was also seen taking in the show with Alia Shawkat.
The much-anticipated follow-up, It Is What It Is, drops on April 3rd, and he's already released a few singles, including "Dragonball Durag," whose video features comedian Quinta Brunson, Kali Uchis, and the Haim sisters Este, Danielle, and Alana. The video and track encapsulate his songwriting style, which he says he flexes much harder on the upcoming album than in his past work. It's funny and peculiar, specific only to him.
Growing up, Bruner's mother, father, and brothers were all artistically and musically inclined—his father was in the band Cephas and collaborated with the Temptations and Michael Henderson, who famously worked on Davis's Bitches Brew. He compares his relationship with his two brothers to "Malcolm in the Middle." They'd fight with each other over the TV, the remote, they'd hold contests to see who could finish their meals the fastest."But in the background, there would be, like, Tony Williams and Billy Cobham," Bruner says.
When he was 18 years old in 2002, Bruner joined his brother Ron in the band Suicidal Tendencies, replacing their former bassist Josh Paul. For 13 years, Bruner toured and made music with the band. It ended up shaping the way he approaches making tunes today. He isn't content to let his musical stylings fade into the background—a support act, as bass players tend to be typecast.
"It made me want to change everything from the roll of the instrument to what people would always be used to hearing," he says. "Any time you think of a bass player, there's always this weird dirt-nothing portrayed. 'You're not supposed to play anything, lay down the groove.' It's the laziest shit to me, sometimes. It's a means to have no perspective."
Suicidal Tendencies members Mike Muir and Dean Pleasents encouraged him to be himself and play. His time in the band is one he describes as "informal training" and as one of the most joyous moments in his life. "I would get made fun of a lot because I was always the guy wearing stuff like this," Bruner added, pointing to his earmuffs. "A couple times, I've been hit with beer bottles at shows. I didn't care. It gave me a bit of grit to who I am. It's part of why I stopped caring so much about what people think."
Thundercat is often compared in style and approach to Jaco Pastorius, another bassist with an identifiable sound who circumvents the typical bassist-in-the-background narrative. Bruner counts Pastorius as an influence, and said the 1978 song Punk Jazz in particular summed up the entirety of Thundercat's musical existence—playing with Washington, a family friend and "cousin" of his, making jazz early on, then spending years with one of the most influential punk bands of the '80s and '90s—finding a line between those sounds and making it fit.
His varying interests, music tastes, references (a bassline in one song being played over the speakers in the studio reminds Bruner of an In Living Color sketch), and the sheer amount of stuff strewn around the room might lead one to believe that Thundercat is flighty and chaotic. But he's the opposite. He's thoughtful and down to earth. And when it comes to fatherhood, he practices patience with his teenage daughter—who he says is "starting to become a woman."
"She's basically turning into that one moment in 'Twilight,' in the opening scene, where it's just like, I don't know who that person is anymore," he says. "I don't know what the hell's going on. I don't think her mom knows what the hell's going on, either. She's got a fucking phone and YouTube. We're lost."
When she was younger, Bruner would play all kinds of music for her, the keyboardist George Duke among artists he'd blast in the home. "I'd be like 'Sanaa, this is it, this is the thing.' She'd be like, 'This sucks,'" he says.
But now, she's expressing a new interest. She likes the Atlanta rapper JID, (when Thundercat found out about this, he was impressed). And she's written some music.
"She told her mom, she wouldn't tell me for nothing," Bruner laughs. "She would never share it with me. It's just because I'm her dad. 'You're not cool, Dad.' I'm like, 'I'm fucking cool.' I'm always looking at her like, 'Look, see, he thinks I'm cool.' She's like, 'So?'
"Every now and again, my mom will catch a video of her singing. She can sing in pitch, in key. And has vibrato," he adds. "Maybe one day she will share it. You got to be there whenever they're ready. If she so chooses to share, I'm here for it."
Bruner changes into a new Kapital vest and switches out his earmuffs for the very durag featured in his latest music video. It's orange and purple, covered in a planetary print. He tries on a pair of gold-plated Gucci ear cuffs and decides they don't go. His pile of clothing grows as he discards pieces he feels aren't right for the look he has in mind. And once it's all put together—skinny jeans, blue painted nails, a long velvet shirt, Gucci glasses—it makes sense. The blend of ideas, styles, and influences fits him.
The mess of tchotchkes is another story. (Bruner, for what it's worth, says he's fine with it. He just has a lot of stuff.) It used to bother not only Flying Lotus, but also his Suicidal Tendencies bandmate Pleasents, with whom he shared a room. "He was always so pissed because I would have the TV on and the radio on at the same time," Bruner says. "You see how everything just gets splayed out here? That's what would happen when I got in the room. He'd be like 'Clean this shit up!' I was like, 'No, Dean. What about this is rock-and-roll if I have to clean it up?'"
Related: Tame Impala's Kevin Parker Can Finally Enjoy The Slow Rush