TRIBECA FILM FESTIVAL 2017
The 10 Must-See Films at the Tribeca Film Festival
The Tribeca Film Festival kicks off Wednesday with a massive Aretha Franklin-headlined concert. Here, the 10 films you can't miss at the annual movie and television bonanza.
---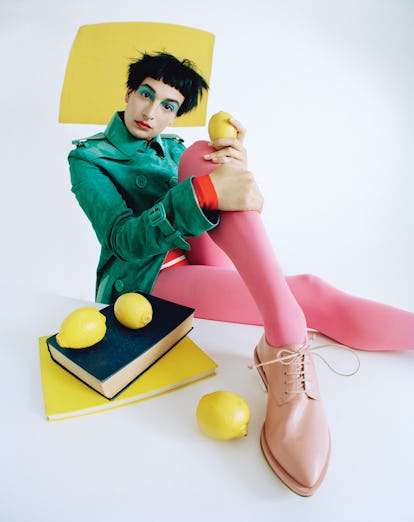 Though the Tribeca Film Festival isn't just about film anymore, its movie slate remains at the heart of the festival. Its 16th edition, which kicks off with a gala, concert, and premiere of the documentary Clive Davis: The Soundtrack of Our Lives Wednesday, has expanded its reach to encompass television (this year, the festival will premiere the much-anticipated The Handmaid's Tale) and even virtual reality—but, as evidenced in this year's lineup, it's the documentaries and narratives that prove the biggest draw. From musical documentaries on Clive Davis and Whitney Houston to surprising turns from rising stars like Zoey Deutch and Zosia Mamet, as well as the inevitable, politically inclined selections, here are the 10 films most likely to make headlines in the coming weeks as the festival gets underway.
Aardvark
Jenny Slate [pictured above in a 2015 W editorial] is having a moment, and we're here for it. In Aardvark, Slate plays a therapist who falls for the brother of a patient—who happens to be played by Mad Men's Jon Hamm. Don Draper meets Marcel the Shell with Shoes On.
Flower
Zoey Deutch, the 22-year-old rising star best known for roles in Vampire Academy and Before I Fall, tackles her first all-grown-up role in Flower. She plays a sexually precocious 17-year-old dealing who forms an unexpected friendship with her mother's boyfriend's newly sober son—and we're cautiously optimistic about this particular teen star-to-leading lady transformation. Flower, which made the 2012 Black List for un-produced scripts, is just the second feature from director Max Winkler, the son of actor Henry Winkler.
Clive Davis: The Soundtrack of Our Lives
The opening night bonanza centers around the documentary of lauded recording executive Clive Davis. In its world premiere at Tribeca, Clive Davis: The Soundtrack of Our Lives is a survey of the career of a man who helped launch the careers of Bruce Springsteen, Whitney Houston, Janis Joplin, and more. But that's not the end: Following the performance, Aretha Franklin, Barry Manilow, Jennifer Hudson, Carly Simon, and Dionne Warwick will all take the stage.
A Gray State
Just a week ago, The New Yorker looked into the death of alt-right filmmaker David Crowley, who was making a narrative film entitled Gray State. Set in the near future after a foreign regime took over the United States, it imagined a group of resistance fighters who band together against the occupiers. But before he completed filming, Crowley began to come undone—"Crowley was losing his mind, and he didn't seem to know it," writer Alec Wilkinson writes. The documentary A Gray State, a nonfiction thriller executive-produced by Werner Herzog, unravels the deaths of Crowley and his family—ruled a murder-suicide, but quickly taken up by conspiracy theorists—against the current political landscape.
Whitney. "Can I Be Me."
The documentary, which will see its world premiere at Tribeca, features never-before-seen footage, much of it compiled from Whitney Houston's 1999 tour, as a means of examining the singer's troubled relationship to fame. And while it's reported to be a relatively even-handed account, the Houston estate refused to cooperate or even to give its blessing to the project — which has only made it pique audiences' interest even more.
Get Me Roger Stone
Longtime Republican operative Roger Stone was a key figure behind the rise of Donald Trump, and he's the focus of this new documentary that will debut on Netflix in early May. Trump is among the interviewees featured in the film—and as if that weren't already intriguing enough, Stone will attend the premiere. He hasn't seen the film yet. Anything could happen.
The Lovers
Indie darling filmmaker Azazel Jacobs directs Debra Winger and Tracy Letts in this breakup-makeup romantic comedy. Winger, a staple on screen throughout the '80s and '90s, tackles a now-rare leading-lady role as a middle-aged woman who, stymied by her marriage, embarks on an affair, as does her husband, played by Letts. And it's only once they've each begun pursuing other romantic relationships that they rekindle their marriage. So there's that.
The Boy Downstairs
Girls may be a wrap, but Zosia Mamet isn't going anywhere. She stars in The Boy Downstairs, her first major project post-Girls, playing a young woman who moves back to New York after a European escapade—only to find her new building is already occupied. By her ex-boyfriend. The Boy Downstairs is one to watch—especially if the Girls finale left you lacking in tender New York-centered narratives.
Like Girls's Shoshanna, Zosia Mamet Has Never Been Afraid to Get A Little Bold with Her Style
Mamet heads to the opening night of her father David Mamet's play The Anarchistin a lace top shrouded with fur, plus pristine white pants, in New York, December 2012.

Astrid Stawiarz/Getty Images
An apparently makeup-free Mamet pulls off wearing what could be pajamas to the premiere of Stand Up Guys at MoMA in New York, December 2012.

Fernando Leon/Getty Images
Mamet steps it up a notch in lipstick and a floppy statement dress at the premiere of Girls season two in New York, January 2013.

Dimitrios Kambouris/Getty Images
She may have ended up on a few "worst dressed" lists, but Mamet started to come into her own style-wise with this custom-made, bralette-adorned gown by Honor at the 2013 Emmy Awards in Los Angeles, September 2013.

Dan MacMedan/Getty Images
Mamet let her hair down and opted for a low-cut dress for the premiere of Girls season three in New York, January 2014.

D Dipasupil/Getty Images
Mamet dresses up her usual one-pieces in this strapless, ruffled edition by Elisabetta Franchi at the UK premiere of Girls season three in London, January 2014.

Anthony Harvey/Getty Images
Mamet debuted a bob in a floor-length gown by Reem Acra at the 2014 Golden Globe Awards in Beverly Hills, January 2014.

Jeff Vespa/Getty Images
Mamet stays true to the theme at a screening of Farmland in a not so downtown hat at Tribeca Cinemas in New York, April 2014.

Gilbert Carrasquillo/Getty Images
Mamet looks decidedly unmutant-like in a crop top at the world premiere of X-Men: Days Of Future Past in New York, May 2014.

Jamie McCarthy/Getty Images
Mamet debuted the first of many hair changes in a sunny yellow summer dress at Honor's show during New York Fashion Week, September 2014.

Chelsea Lauren/Getty Images
Mamet opted for a crop top at the 2014 Glamour Women of the Year Awards in New York, November 2014.

Larry Busacca/Getty Images
Mamet stuck with her trend of ramping it up at each Girls premiere with a red leather mini dress at the premiere of season four in New York, January 2015.

Jamie McCarthy/Getty Images
Mamet pairs a gray head of hair with another pajama look at the New York premiere of A Most Violent Year, December 2014.

Brad Barket/Getty Images
Mamet kept it bubblegum pink at the 2015 Golden Globe Awards in this tiered strapless gown by Andrew Gn in Beverly Hills, January 2015.

Steve Granitz
Mamet coordinates her suede in a rusty brown skirt and over-the-knee boots at the IMDb Studio in Park City, Utah, January 2016.

Angela Weiss/Getty Images
Mamet keeps her white leather jacket perfectly perched on her shoulders like a true fashion veteran at the fall 2016 Marc Jacobs show during New York Fashion Week, February 2016.

Jamie McCarthy/Getty Images
Mamet adds a whimsical headband to her floor-length, sheer-sleeved gown by Maiyet at the 2016 CFDA Fashion Awards in New York, June 2016.

Jamie McCarthy/Getty Images
Mamet's sheer sleeves show off her biceps at the Anthology Film Archives Benefit and Auction in New York, March 2017.

Nicholas Hunt/Getty Images
Mamet sticks to velvet and leather in another jumpsuit at American Express's model-studded evening of Hamilton in New York, April 2017.

Andrew Toth/Getty Images
Mamet takes up her usual post in the front row at Marc Jacobs in a blue brocade dress and a giant fur coat during New York Fashion Week Fall 2017, February 2017.

Jamie McCarthy/Getty Images
Mamet keeps things high-waisted at the campaign launch for Burt's Bees Bring Back The Bees in New York, April 2017.

John Lamparski/Getty Images
Mamet almost floats away in another babydoll dress outside The Late Show With Stephen Colbert in New York, April 2017.

Ray Tamarra/Getty Images
The Clapper
New mother Amanda Seyfried won't be at the premiere of The Clapper, but co-star Tracy Morgan most certainly will be. No one's claimed dibs on distributing The Clapper just yet, but it's still managed to be one of the buzziest narrative features at the festival—and since it's about a man who becomes a meme, it feels relevant, at least. Perhaps it can shed some light on Ken Bone, all these months later.
Rock 'n' Roll
Filled with francophone humor and self-referential nods, IRL husband-and-wife duo Guillaume Canet and Marion Cotillard co-headline in this French-language narrative, also directed by Canet. They play versions of themselves, so take from that what you will.
Marion Cotillard plays a spy on screen, but she knows she'd make a bad spy: