The Tribeca Film Festival Kick-Off Was Bigger and Louder Than Ever Before
The opening night of the festival included a documentary on the legendary music producer Clive Davis, followed by a live performance from Aretha Franklin.
---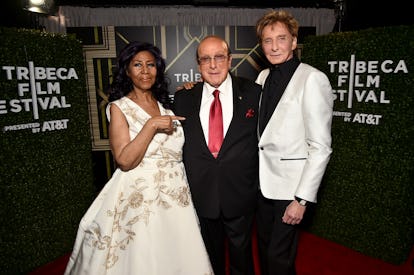 Theo Wargo
The opening night of the 2017 Tribeca Film Festival on Wednesday took place not in its usual home turf of downtown Manhattan, but rather at Radio City Music Hall. And for good reason.
"The festival has been growing and growing every year," said Governor Andrew Cuomo, who opened the night with some jokes and New York pride. "Next year, it will be in Albany… Soon, TriBeCa is going to stand for 'Triangle Below Canada.'"
15 years since its founding in 2002 by Robert De Niro, Jane Rosenthal, and Craig Hatkoff, the Tribeca Film Festival today offers thousands of screenings and talks from April 19th to 30th.
To kick the festival off this year, not only did the event go bigger, but also louder. The first film screening was of Clive Davis: The Soundtrack of Our Lives, which is a documentary on the legendary record producer, who also happens to be a born-and-raised New Yorker.
Now 85-years-old, Davis got his start as president of Columbia Records from 1967 to 1973. During that time, he caught the industry up to speed with rock 'n' roll, his first signee being none other than Janis Joplin. He would later go on to start his own labels, but continued to build a wide-ranging roster of music's biggest and most iconic names, including Whitney Houston, whom he discovered when she was just 19-years-old, as well as Barry Manilow, Carlos Santana, Bruce Springsteen, Billy Joel, Simon & Garfunkel, Earth, Wind & Fire, Aretha Franklin, Patti Smith, and Alicia Keys.
As producer L.A. Reid says in the film, "From Notorious B.I.G to Kenny G—that's distance."
On Tuesday night following the screening, many of these names showed up for a tribute performance—a feat that only a name like Clive Davis could pull off. Plus, Whoopi Goldberg ushered each one of them in.
Barry Manilow opened the show, followed by Jennifer Hudson, who paid tribute to the late Whitney Houston. Then, Earth, Wind & Fire took the stage with a cameo from the curly-haired saxophonist Kenny G. Next, the 76-year-old Dionne Warwick took the stage, followed by the folk singer Carly Simon.
Last but certainly not least, Aretha Franklin closed out the evening with a performance of "I'm Every Woman" and "Freeway of Love." She apologized for having a virus and potentially missing some notes, which was, of course, ridiculous. "But I wasn't going to miss this night," she said.
Related: The 10 Must-See Films at the Tribeca Film Festival
Watch all of W's top videos, here: