Succession's Jeremy Strong Appreciates an "Appetite for Risk"
The first-time Emmy nominee talks about feasting his eyes on the impressive culinary creations prepared by world renowned chefs on Chef's Table.
---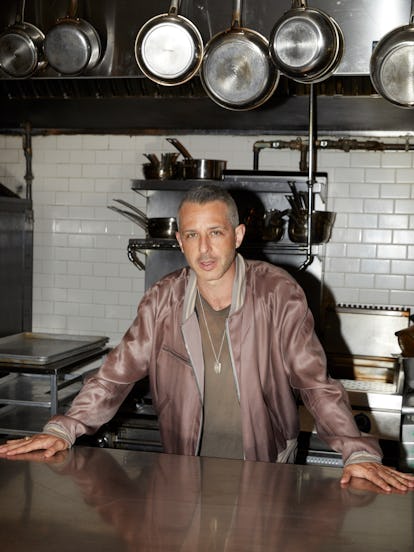 For W's 2020 TV Portfolio, we asked 21 of the most sought-after names in television to embody their favorite characters from their favorite shows of the past few months—and to explain why we should all be (re-)watching The Sopranos, Ozark, Schitt's Creek, and, yes, Floor Is Lava. To see all the images and discover their picks, click here.
This year, as the Television Academy bestowed 18 Emmy nominations on Succession, Jeremy Strong, who plays the tempestuous Kendall Roy (the second eldest of the four spoiled children of a fictional media tycoon loosely based on Rupert Murdoch), landed his first Emmy nomination for Outstanding Lead Actor in a Drama Series. Before returning to set to film season 3 of the critically acclaimed series (which the actor describes as initially being "like Shakespeare"), Strong, who has spent the majority of his lockdown in a Danish fishing village, took a break to talk about his love for Chef's Table, the Netflix docuseries that follows world-renowned chefs as they put together an impressive meal for viewers to feast their eyes on while watching at home.
How were you cast as Kendall Roy, the ambitious but haunted ex–drug addict son of a family that is loosely based on the Murdochs?
I had to fight for the role of Kendall. The initial script for Succession was like Shakespeare, specifically King Lear. I initially gravitated to the flashier character of Roman Roy, the younger brother, because he is such a bon vivant prick. But one month later, I auditioned for the role of Kendall.
Did you always dream of being an actor?
I started doing plays when I was 5. As I got older, the roles seemed to get smaller and smaller. I thought, they can all go fuck themselves—I never thought of giving up. I've been obsessed with acting my entire life. It's the only thing I ever wanted to do. When I was a kid, I wrote letters—lots and lots of letters—to production companies, telling them that I would work for free. I interned for Al Pacino when I was 15, and when I was 16, I took six weeks off from school and worked on The Crucible. After high school graduation, I went to Yale. I had tunnel vision about acting, but I ended up being an English major. In August 2001, I moved to New York. That was hard; 9/11 pulled the rug out from under me. But I was undeterred—I just took the scraps that came along.
Did you consider acting in films?
I always wanted to do films. [But I remember once] I was living in L.A. in somebody's house, and I'd gone in for an audition for a good role in a movie, and the casting agent called me up and said, "That isn't going to happen, but we're preparing a film about Captain America, and we need someone to play the skinny, undeveloped body of the young Captain America before he becomes a superhero." At that moment, all I wanted was to be in a play in New York.
But then you got parts in Lincoln and The Big Short, which led to Kendall Roy and Succession. Did you do any particular research to play Kendall?
Yes, I read everything ever written on the Murdochs. I looked for hints and clues. I read that James Murdoch ties his shoelaces very tightly. That was interesting. Jesse Armstrong [the creator and a primary producer and writer of Succession] sent me books on Ivan the Terrible, and I sent him back Andre Agassi's autobiography, which details his difficult relationship with his father. Like the Murdochs, the Roy family only understands the language of strength. But what if strength was not your native language? You'd be Kendall.
During quarantine, was it hard for you to not work?
My wife and I have two very young daughters—9 months and 2 years old, which was wonderfully distracting. We were in Denmark, and it was very calm, very sane. We were staying in a fishing village with a beautiful birch forest nearby, and it was a blessing to have that time together. For me, doing a TV show is completely immersive, and I welcomed the break. Cy Twombly allegedly said, "Painting is like an active trance," and that is what playing Kendall is like; it takes hold of me. I can get very used to being this other person. But the children demand my attention and love. If I didn't have that anchor, it would be difficult to shake off Kendall.
Did you watch Chef's Table during your time in Denmark?
Yes. Here's what I love about the show: They seek out the greats. They visit these amazingly unique chefs who have freed themselves from the granite of the established food culture. The show is not about a particular dish or a meal—all these chefs have a sense of wonder. And I relate to the chefs. The silence you hear in their kitchens is the same kind of quiet you hear in the theater.
Can you cook?
I'm a terrible cook. I've always had a dearth of hobbies in my life. But I love food, and I love restaurants. I miss the aliveness of restaurants terribly. And I love [on another Netflix documentary] when the Scandinavian chef of Noma, René Redzepi, reportedly decides, after winning every prize and being named the best restaurant in the world, to throw out his entire menu. He's been known to say, "If I try and repeat my success, I'll never achieve it again." I love that appetite for risk.
What are you planning to wear for the at-home Emmy broadcast?
I love clothing. A tailor named Geoffrey B. Small is making a suit for me to wear. It's not a tuxedo—in fact, it's brown. I love brown. I look forward to dressing up a little. It's another thing I've missed during this strange time.