PEN15 Creators Maya Erskine and Anna Konkle on the Joys of Reality TV and the Impact of The Sopranos
As the show's second season returns to Hulu, the showrunners and stars of TV's most unflinching teenage comedy discuss what's next for their adolescent characters.
---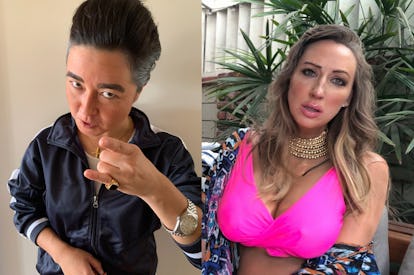 PEN15's Maya Erskin (left) and Anna Konkle (right) pay homage to their favorite television shows that got them through quarantine.
For W's 2020 TV Portfolio, we asked 21 of the most sought-after names in television to embody their favorite characters from their favorite shows of the past few months—and to explain why we should all be (re-)watching The Sopranos, Ozark, Schitt's Creek, and, yes, Floor Is Lava. To see all the images and discover their picks, click here.
A spate of streaming shows in the past few years, including Big Mouth and Sex Education, have explored the roller coaster of adolescent sexuality with a mix of humor and tenderness. But none of them has taken us back to that time with quite the same level of unflinching honesty as PEN15. Set in 1999 and 2000, the show takes a cinema verité look at the milestones of early-aughts middle-schoolers, from AOL Instant Messenger conversations on the family desktop computer to surprisingly fraught backyard Spice Girls reenactments. Co-creators Maya Erskine and Anna Konkle (both 33) star as teenage versions of themselves, surrounded by actual teenage actors, which adds a level of deadpan absurdity to the often poignant storylines. As the show's second season (or at least, the first of seven episodes they were able to shoot before Covid shut down production) returns to Hulu on Friday, Konkle and Erskine discuss some of the darker themes they'll be exploring in these episodes, how The Sopranos dream sequences influenced their creative process, and the highbrow-lowbrow joys of reality television.
Anna, you chose to embody Hannah Elizabeth from Love Island (U.K.). What drew you to this show?
Anna Konkle: When I get back from the writers' room or a stressful day or all the shit that's going on in the world, I don't want to watch the news. I don't want to watch something that's going to make me think, Why are they doing the act break there? I don't want to think about showrunning. I want to people-watch—that's maybe the highbrow angle. But I like me some lowbrow, too. It's really fun to watch these bizarre characters. The question of who's showing themselves the most and who's the realest is always up for debate, which is really fun. And then in terms of this character, Hannah Elizabeth—if someone wrote her, she'd be a brilliantly written character. It's just funny how I'm talking about this like it's a documentary or something. But you watch these people really show who they are.
What did you do to get into character?
Anna: I wish I could have done more. This is how Maya and I started when we started making Web series and doing characters—we'd just get so into that aspect. My intention was to do a bunch of different outfits that she really wore. But I was so tired by the end of just that look. I was like, I'm good, because the boobs go over your head like a shirt, and they weigh, like, 15 or 20 pounds.
Maya, you chose The Sopranos. Was this your first time getting into it, or was it a rewatch?
Maya Erksine: I had [watched it], but I hadn't seen it all the way through. It came out when we were in middle school. My brother was obsessed with it and had Sunday-night Sopranos parties where he'd watch it with all his friends, and they'd cook pasta, and it'd be a big thing. This is so embarrassing, but when I was that age watching it, I didn't understand how awful the crimes were. I didn't really understand the consequences of it, and I would watch that and Goodfellas and Casino, and in my mind, I always saw the glorified part of it and the "good old times" of it. I wanted to be Italian and be married to a Mafia man. And I would say that to my parents. And they're like, "You understand that's an awful life? You don't want that. They're awful. It's awful."
I forgot how amazing a show it was. Rewatching it, it doesn't feel dated. It's mind-blowing how it was made. And all of the exaggerated moments, I realized, Oh, that's one of the things that I think inspired me and Anna and Sam [Zvibleman] when trying to approach these surreal moments in PEN15, the way they did dreams. Tony's dreams are so incredible.
Do you see any other connections between the shows you chose and PEN15?
Maya: Well, the first season of The Sopranos came out in 1999, and our show takes place in 1999 and 2000. So there are things with Meadow and A.J., and even the wardrobe. A lot of people are watching shows from that time, and Gen Z got interested in watching it for the first time, and I think one of the reasons that might be is because there's no texting, cell phones—that's something that we all have nostalgia for, in that it feels like we can now say that's a simpler time. Even though it doesn't seem that far away, I think it's been long enough that we can long for the '90s now. And we're sort of in a place that makes us want to escape the world we're in right now.
Anna: Yeah, that's so true. I mean, Love Island was the foundation of PEN15. [Laughs] Kidding. Yeah, I don't know what to say about that. Although, my mom watched a reality show with me recently for the first time—she, like, doesn't know what that is. And she goes, "Oh, this is where you get PEN15!"
Maya: Which show?!
Anna: I think it was a Real Housewives. She knows nothing about TV or entertainment in general, but she's very intelligent and creative. And so for that to be her instinct, I'm insulted, but also…is she right?
Maya: Well, you're making me question now. I think the reason she said that, maybe, is that we are obsessed with characters and we're obsessed with people who have problems, because we have problems! So when you watch someone going through something, and you can analyze it and talk about it—it's totally grating at times, like watching when they were fighting and all those things—but there are some explosive moments. We're watching people's secrets, and they're exposing some really ugly truths about themselves. But that's what PEN15 is. So maybe that's the connection.
It's that sort of deep vulnerability that maybe you didn't intend to expose, but you did. In the first season, you guys were very viscerally honest and vulnerable about what it felt like to be a teenager in 2000. What are some of the themes you're going to be exploring in this next season?
Maya: We pick up right where we left off. So, right after the dance. And we get slut-shamed, which sets off a chain of events that causes Maya and Anna to search for different identities to take on. There's a lot of trying to find themselves through these other identities. Last season, it was about them almost losing their friendship but then coming back together, and a lot of firsts. This season, they are solidly together but going through becoming more of outcasts than they were, compared to last season. So it gets darker, I would say. They're exposed to darker things.
Some of the themes, because of the slut-shaming, include kind of anti-woman and anti-mom [sentiments]—they kind of go against themselves and women in general, as a way to escape the shame that they encounter in the beginning.
Anna: The anti-mom, pro-dad theme was something we talked a lot about. Like Maya said, the slut-shaming and the struggle with really not liking yourself at a certain time in adolescence—that's something that a lot of us struggle with always. Mental health issues can emerge for the first time around that age, and familial secrets. We are also playing with talking more about sexuality in terms of how it relates to other people. You know, Maya has her masturbating storyline in the first season, and then you see her with a boy, wanting just a kiss and wanting romance and wanting a first boyfriend. And I love that we show both of those things. There are a lot of micro-firsts this season; this season is a little bit more about emotional firsts.
Was it hard as storytellers and as actresses to balance out those darker, heavier themes with humor, or did it feel kind of natural to be doing both?
Anna: I do remember getting toward [writing] the end of the season and being like, This isn't funny enough. But we naturally followed where the emotions of these characters that we get to play go. We have a good sense of what their emotions would be. We're almost done shooting, but Covid stopped us in the middle, so the next seven episodes—which probably won't be out for a year now—are where the R-ratedness and mature storylines actually grow. But I think the absurdity grows too.
Maya: We were a little wilder with the humor, or reckless, I would say, in season 1. It's maybe more restrained in season 2. But humor naturally will come out of those situations.
There's this incredibly raw emotional truth to the show, but another thing you guys do so well is showcasing the often bizarre, awkward middle school fashions of that specific era. Are there any early-aughts fashion trends that you would like to see come back?
Maya: I feel like so many have come back. Halter tops, tube tops, platforms—Kendall Jenner looks like she's a popular 2000 girl.
Anna: I used to wear white eyeliner, and I do this in every episode of the show. I love it.
Maya: And also pedal pushers. I did love pedal pushers. I think they are coming back. You know what I want back? Skechers platforms. They were so cute.
Anna: Those might be back.
Maya: No, I've looked.
Related: PEN15 Creators Maya Erskine and Anna Konkle Are Unfazed By Their First AIM Screen Names