Thandie Newton: "Maeve's Nudity Was the Greatest Form of Protest"
"The scene became a moment of strength. She became, for me, a great metaphor for those who have been lied to. Including myself."
---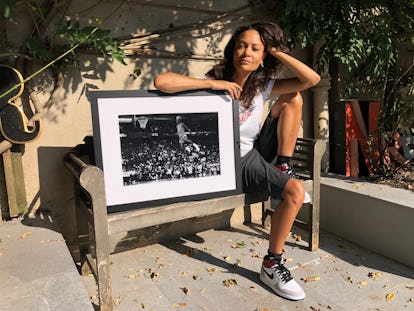 Westworld's Thandie Newton pays tribute to The Last Dance. Photograph by Thandie Newton for W magazine's 2020 TV Portfolio. Thandie wears Nike sneakers.
For W's 2020 TV Portfolio, we asked 21 of the most sought-after names in television to embody their favorite characters from their favorite shows of the past few months—and to explain why we should all be (re-)watching The Sopranos, Ozark, Schitt's Creek, and, yes, Floor Is Lava. To see all the images and discover their picks, click here.
It may come as a surprise, but Thandie Newton never knew much about the global superstar who is Michael Jordan before lockdown. The Westworld actress—who is nominated for portraying Maeve on the reality-bending sci-fi series—had to dip into The Last Dance, ESPN's 10-part docuseries about the NBA legend, while spending quarantine with her family in London before she could safely say she now knows enough to consider Jordan a god.
Were you in London for the entire quarantine?
Yes, we've been here the whole time, all six of us: my husband, my daughters, and my daughter's girlfriend. It was actually lovely to spend months together with my teenage daughters. After many weeks together we moved as one; we were so aware of each other. And that was an alkaline to the acid that was going on with the pandemic. I also did a crash course in PPE! I found myself working my fashion and media connections to help doctors on the Covid frontlines. Burberry made masks and gowns—they were absolutely wonderful. This virus has revealed fault lines in our society, but it has also shown how wonderful people can be when called upon.
There was a surreal quality to lockdown that reminded me of your show, Westworld, in which you play Maeve, the onetime madam of the fake world's brothel. In three seasons, she has undergone many transformations, eventually ending up in the "real" world. When you took the part, did you know how her life would unfold?
I only knew the arc of the first season, which I thought was fascinating. Maeve was conceived as a purely sexual object, and then she took the power away from the men she was supposed to serve. Brilliant! But it was also scary: 75 percent of the time, I was naked or nearly naked. In the past, when I've been asked to perform naked, it has been problematic. But on Westworld, Maeve's nudity was the greatest form of protest. When she wakes up, mid-operation, completely nude, and she's clutching her bare belly, I had a bittersweet realization—the scene became a moment of strength. I realized how many times, in how many movies, that had not happened before. When Maeve feels the reality of a situation, it blows her fuses. And she became, for me, a great metaphor for those who have been lied to. Including myself.
You have been vocal about sexual violence and improper behavior on set. Has that cost you jobs?
At various points, I didn't think I would work again. I thought I might kiss it all goodbye, but luckily some people respected and heard my viewpoint. And I've gained a sense of humor. Getting on the other side of trauma gives you a lighter heart. I tell my daughters, don't try so hard to be liked, don't internalize what society wants you to be, and don't ever be ashamed.
How did you discover Michael Jordan and The Last Dance during lockdown?
I'm grievously uneducated when it comes to sports. I am a dance fanatic rather than a sports fanatic. And I had never watched Michael Jordan play. Never watched a game, never knew he had won the Olympics, never really knew what he did. So we settled in, and because my husband [director Ol Parker] loves sports, we watched The Last Dance. I was overwhelmed. I could not get over how this individual rose to such a high level of excellence. Yes, he tested people, and yes, he was demanding. But he never fell foul to all the pressures of being a famous Black person in the United States. I understand why people in his position go crazy, but there he was, decades later, with his cigar and his whiskey, able to see his life clearly from the other side. When he said, "I just needed people to be the best," and started to cry, I was deeply moved. His life as a basketball player was a spiritual quest. And then, in quarantine, my husband and I celebrated our 22nd wedding anniversary, and he gave me a framed photo of Michael Jordan. I'm not a Christian, but Michael Jordan is here to remind us that life is magical, unknown, and beautiful. He's a god—I can't put it any other way.
Related: Thandie Newton Turned Down Charlie's Angels Because of the Director's Sexist Vision