Valentine's Day Horoscope Predictions From Twitter's Favorite Poet Astrologers
Follow your horoscope, not your heart. Here's what each sign can expect from love and ideal astrological mates.
---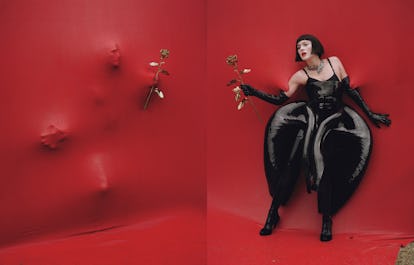 Love is messy and complicated, but the stars are steadfast. That's why this Valentine's Day, you should follow your horoscope instead of your heart and listen to Twitter's favorite poet astrologers. Alex Dimitrov and Dorothea Lasky of the Astro Poets are here to predict what each sign can expect from love in the near future and, as importantly, what sign might just be your ideal astrological match.
Read your Valentine's Day horoscope, below:
Aquarius (January 20 – February 18): The incomparable Aquarius, Langston Hughes wrote, "My soul has grown deep like the rivers." That's you. Being in love with an Aquarius is life-altering. This is why you don't easily give your love away. Continue to demand loyalty from your lovers and even test them, as you like to. But do away with the smoke and mirrors that can often prevent you from revealing your temperamental and wise heart. Your ideal match in this month of love is a Libra. Your unlikely and possible match is an Aries. Let that freak flag fly bb.
Pisces (February 19 – March 20): A Pisces is devoted to the most idealistic and romantic notions of love. You are a student of love. Elizabeth Barrett Browning, fellow Pisces, did write the indulgent "How Do I Love Thee." Trust yourself in your inclination toward grand gestures but don't panic if you don't get exactly the reaction you have already dreamed up in your mind. Not everyone responds to love in the theatrical way you do. Look for a Virgo as your ideal match this season, and a Sagittarius as your unlikely but possible match. Give up your power. You know you like it.
Aries (March 21 – April 19): Every moment, love and life bursts within you at a frantic rate. So much so that you oftentimes carry all the weight of enthusiasm in love partnerships. Do not let your lovers off the hook so easily this season and make them work for your attention. Maya Angelou was a poet and person who demanded in her sweet and magical call that her audience accept that living has endless grace. Use that same force to guide you and demand what romantic honors you deserve. Your ideal match for Valentine's Day this year is a Leo. Your unlikely but possible match is a Virgo.
Taurus (April 20 – May 20): Romantic ideals and dreams of someone to put on a pedestal haunt your every move in love. What makes you such a charming person is that these ideals are based on the real. Everyone says how loyal you are, but they don't fully understand how loyal you really are. This season, give yourself some of the same loyalty and love you give so freely to others. Listen to Omar Khayyam, a poet in your sign, who reminds us it's better to be alone than with someone who does us wrong. Your ideal match for Valentine's Day this year is an Aries. Your unlikely but not impossible match is a Leo.
Gemini (May 21 – June 20): Love at first excites you to no end, but once the day-to-day rhythm of things enters the pictures, you can get a bit—shall we say—deathly bored. That's not to say you are not faithful, because, unlike the reputation you sometimes hold, you are one of the most truly faithful signs— once you commit. But to help with your undeniable boredom, remember like all of your favorite things, love is entirely in the mind. Think about your lovers and get giddy. Be like the poet Nikki Giovanni who reminds us about the importance of dreaming. Your ideal match for Valentine's Day this year is a Libra. Your unlikely but very possible match is a Taurus.
Cancer (June 21 – July 22): You will be excited to learn that in this love horoscope we won't even mention the word, "mother." Oh shoot, I guess we just did. Well, now that that's out of the way it's time to think about what your love life is and is not giving you. What you crave is undivided attention and that's also what you give in the hopes that it will get you what you want. This season, before you give, make sure that is what you are going to get. Be like your sign twin, Pablo Neruda, who tells us that we are all poets and we are all capable and deserving of the everlasting rose. Your ideal match for Valentine's Day this year is a Taurus. Your unlikely but possible match is a Leo.
Leo (July 23 – August 22): There's nothing more romantic than sitting in your own self and realizing what a gift you are. And even though you know this utterly and are filled with glee when others realize it too (especially when it's about you), that doesn't mean you don't give people way too many chances to be what you want them to be. This season ask for the one who wants to live as one self and worship the center. Listen to fellow Leo Percy Bysshe Shelley, who exclaims, "I bring fresh showers for the thirsting flowers, / From the seas and the stream." The world is a thirsty flower. Bring that fresh shower, baby. Your ideal match for Valentine's Day this year is a Sagittarius. Your unlikely and very possibly caustic match is a Scorpio.
Virgo (August 23 – September 22): Sex while being wrapped up in a dark orange blanket, with just a gentle breeze of real wind—that's what you crave. The person you are looking for this season is the one who can bring you this with gusto. And by this we mean the word desire. Look for the one who makes that desire hum in you, because of the things they do for you, not all of the endless things you do for them. Just as your sign twin, the poet William Carlos Williams, reminds us to notice the intricacies of the machine so that we might more forcefully tear it down, remind yourself to notice the tiny gestures of love that you can magnify to create the most pleasure. Your ideal match for Valentine's Day this year is a Capricorn. Your unlikely but certainly plausible match is a Libra.
Libra (September 23 – October 22): Love is undeniably happening for you this year. Remember your more playful and seemingly aloof approach to romance, which both protects you but also highlights your offbeat spontaneity. Arthur Rimbaud was a Libra, an intense but also cool one, gravitating from the fire to the cold air with the spirit of a child. This is you. And your ideal match for Valentine's Day this year is a Sagittarius. Your unlikely but possible match is a Gemini. Wear those purple satin pants and drink margaritas in February. It's Ok.
Scorpio (October 23 – November 21): Where haven't you gone when it comes to love? Perhaps everywhere but its true, intoxicating root: vowing to stay and letting it change you, which you fear may dull you. Don't. You're usually the one who carries the flame of creation and destruction into the house of love. You're also good at identifying where that spark is strongest. Sylvia Plath was a Scorpio and she could have had anyone she wanted. This year go for an Aquarius as your ideal match. An Aries will be your unlikely but certainly possible match. Just say yes.
Sagittarius (November 22 – December 21): You could be all alone and live your life on an island (like your star twin hermit poet Robert Lax) or be the life of the party and see yourself going home with everyone. That's the good news and the bad news. Lucky for you, even when you're headed toward that island someone is always pulling you back. A Sagittarius will always believe in love, even if they have to fly millions of miles for it. Your ideal match this year is a Gemini. Your unlikely and possible match is a Virgo. Everything continues to be possible. You know it's true.
Capricorn (December 22 – January 19): Others (and you as well) often forget how wild a Capricorn can be in love. Your stability is overstated. The poet Mina Loy was a true Capricorn in both her experimentation and ability to hone in on love's particularities. You may feel that your greatest love has gone or that you're in it. Don't be so sure. It's time for you to try everything again. Your ideal match this year is a Taurus. Your unlikely and possible match is a Sagittarius. Allow yourself to be more than you think you are. We mean, like, sexually…
Kate Moss: One of Our Greatest Fashion Muses
Kate Moss and Naomi Campbell at the London Fashion Week Designer Of The Year Awards at the Museum of Natural History, January 1991. Photo courtesy of Getty Images.

Getty Images
Kate Moss at LAX, December 1994. Photo courtesy of Getty Images.

Getty Images
Johnny Depp and Kate Moss at Richard Tyler's fashion collection and screening of Johnny Depp's directorial debut, the short film Banter, to Benefit the Drug Abuse Resistance Education (DARE) in Culver City, California, February 1994. Photo courtesy of Getty Images.

Getty Images
Kate Moss at her Calvin Klein boutique personal appearance in Beverly Hills, California, September 1995. Photo courtesy of Getty Images.

Getty Images
Kate Moss at a Vogue party at Lisson Gallery in London, May 1998. Photo courtesy of Getty Images.

Getty Images
Naomi Campbell and Kate Moss at the De Beers/Versace "Diamonds are Forever" celebration in London, June 1999. Photo courtesy of Getty Images.

Getty Images
Kate Moss at a party for Mathew Williamson's fall/winter 2001 collection in New York, June 2001. Photo courtesy of Getty Images.

Getty Images
Kate Moss at the 54th Cannes Film Festival, May 2001. Photo courtesy of Getty Images.

Getty Images
Kate Moss at the Dazed and Confused exhibition at Tram Galleries in London, November 2003. Photo courtesy of Getty Images.

Getty Images
Marc Jacobs and Kate Moss at the "Model as Muse: Embodying Fashion" Costume Institute Gala at the Metropolitan Museum of Art in New York, May 2009. Photo courtesy of Getty Images.

Getty Images
Kate Moss in North London, January 2012. Photo courtesy of Getty Images.

Getty Images
Kate Moss at the book launch of Kate: The Kate Moss Book in London, November 2012. Photo courtesy of Getty Images.

Getty Images
Kate Moss at the Louis Vuitton "Timeless Muses" exhibition in Tokyo, August 2013. Photo courtesy of Getty Images.

Getty Images
Kate Moss at the Rimmel London 180 Years Of Cool photo call, October 2013. Photo courtesy of Getty Images.

Getty Images
Kate Moss at the British Fashion Awards at the London Coliseum, December 2013. Photo courtesy of Getty Images.

Getty Images
Kate Moss in Paris, March 2014. Photo courtesy of Getty Images.

Getty Images
Kate Moss in London, October 2014. Photo courtesy of Getty Images.

Getty Images
Kate Moss at the launch of Same Old Sean's EP "Reckless" in London, November 2014. Photo courtesy of Getty Images.

Getty Images
Kate Moss at the Louis Vuitton Menswear fall/winter 2015 show during Paris Fashion Week, January 2015. Photo courtesy of Getty Images.

Getty Images
Kate Moss at St. Pancras station in London, June 2015. Photo courtesy of Getty Images.

Getty Images
Kate Moss at a Miu Miu fragrance launch in Paris, July 2015. Photo courtesy of Getty Images.

Getty Images
Kate Moss at the Rockins London Fash Bash in London, September 2015. Photo courtesy of Getty Images.

Getty Images
Kate Moss at Burberry Prorsum spring/summer 2016 show during London Fashion Week, September 2015. Photo courtesy of Getty Images.

Getty Images
Kate Moss at the 2016 Fashion Awards in London, December 2016. Photo courtesy of Getty Images.

Getty Images
Kate Moss at the the Calvin Klein fragrance launch party at Spencer House in London, June 2017. Photo courtesy of Getty Images.

Getty Images
Kate Moss attends the Heavenly Bodies: Fashion & The Catholic Imagination Costume Institute Gala at Metropolitan Museum of Art in New York City, May 2018. Photo courtesy of Getty Images.

Getty Images
Kate Moss attends the Saint Laurent show as part of the Paris Fashion Week Womenswear Fall/Winter 2018/2019, February 2018. Photo courtesy of Getty Images.

Getty Images
Kate Moss in Paris, June 2018. Photo courtesy of Getty Images.

Getty Images
Kate Moss arrives at Fondation Louis Vuitton in Paris, January 2019. Photo courtesy of Getty Images.

Getty Images
Kate Moss at the Fashion Media awards ceremony in New York City, September 2019. Photo courtesy of Getty Images.

Getty Images
Kate Moss: A Look Back at a Personal Style Icon (and Capricorn) for the Ages
See W's most popular videos: